Kids Game Room, Playrooms – Letting your kids play games will encourage their creativity and motor skills. Therefore, finding the best kids games room ideas is necessary. If you want to make your kids smile riotously, try these thirty-seven striking kid game rooms ideas at home. 
You might find creating a safe haven for your kids to play is arduous and expensive. Well, nothing could be further from the truth.
You only need a weekend and some elbow grease to make one on the cheap. Besides, the fatigue will not bother you when you see your kids' smile. 
1. Minimalist Game Room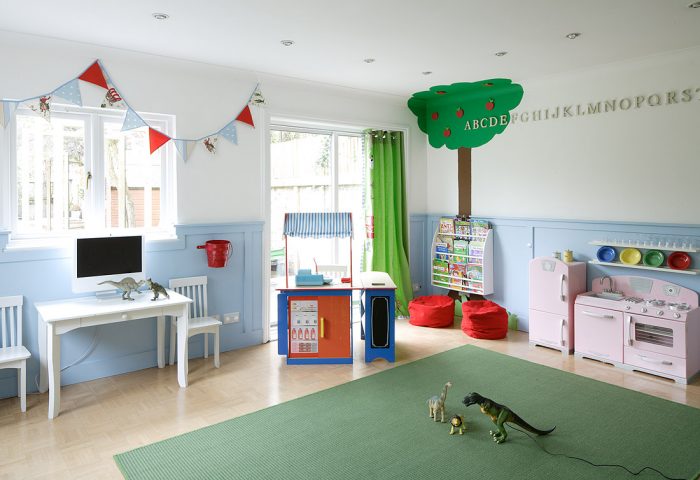 A game room for kids tends to be full of decorations and colorful. However, this game room is quite different. The minimalist design of this game room has proven that it can be a great place to play despite the lack of adornment.
The combination of the white wall and baby-blue wainscoting paneling lends positive vibes to the room. A few colors and wall sticker are added to provide a playful flair.  
2. Space-Themed Game Room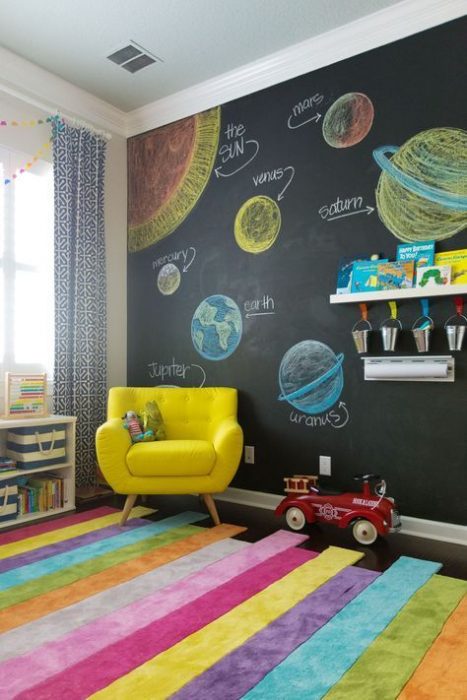 In this room, your kids can learn to make something and read some interesting books. The chalkboard wall makes a great yet simple wall art that shows the charm of the galaxy. It also introduces your kids to some planets. 
The rainbow rug ensures that your kids will get the ultimate comfort when playing on the floor. It will also keep their feet warm, alleviate the injury happened due to bumps, and ─ more importantly ─ make the space become more cheerful. 
3. Row Your Boat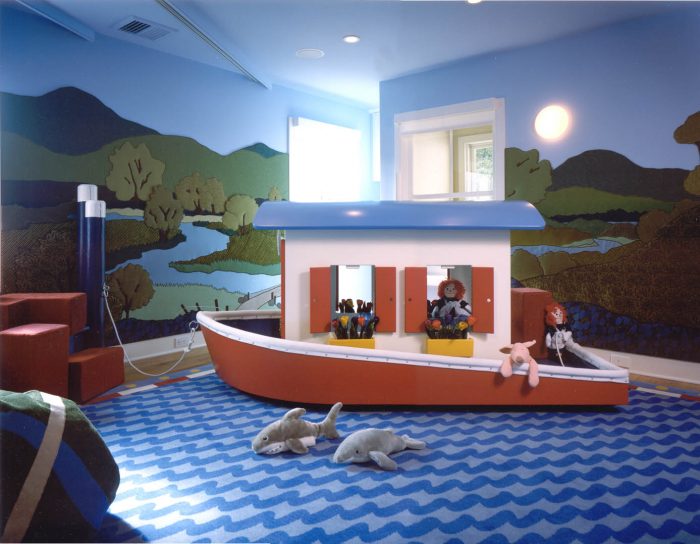 Your kids will be so hyped up if you take them to a lake or lagoon to go fishing. But, if you cannot do it, bring the lagoon or lake to your kids' game room instead. 
This game room will encourage your kids to love nature. The walls are decorated with a 3D wall decal that embodies the spectacular view of a river. Blue carpet with a wavy pattern is tacked down to the floor, accentuating the coastal theme. 
4. Teen Game Room Ideas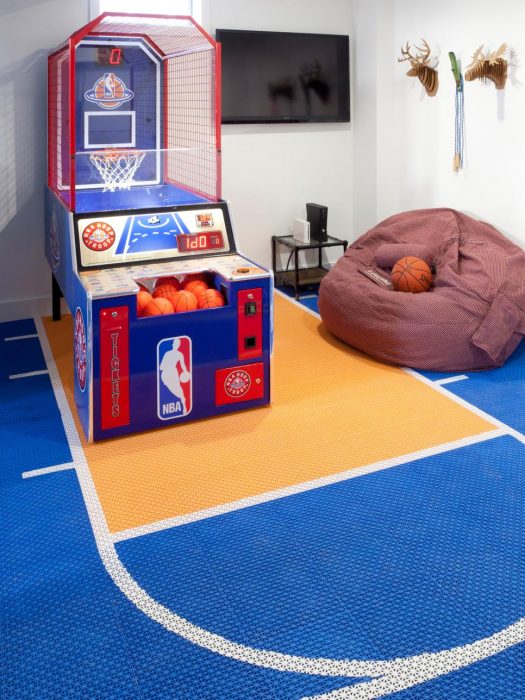 Who says that a game room is only for kids? Teenagers also deserve a special room to blow off steam. However, game rooms for teenagers are different from the ones used by kids. 
This game room suits any teenager immensely. The childish accessories are replaced with a basketball-yard carpet that complements hoop basketball machine. A bean bag chair is put in the corner so they can lounge on it comfortably. 
5. Rustic Game Room Ideas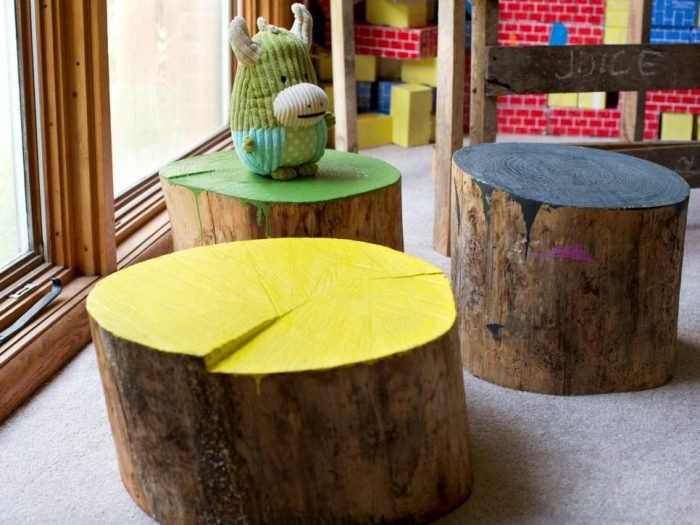 Don't limit yourself to those ubiquitous game room designs. If you love the rustic look, incorporate a little bit of rustic look in your kids' game room without ruining its cheerful vibes. 
You can find the touch of rustic look in this game room. Three stools made of wood log cuts are used to furnish the space. The top part of each stool is painted bright yellow, green, and black to lessen the rustic ambiance. 
6. Small Games Room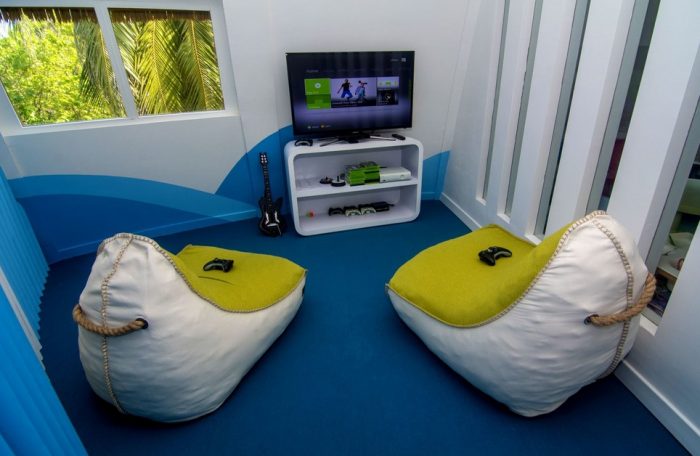 Don't let limited space hinder you from having fun. In fact, a small room can pack lots of fun if furnished and decorated properly. 
This petite game room does not allow your kids to move freely. Therefore, cramming toys and various kinds of furniture would just make the room look more cramped. 
Two low-level seats or even bean bag chairs would be the best choice to ensure your kids' comfort when playing games. 
7. Games Room for Small Rooms
Small space is not a big deal when it comes to creating a fun game room. This game room, for example, provides a nice place to play for your kids. However, you might need to downsize several pieces of furniture, especially bulky ones.
Interesting wall art plays a crucial role in jazzing the space up. 3D wall sticker of the city life represents the Gotham city which is protected by Batman. 
8. Games Room Ideas for Kids
http://supertextcrown.com/upload/2018/08/05/decoration-wallpaper-designs-for-kids-forest-mushroom-deer-home-wall-art-deer-mural-wallpaper-l-94dd037a0f5b11c5.jpg
Having plenty of spaces in your home is a blessing because it allows you to do various kinds of things and decorate the rooms as desired.
This spacious game room will enable your kids to play comfortably. To make it more appealing, fun wall art, like the scenery of a hill, is needed. The furniture must be in vivacious colors. More importantly, safety is the first thing you need to consider.
9. Back to Nature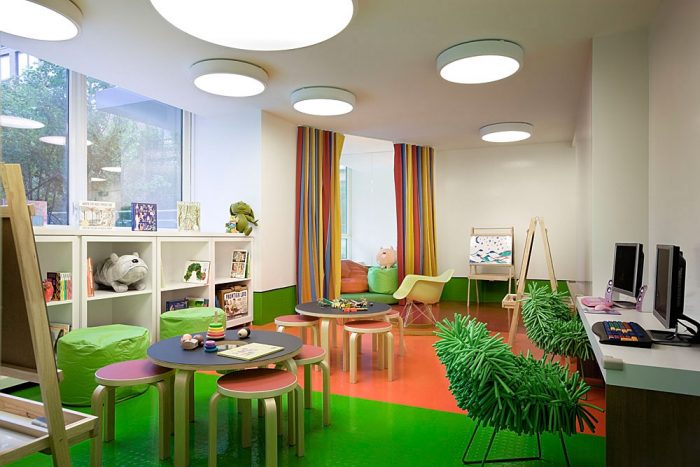 Adorning a game room is not just about picking various kinds of vivacious colors and tossing them together to fill in the space. It might be fun, but it can end up creating a chaotic look that gives you an eyesore. Sticking to a certain theme would be better. 
This game room evokes nature by sticking to green and brown hues. Three round tables are added to facilitate your kids to play board games or color their books. The seats by the computers are dressed up to imitate the bush and grass. 
10. Game Room Ideas for Limited Space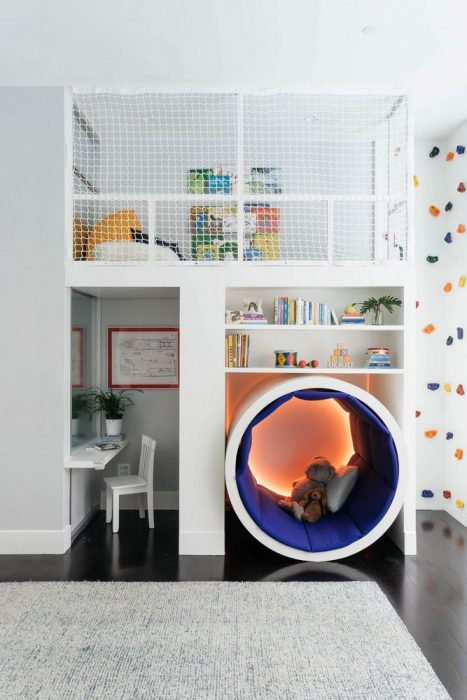 If you are an apartment dweller, you know how it feels to get by with limited space. But, do not let it make you give up on having a game room for your kids. They deserve a special room for having fun. 
The best way to tackle this problem is by merging the bedroom with game room, just like this one. This is a heaven for your son where he can do various kinds of activities in one place. He can sleep, play, and study comfortably here. 
11. Under the Sea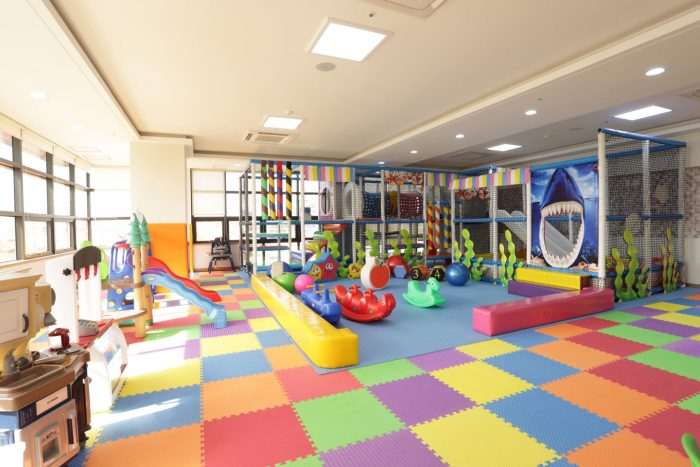 This place is eminently spacious that your kids can invite their friends to play together comfortably. Just like any other game room for kids, it features pops of colors that cheer up the space. 
Besides the colorful mats, this game room also features a marine-life theme which makes it look more appealing. The shark head adorns the entrance to the ball pit. Some seaweed and starfish join to jazz the game room up. 
12. Let's Play and Learn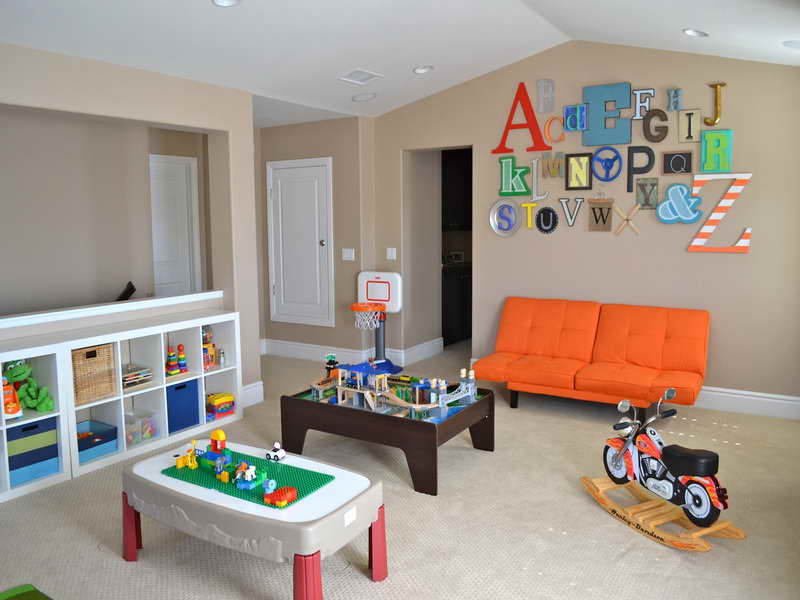 For some kids, learning is such a tedious thing. Therefore, they prefer playing to studying. To make the learning process become more attractive, you can incorporate the lessons in your kids' game room. 
This game room facilitates your kids to learn and play. Two low-level tables are added so your kids can sit on the floor while playing. Alphabets in order are attached on the wall. The different sizes, shapes, and colors adorn the wall perfectly. 
13. Game Room Storage Ideas
You might focus on decorating your kids' game room as attractive as possible and forget another necessary thing: the storage space.
Open shelves or cubes would be your greatest bet when it comes to holding the clutter at bay in the game room. Besides, they allow your kids to be more independent. 
If you do not have enough space, stack the cubes to store more toys and books. But, make sure they are safe for your kids. Screwing them to the wall would be safer.
14. A Place to Play and Sleep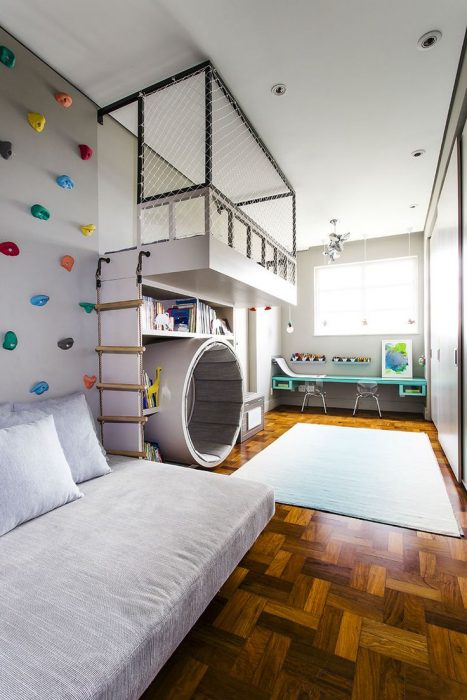 This game room will be an excellent inspiration for your son's bedroom because boys love moving and exploring. 
This bedroom features a floating twin bed with minimalist design to make the space become more efficient. The wall is embellished with colorful faux stones that help your son to climb up the wall to reach a secret room above the reading corner. 
15. Let's Explore the Sea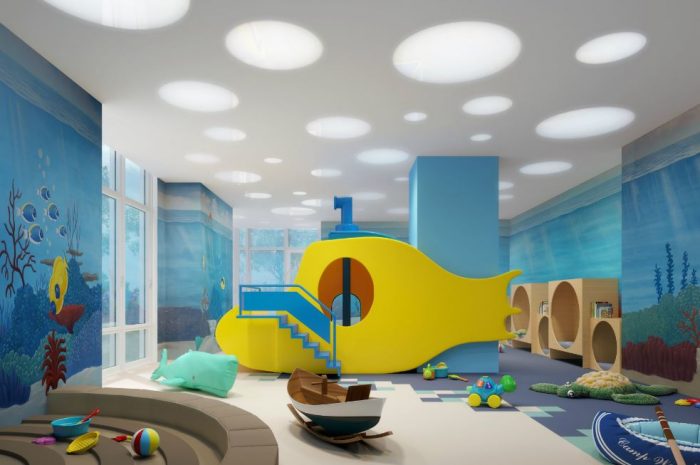 Marine life is wondrous. It has never failed to awe everyone. Thus, it would be a great idea if you bring marine life to your kids' room to awe them. It does not mean you catch a real whale to accompany them, though. 
This game room looks epic with the marine-life theme. The wall is covered with marine blue wallpaper, showing the dancing fish among the corals. A huge yellow submarine is anchored in the middle to make your kids' imagination become more vivid. 
16. Basement Games Room Ideas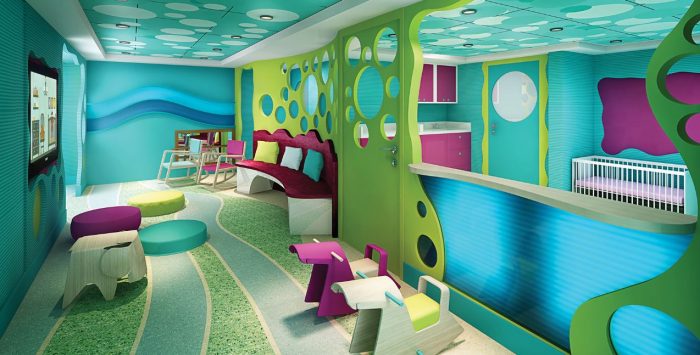 The basement is often considered as a dank and damp place. Therefore, many people use it as a storage room. Try turning this dank place into a more functional place like a game room. 
This game room adopts a coastal theme with blue and green hues. Some magenta enriches the look immensely. 
If you are interested in copying this game room for your basement, make sure you install good insulation and wiring. Consider installing an air conditioner to combat the heating issue. 
17. White Game Room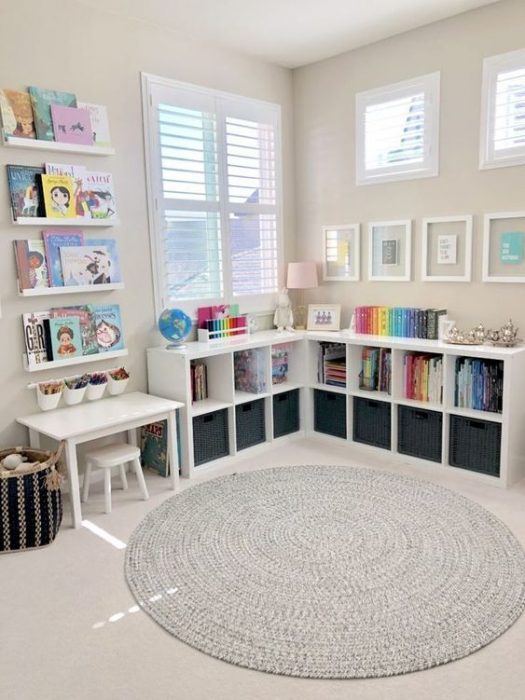 If you do not know what colors will amp your kid's game room up well, going with neutral colors like white will always be your safe bet. 
This game room can still serve a lot of fun despite the off-white color palette found in the walls and floor. The colorful books and toys are arranged in the corner shelves tidily, adding a few pops of colors to the space. 
A round rug lying on the carpet ensures your kids' comfort when playing. 
18. Chic Game Room for Girls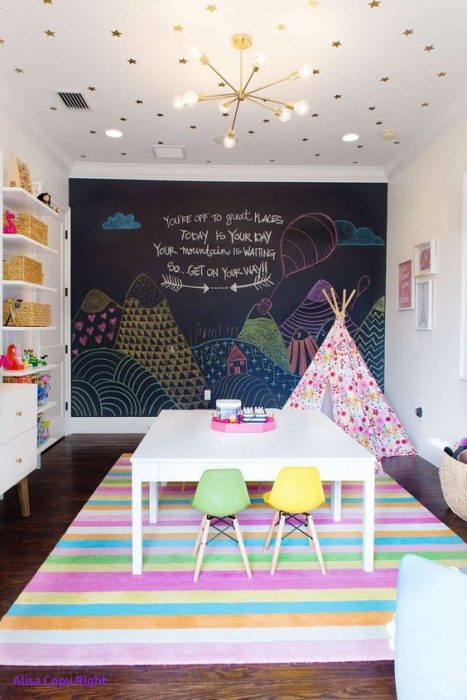 Your little girl deserves a cute and chic game room. You can begin by laying a pink or rainbow rug on the floor. It will add pops of colors to the game room in a jiffy which is much easier than painting the wall or hanging wallpapers. 
A chalkboard wall would make a great centerpiece due to its versatility. A white tent with pink polka dots enhances the cuteness of the game room. To beef the ceiling up, try attaching star-shaped wall stickers that imitate the glittering stars in the sky. 
19. Game Room Ideas for Toddlers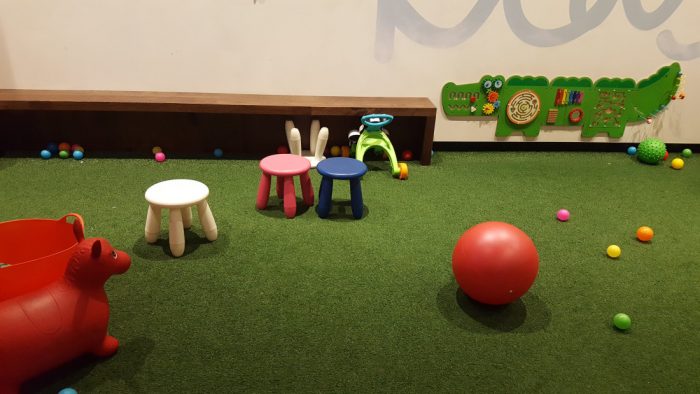 Toddlers like exploring things around them. They like crawling and running although their steps are not steady somehow, which makes parents worry. 
This game room is a safe haven for toddlers. The green carpet tacked down to the floor will keep them warm when playing on the floor as well as lessening the impact of getting bumped on the floor.
All the furniture is low-level, allowing your kids to reach them easily, and learn how to tidy up themselves.
20. Blend with Nature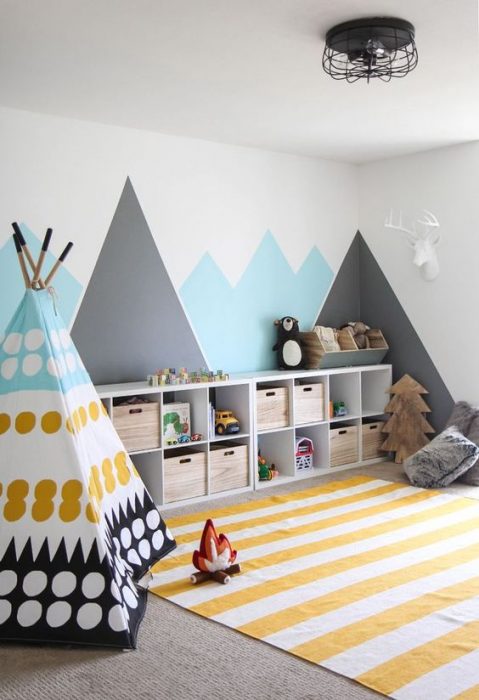 Many kids dream about having an unforgettable adventure that they can proud of like camping or hiking. 
You can make their dream comes true by investing in a small tent built in their game room. To make their adventure look real, try decorating the space with nature-themed mural art. 
You can also try sticking to 2 or three color hues to make the game room more versatile and elegant. Besides, it can minimize the risk of creating a haphazard look.
21. A Multitalented Woman Wanna-be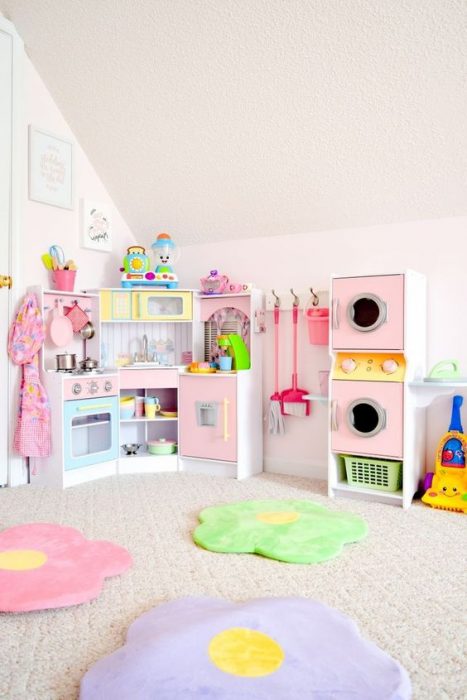 Every little girl admires their own moms and wants to be like them someday. Therefore, this game room will help them to reach their dream.
The soft color palette is used to fill in the space so the game room looks girly. Some household-good toys like stoves and washing machines are placed in the corner, allowing your daughters to become superwomen like their moms.
22. Reading and Game Room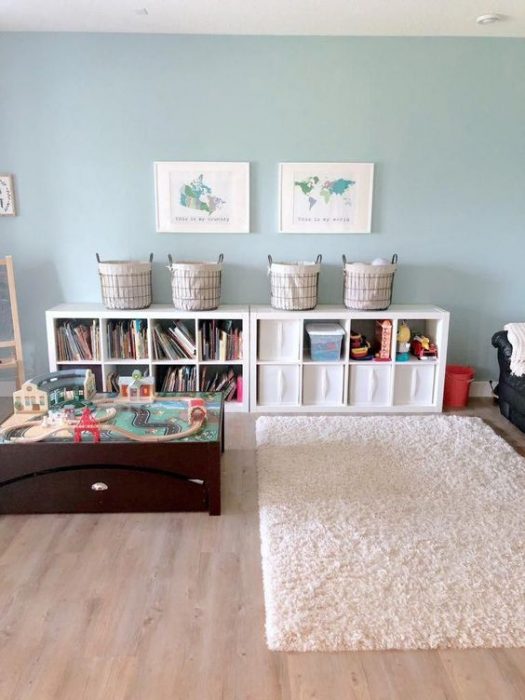 This is a comfortable place for your kids to play and broaden their horizon. A low-level table provides sufficient space for your kids and their friends to play together. 
Open shelves are any game room's best friend because they allow your kids to help themselves. Store some books and toys on the shelves so they can take and put them back without any assistance, which will make them learn what responsibility is.
23. A Place to Relax and Play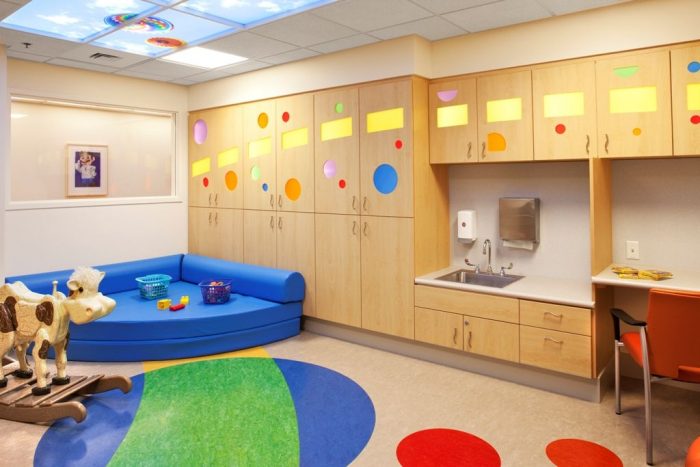 This is another great idea for your basement. You can turn your dark basement into a place where you can gather and banter with your family.
Putting some toys in a finished basement would be a great idea. A corner sofa is added so you can accompany your kids when they are playing.
24. DIY Game Room Ideas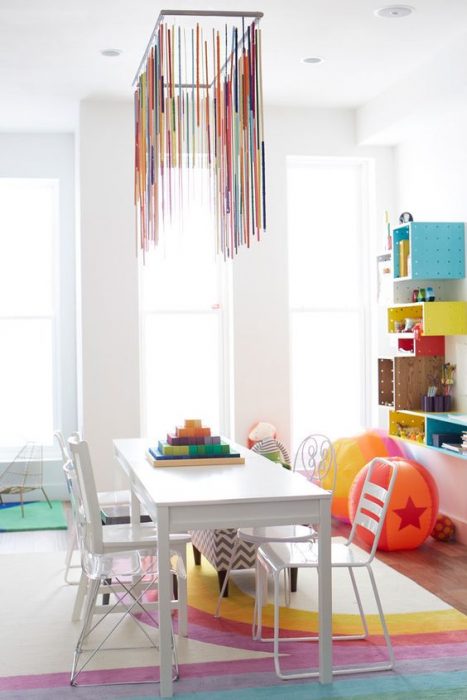 Sprucing up a game room does not have to drain your cash. With a little bit of creativity, you can make a fantastic game room on the cheap.
Instead of purchasing brand-new shelves or cubes to host the toys and books, you can shop around our house to find any similar thing like wooden crates or file holders. Then, color them to cheer up the space.
To dress up the light, you can use colored straws. You only need to hang them around the light to complement the colorful rug and shelves.
25. Family Games Room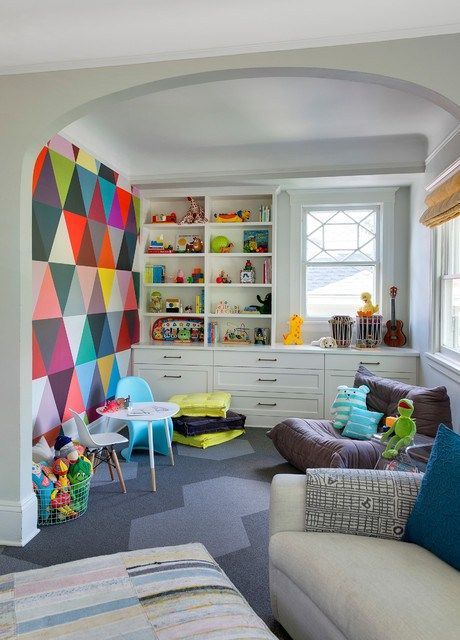 Sometimes you need to keep an eye on your kids when they are playing so they will be out of trouble. Thus, you need to make your kids' game room become as comfortable as possible for you and your kids.
This game room looks amazing with a geometric design found on the wall. To complement the look, gray carpet with geometric patterns is used to cover the floor and soothe your feet when the weather is getting cold.
A comfortable armchair, along with an ottoman, will ensure your comfort so you can sit back and relax while reading your favorite book and watching your kids playing.
26. Welcome to the Jungle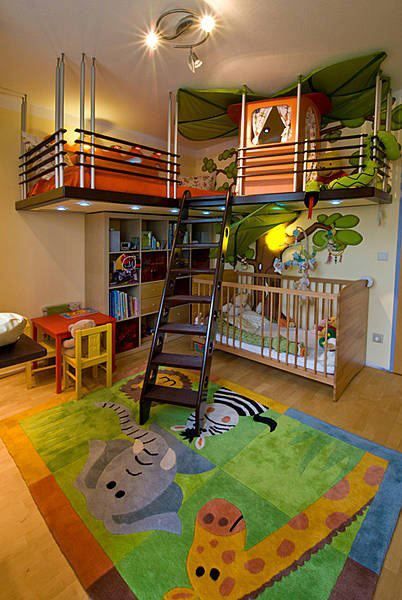 If you live in a small house or apartment, you have to get by with the small space. Even your kids have to share a room which makes them grumble somehow. The best way to overcome this problem is by making the room become fantastic.
This bedroom does double duty as a game room. The jungle theme applied here will make your kids enjoy sharing a room. 
A loft bed is placed in the corner to provide a perfect sleep for your kid. Next to the mattress is her/his own personal playing area where he/she can store his/her favorite dolls or does his/her stuff. 
27. The Wondrous Dinosaur World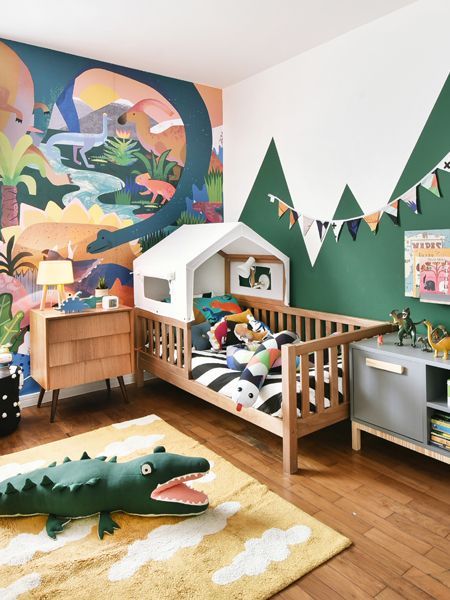 Dinosaurs are one of the most wondrous things that existed on the earth a long time ago. Many kids are thrilled to know them better. Maybe your kid is also a big fan of dinosaurs.
This bedroom, that serves as a game room as well, is for those who are interested in dinosaurs. The colorful mural art showing the life of dinosaurs makes a great wall art in this room.
Two low-level side tables host your kid's toys and books. They also provide sufficient space to display the mini dinosaurs on top.
28. Game Room Ideas for Boys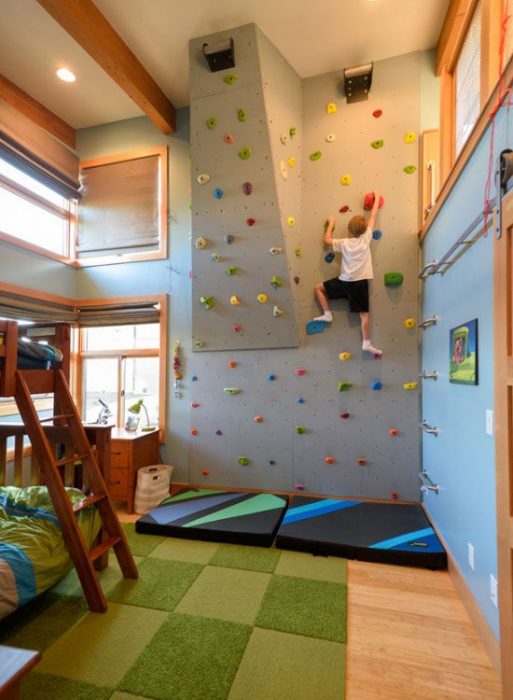 Boys love adventurous and challenging activities like jumping and climbing. Apparently, they do pretty dangerous activities to blow off steam. Thus, this game room will be suitable for your son.
Although this room is not crammed with toys, it still has one thing that most boys wish that they had it – a wall climbing. 
Instead of painting the plain wall with various kinds of colors, you can try screwing lots of climbing holds on the wall. Your son will definitely thank you for this wonderful idea. Don't forget to lay a huge mattress or two standard-size mattresses on the floor for safety.
29. Game Room for Small Space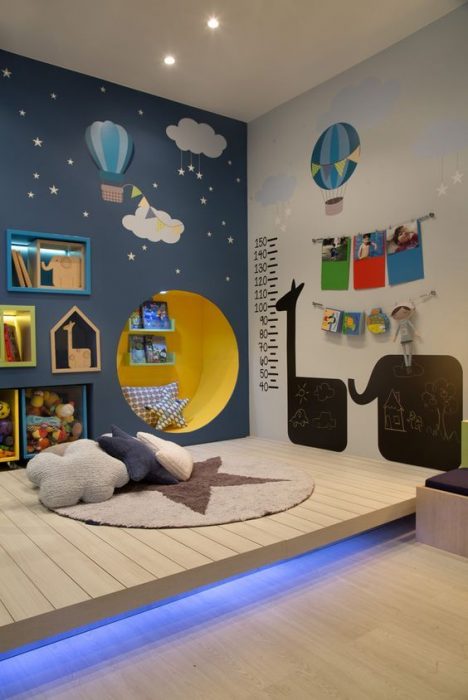 Small space can be irritating as it restricts you from doing whatever you like. But, don't let it make your kids feel upset. They can still have a cozy place to play in despite the small space.
If you cannot invest in cubes or shelves to organize your kids' books and toys, you can always make built-in shelves. Incorporating a few built-in chalkboards on the wall provides more fun without making you compromise the limited space.
30. Pops of Colors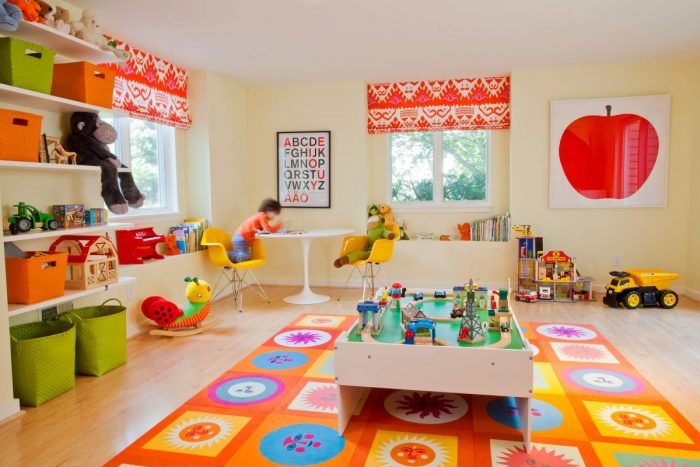 Toddlers and kids respond better with colors. They love vivid colors like red, yellow, green, and orange. Some study says that bright colors can develop a child's sight. Therefore, adding pops of colors in your kid's game room has always been a terrific idea.
This game room, for example, is ruled with the cheerful orange and the fresh red. You can also find some green baskets that stash away the toys. 
The combination of colors makes this game room look bright and cheerful. The use of bright colors is just perfect because they complement the décor, not overwhelm it.
31. A Safe Haven for Everyone
This is a perfect place to gather, play, and banter with your family because it is functioned as a living room and game room.
The cubes help you keep the toys organized as well as making a great TV stand. The colorful mats tell the kids where they should play, and the chalkboard allows them to draw whatever they like.
32. Cool Game Room Ideas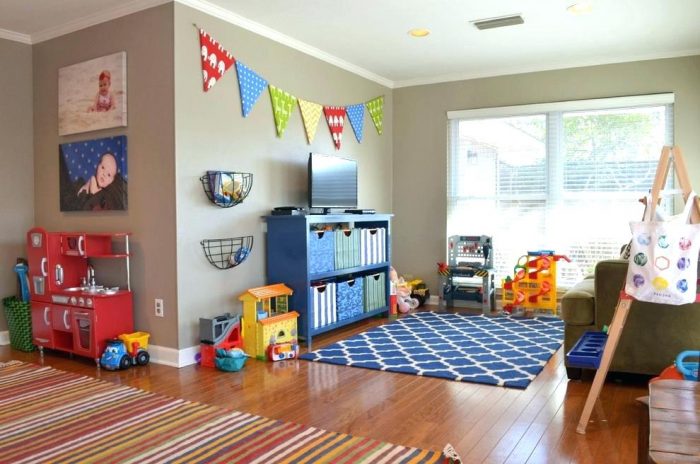 The gray walls make a perfect blank canvas for this game room. Some colorful toys like cars and household-goods toys add more colors to the space, making it look brighter and more cheerful.
A blue shelf that is also functioned as a cool TV stand helps you keep things organized. When everything is under control, you can sit back and relax on the green sofa while enjoying your favorite TV show.
33. Let's Play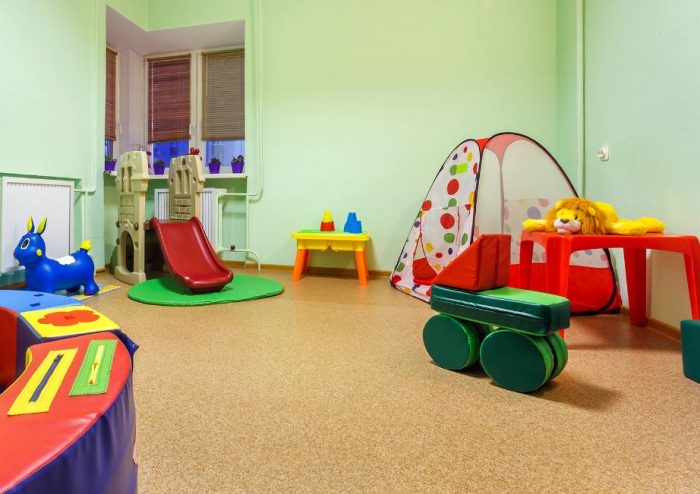 This game room uses cork flooring that infuses a warm ambiance to the space. Using cork as the flooring of your kids' game room is good because it is durable, resistant to mold, termites, and mildew, comfortable, and safe.
34. A Comfortable Game Room
Getting the ultimate comfort is the priority number one when it comes to creating a game room for your kids. Investing in colorful play mats will get you covered. 
Not only they come in vivacious colors which appeal to babies and kids, but they will also alleviate the risk of getting bumped on the floor.
35. The Best Place to Blow off Steam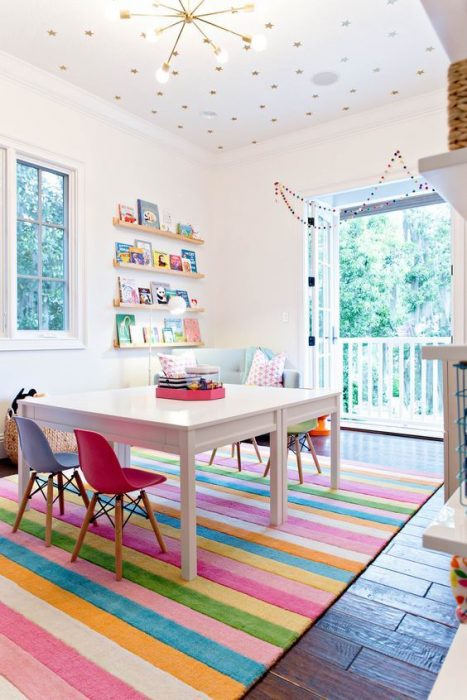 Having a game room upstairs? Why not? This game room is bright and airy, thanks to the white walls, windows, and a glass door that allow natural light to come into the space. 
You can even open the door to better the air flow. But, you have to keep an eye on your kids so any accident will not happen.
36. Let's Play in the Attic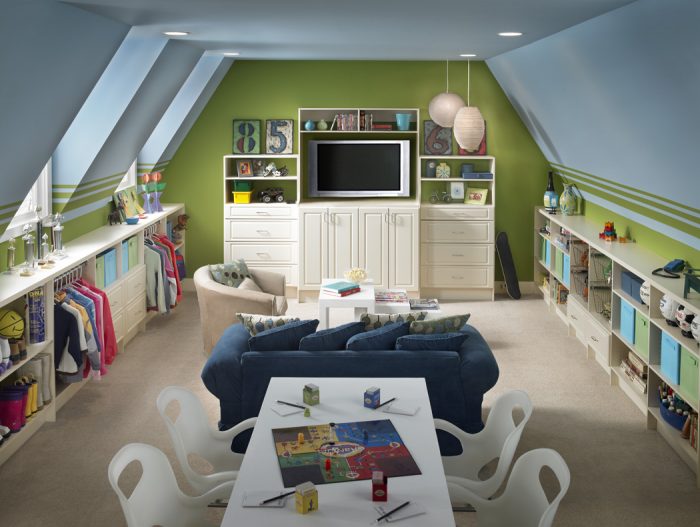 The attic is not always a bad place to spend leisure time. You can try transforming your attic into a game room so you can have fun with your family. 
Apply two or three colors to the game room will make it look more appealing and organized. Don't forget to take down a carpet or lay a huge rug for the ultimate comfort.
37. Super Mario Bros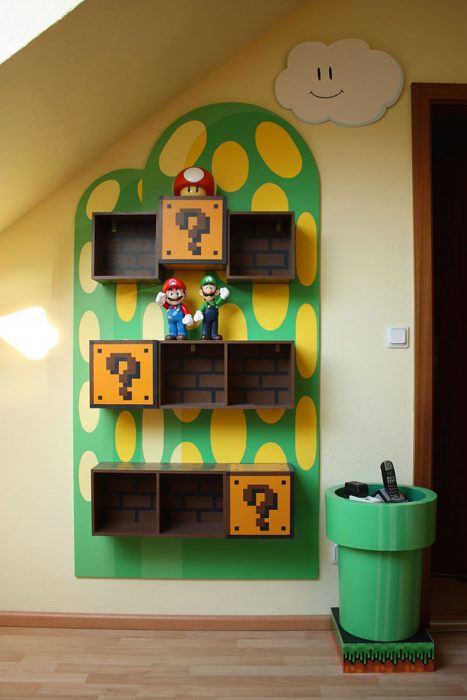 Super Mario Bros is a well-known game that has many fans. Try applying Super-Mario theme to the wall-mounted cubes in your game room to make the space look more epic.
---
Those are some mind-blowing kid game rooms that you can copy. Besides the colorful and striking designs, you also need to consider the comfort and safety of your kids for the peace of mind.