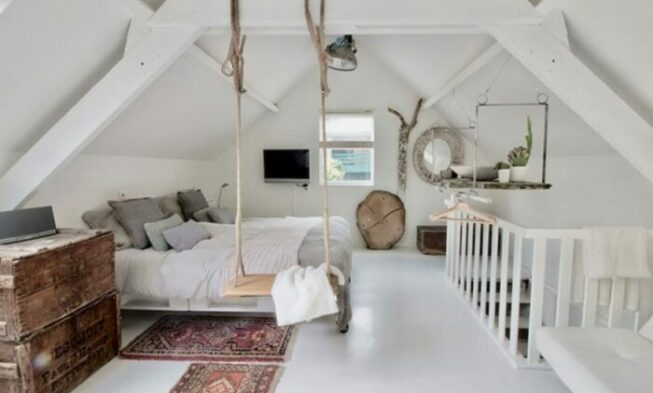 15+ Inspiring Attic Bedroom Ideas
Attic Bedroom Ideas are information that can inspire those of you who want to turn the attic into a comfortable room. There are many ideas such as rustic, simple, vintage, colorful, and so forth. You can modify the idea to your liking.
Actually making the room depends on your needs. You should pay attention to lighting, air circulation, roof conditions, and so forth before making the bedroom in the attic.
You also have to adjust the color palette of the room so that the room design in accordance with the concept of your house as a whole. You can try to be creative with fresh ideas to create a beautiful and comfortable bedroom in your attic.
1. Warm Attic Bedroom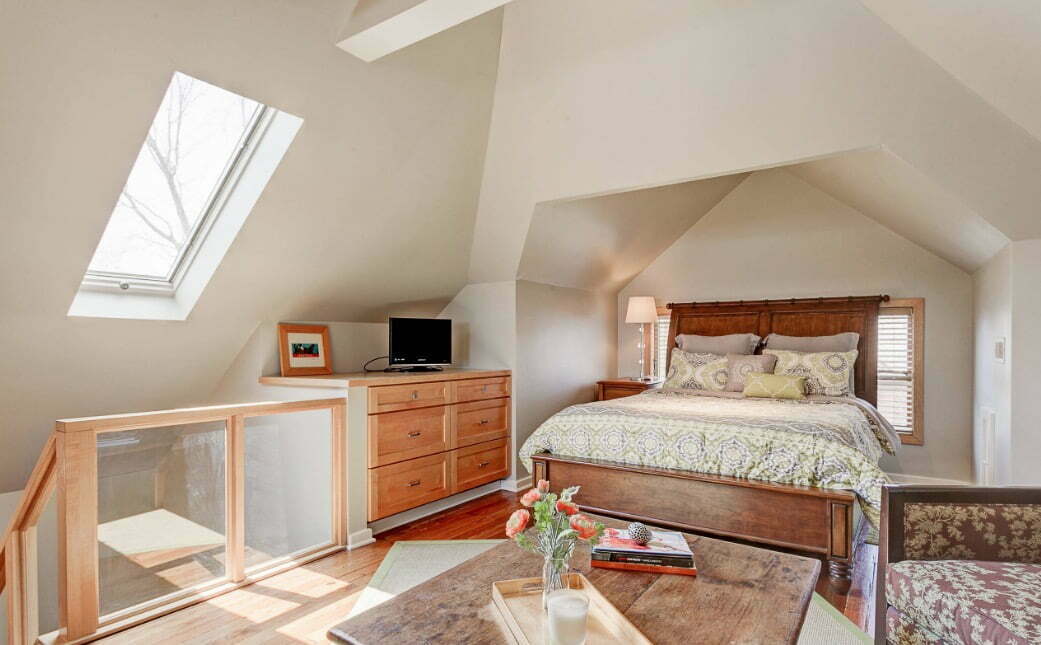 Usually, the attic becomes a dirty and cold place. The shadow of a scary attic will disappear as you create a simple bedroom with a warm feel. You can apply this idea in your attic.
You can use the wooden bed frame. You can blend softwood color with bright white color. Do not forget to put a table and sofa with matching color in front of the window from the attic to add a warm atmosphere.



2. Cool Blue Attic Bedroom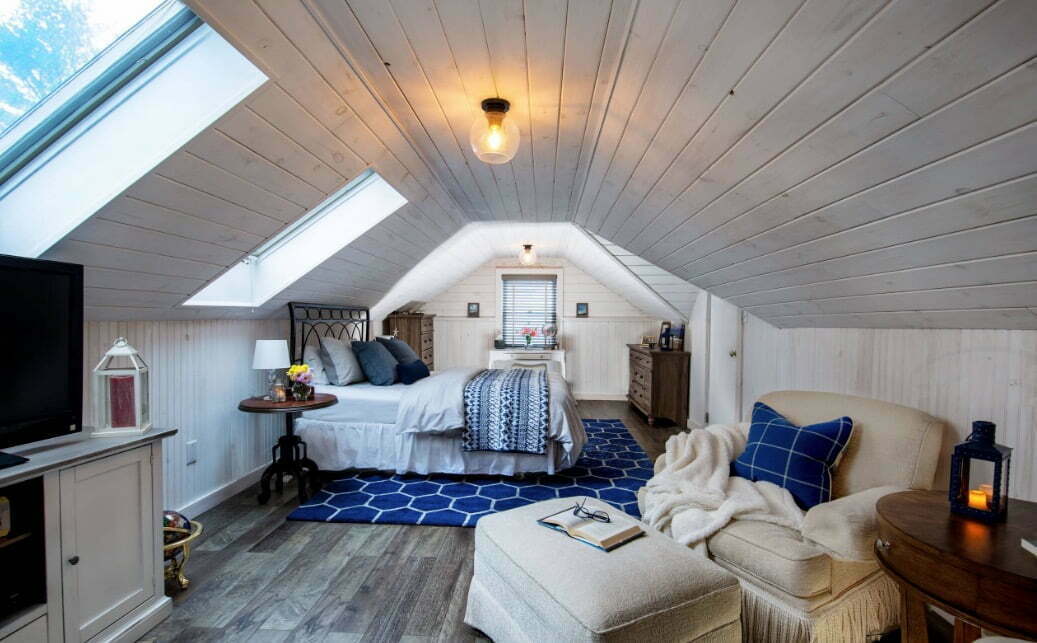 This bedroom looks masculine with the addition of blue in some parts. The large glass window is at the back of the bed but you can put the sofa that faces the window to get the sunlight. The white roof does not look boring with the old-fashioned gray wood floor.
This room uses a blue carpet and a small cushion placed on a single sofa. You can put a round wooden table with a small light that lights up making the atmosphere romantic. 



3. Small Attic Bedroom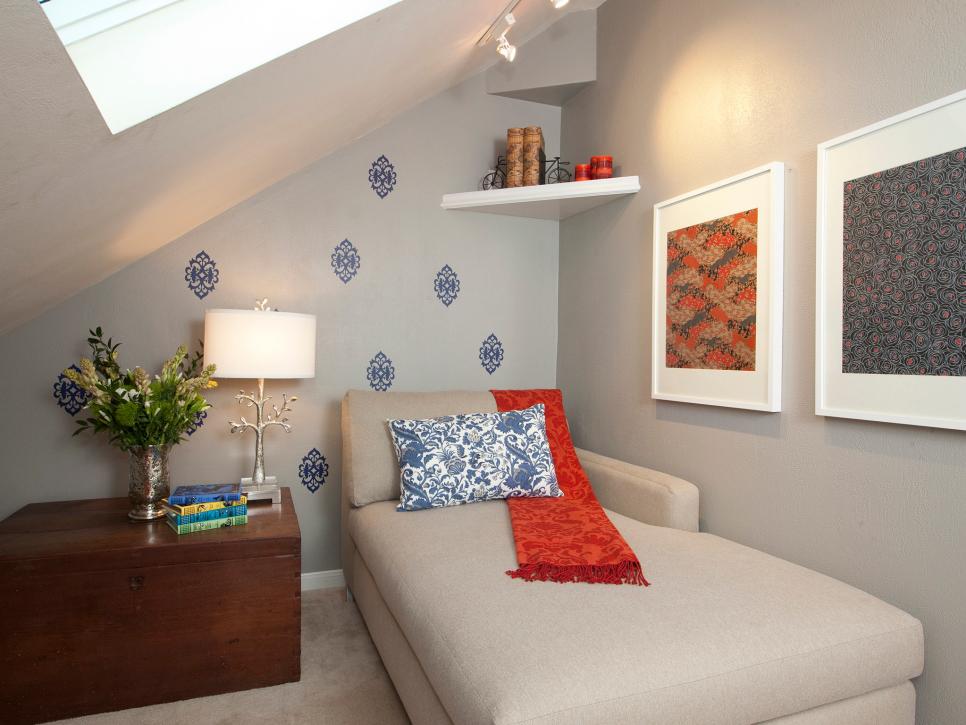 If you have an attic with a small size, then you should not be afraid to create a bedroom in this place. You can still turn the attic into a comfortable place. You can combine several colors to create a fun room.
This room uses a long sofa that serves as a bed. You can stick a beautiful painting with a bright color to make the room look beautiful. 



4. Elegant Attic Bedroom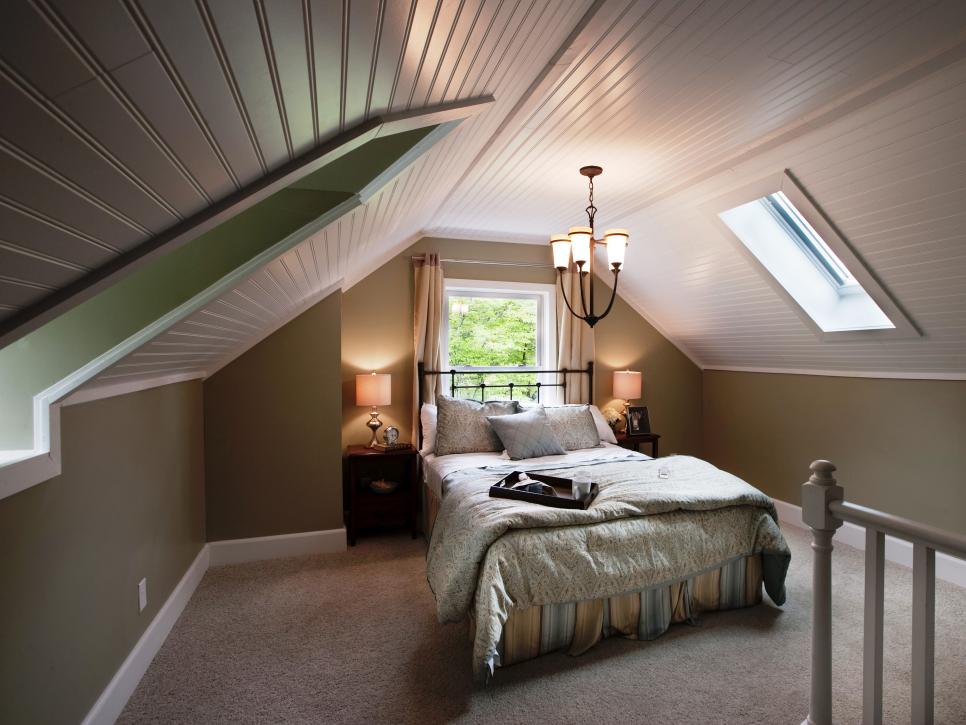 This is one of the Attic Bedroom Ideas that looks elegant with little furniture. This room consists only of a mattress, two tables for a light sleeper, and a chandelier. This room uses a soft cream beige carpet to compensate for the color on the roof.
There are two windows on the side and a large window behind the mattress covered with cream-colored curtains.



5. Pattern Attic Bedroom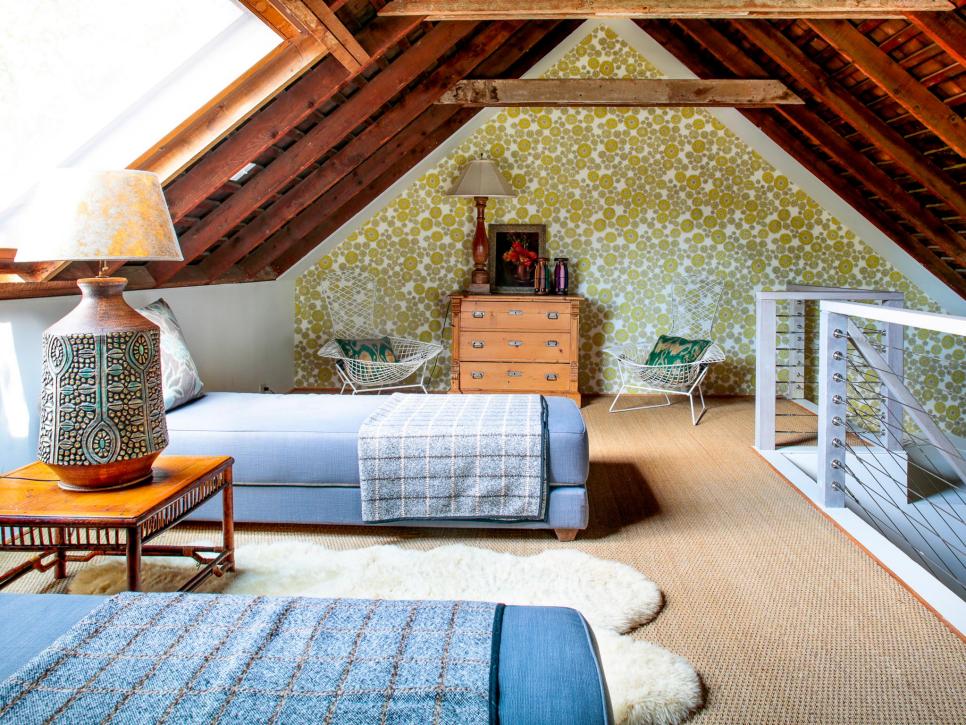 This idea is suitable for you who have the attic with large size. You can change the attic for guest rooms. You can put two mattresses in this room with thick furry carpets to create warmth.
You can also put a small table with a large sleeping light between the mattresses to fill in the empty space. Light blue can be your choice for the mattress. T



6. Simple White Attic Bedroom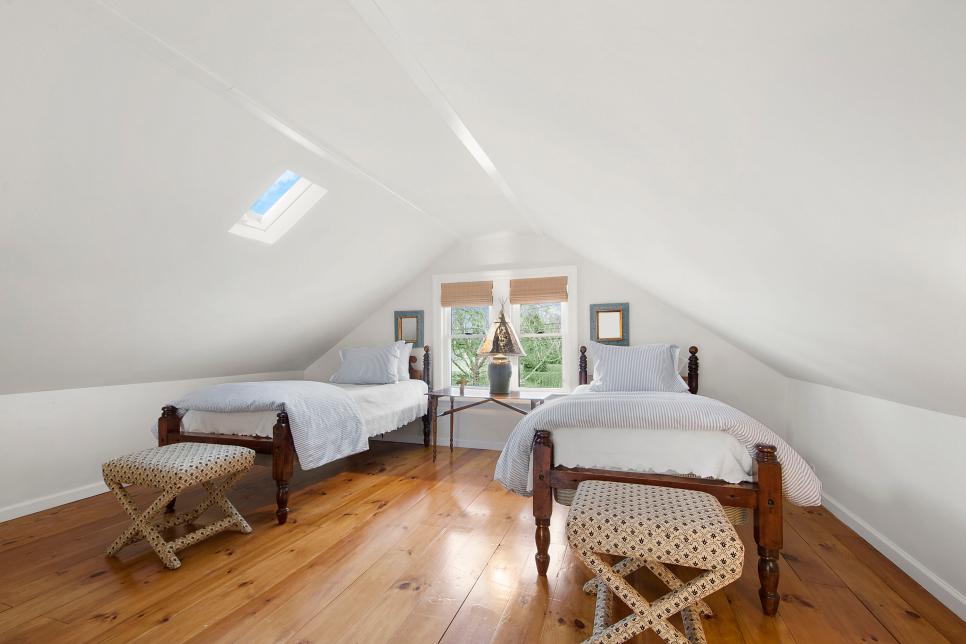 This room looks like a big tent with a simple white color. Maybe you will remember the room in the spa when you see this room. The roof is also white with a small window at the top and a large window that sits between the mattresses. Two comfortable mattresses and seating look stunning with a combination of natural wooden flooring.



7. Luxury Attic Bedroom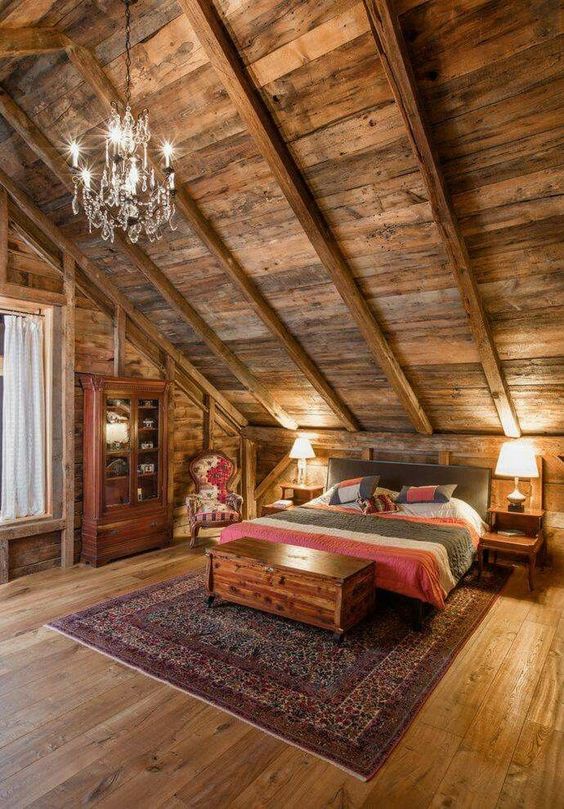 The bedroom in your attic can look luxurious with a unique touch. You can put a mattress with sexy colors like pink, white, and black. You should blend that color with expensive carpets with complicated patterns.
The antique chairs placed next to the mattress make this room look expensive. You can put a wooden cupboard to display antiques in your home. The chandelier in this room consists of white crystals that look amazing.



8. Chic Attic Bedroom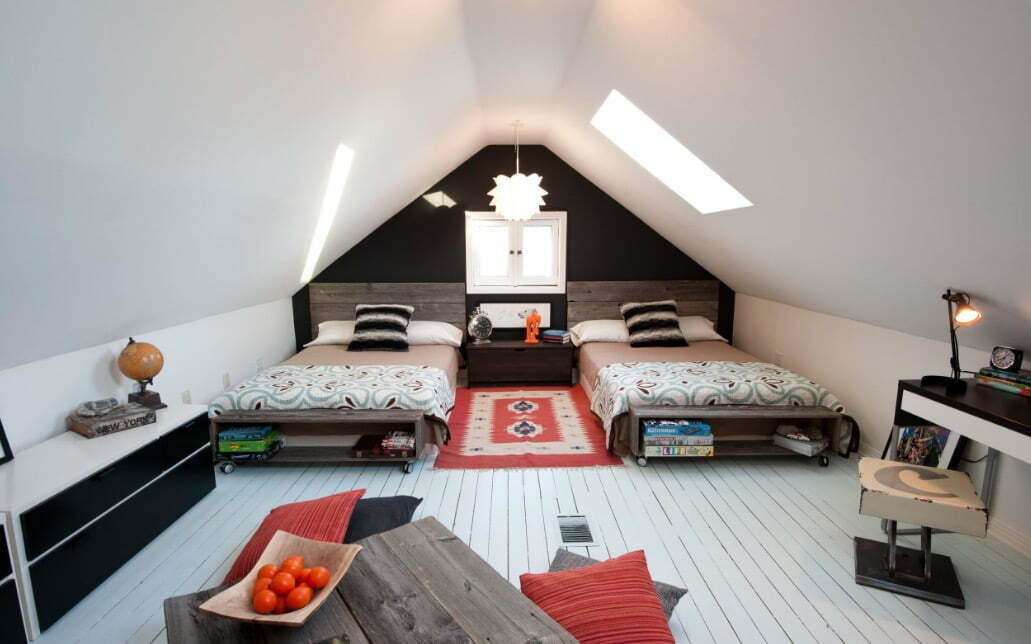 Attic can be a bedroom for your child. You can color the walls with white and brown. You can put two mattresses with a mixture of colors that your child likes.
You can put the wooden box between the mattresses to show the unique design. The box can be used to store your child's toys. You can put the study table with a unique seat on the side so your child can learn and play.



9. Colorful Attic Bedroom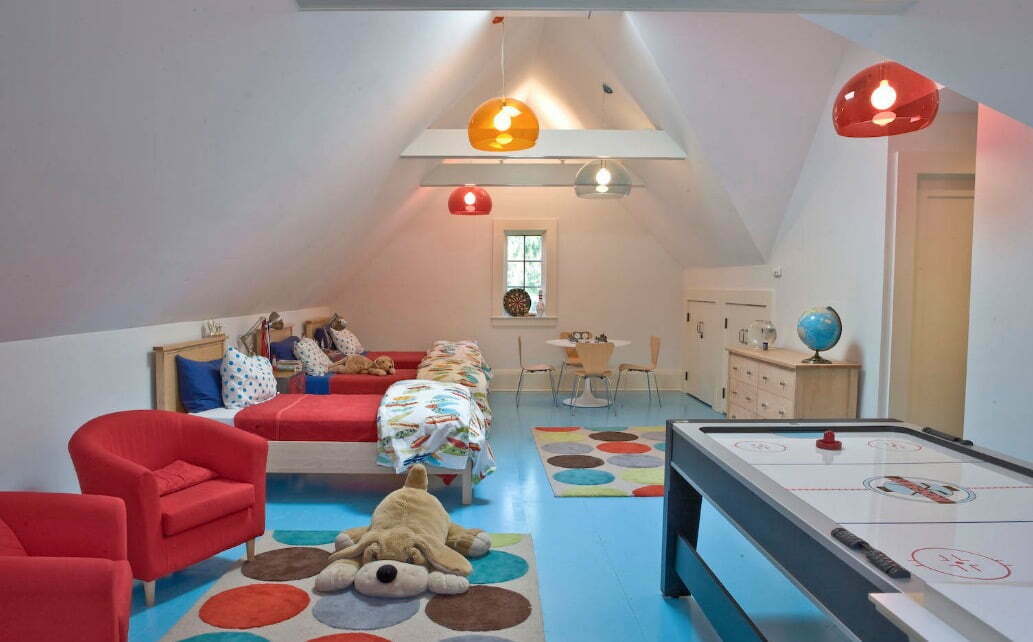 Children love the bright colors so you can mix some colors for the rooms that are in the attic. You can use red for mattress and sofa. You can use bright blue for the floor so the children will feel good in the room. You can put tables, chairs, and shelves with beautiful detail and beautiful colors. The red and yellow lanterns also add to the joy in this room.



10. Green Attic Bedroom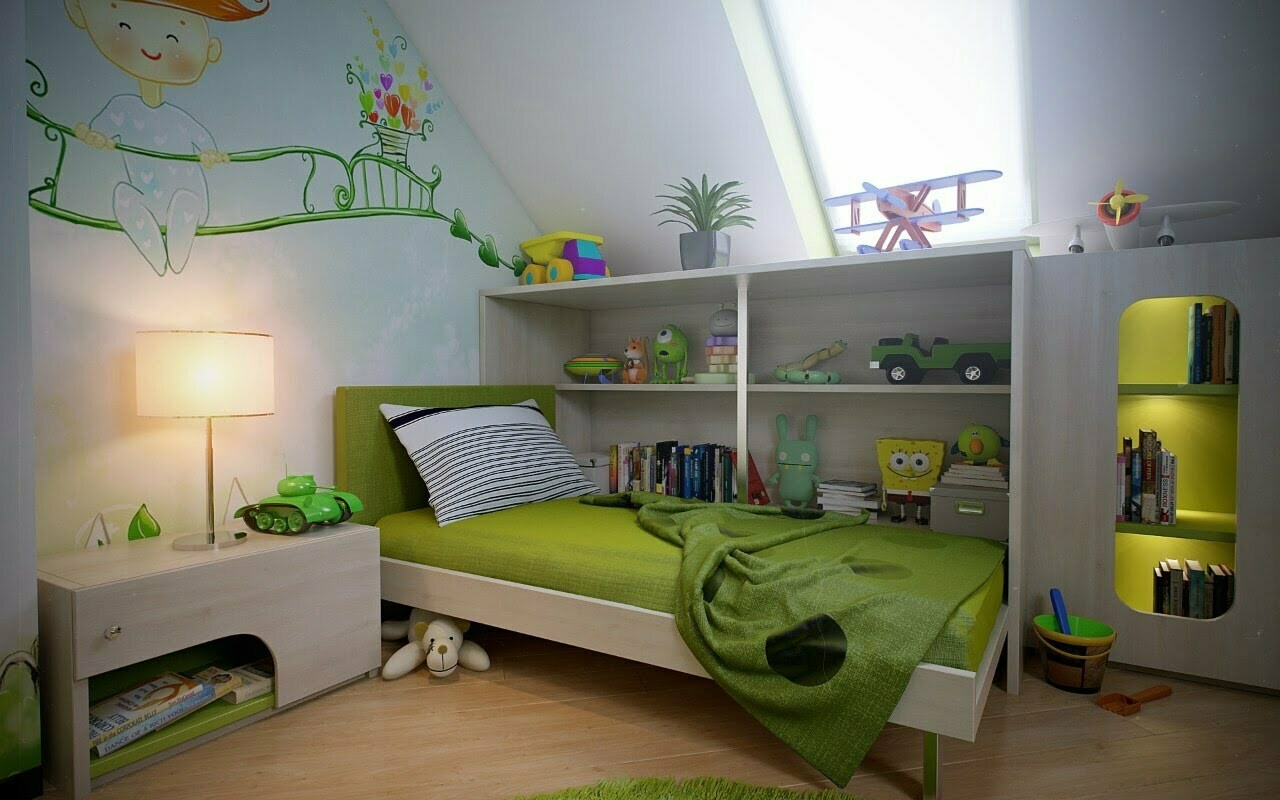 This room has a funny concept because it is filled with green color and cute wallpaper. You can put a green mattress with shelves and white cabinets that store your child's toys. The plant vine wallpaper will allow your child to imagine in this room.



11. Playful Attic Bedroom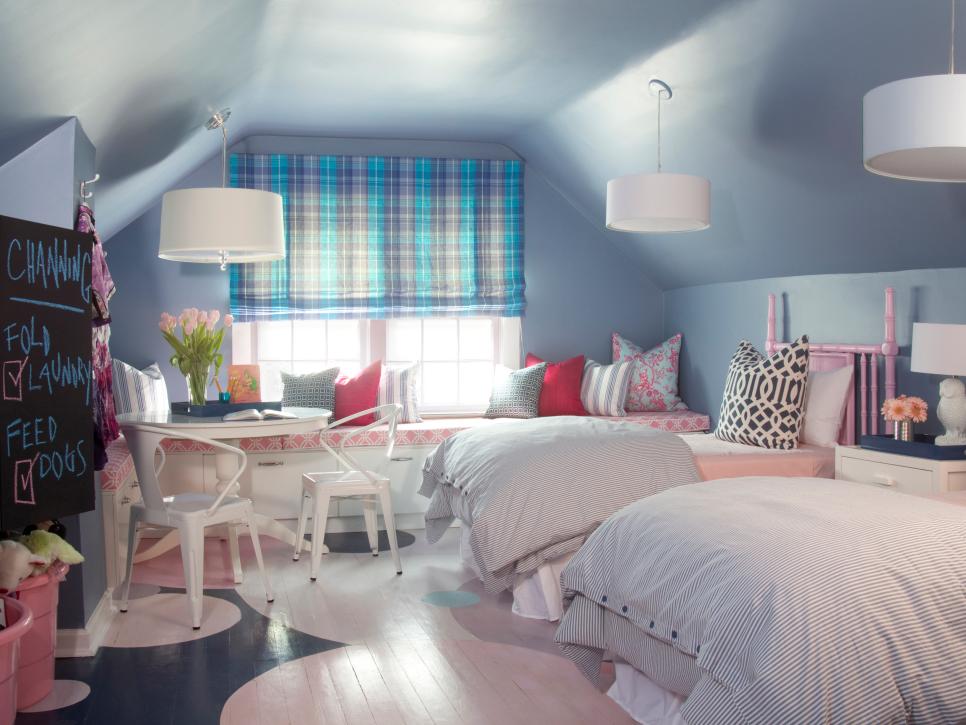 This room has a unique color because it combines blue and pink. This is a room for girls with a mattress that looks like a royal princess. You can lay the sofa by the window with colorful pillows to make this room look cheerful. White lights that hang in some parts will make this room become bright.



12. Rustic Attic Bedroom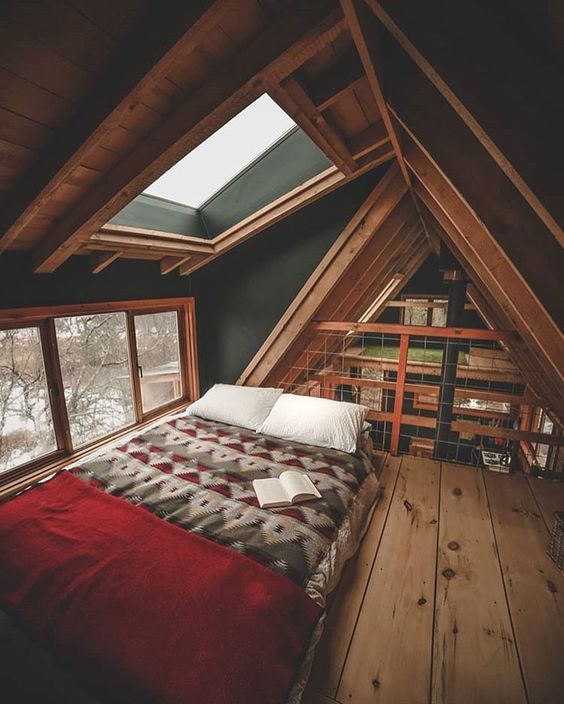 This room looks mysterious with black and woody elements all over the place. The big window is next to the mattress so you can see the beautiful view from your mattress. This mattress has a white pillow with an ancient patterned blanket and red. All these elements converge into Attic Bedroom Ideas that are close to nature.



13. Vintage Attic Bedroom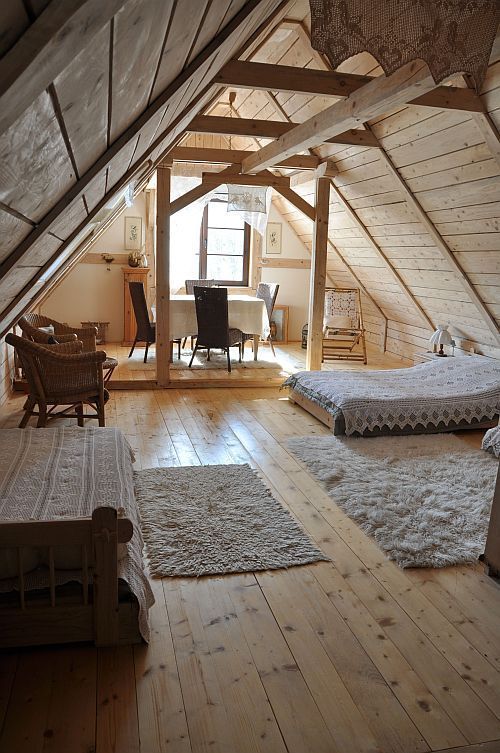 This is a romantic room with soft colors. White carpets and mattresses with intricately cream-colored patterns make this room's beauty clear. This room has only one big window that looks like a regular room.
There are several chairs and tables in front of those windows made of wood. This room also has a rocking chair to relax. This room will make you comfortable at night. This room does not use big lights but puts a unique little table lamp on the edge of a low mattress.



14. Cute Attic Bedroom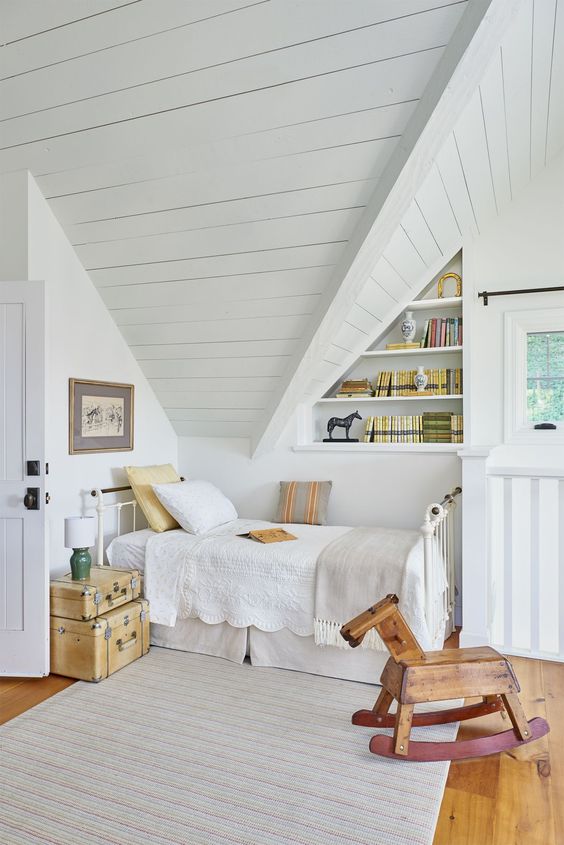 This small room is suitable for your child. This room looks mature because it uses white in many places but the furniture that makes this room cute is a rocking horse toy made of wood. Small mattresses are placed near the wall with triangular shelves used to store books. The bedside rack consists of a large and small suitcase to put a unique green and white light.
15. Romantic Attic Bedroom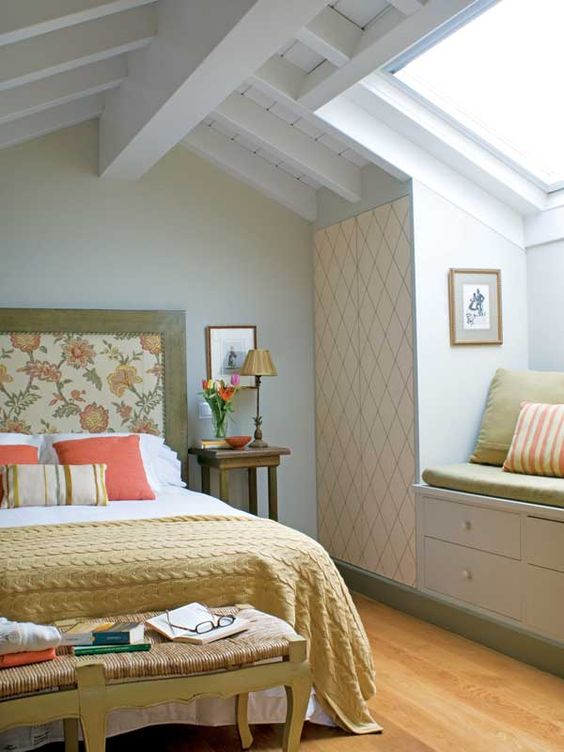 Rooms in the attic can create a warm romantic atmosphere when you can blend the right colors. This room uses a soft color palette to create a romantic impression. This room uses a mattress with a flower pattern on the back and a cream-colored blanket. That's a review for Attic Bedroom Ideas.