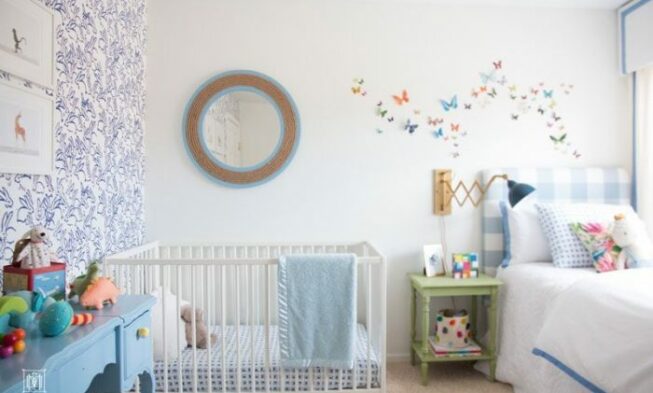 37+ Cute Baby Boy Nursery Ideas for Small Rooms
Pregnancy is the most exciting moment for every woman. It is full of happiness, joy, and anxiety. Thus, everything has to be prepared thoroughly to welcome the baby to the world, including finding the best baby boy nursery ideas.
Decorating the nursery is so thrilling that makes every mom feels so hyped up. Maybe this is what you feel now. The due date is approaching and you want to give the best for your son.
If you have not made up your mind about the design of your baby boy nursery yet, check out these cute baby boy nursery ideas.
1. Baby Boy Rooms Ideas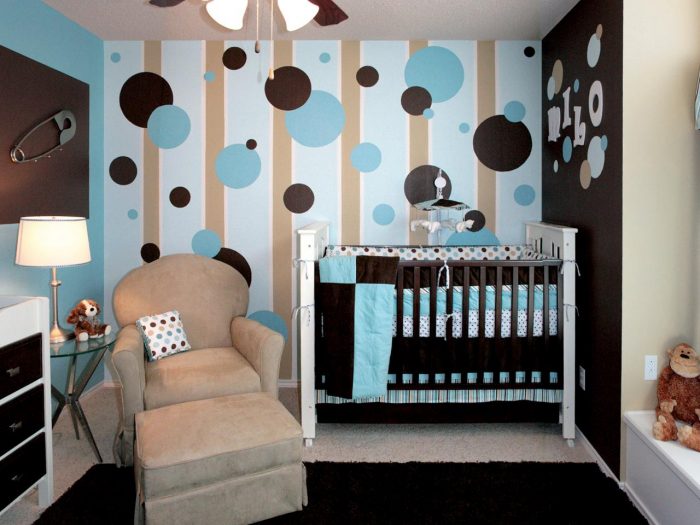 Blue hues are commonly used for gender-neutral nurseries, which mean they can be used for both a baby boy and girl. If you want to add a little bit of masculinity to your little boy's nursery, you can try adding some tints of black.
Beige carpet is tacked down to the floor to warm and comfort your feet as well as protecting your baby when he is crawling. An armchair and ottoman placed next to the crib ensures your ultimate comfort when you are breastfeeding.
To avoid the messy look, the accent wall is painted blue, black, and beige to pull all the color elements.
2. Calming Beige for Babies Rooms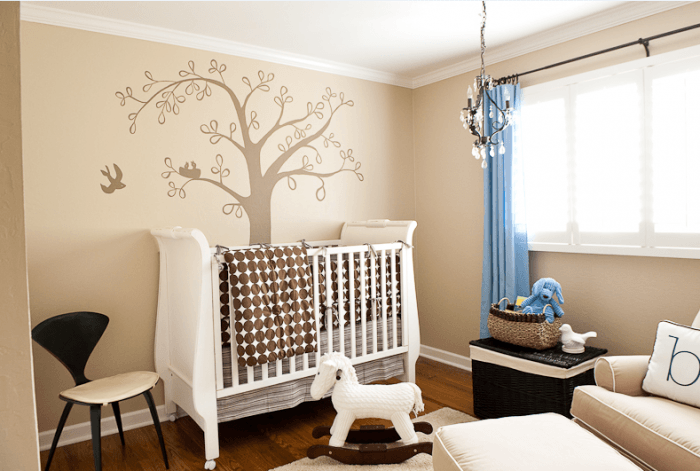 Neutral colors are your safe bet when it comes to decorating a room, including your baby boy's nursery.
This nursery, for instance, applies the combination of beige walls, and white ceiling and trims. They lend a soothing ambiance which is good for you and your baby.
As a bonus, you will not have to do a major makeover when he is getting bigger as the color schemes suit anyone at any age immensely. To jazz the space up, a wall decal of a tree is added. The blue curtain freshens up the space well.
3. Glittering-Star Accent Wall and Up-Cycled Changing Table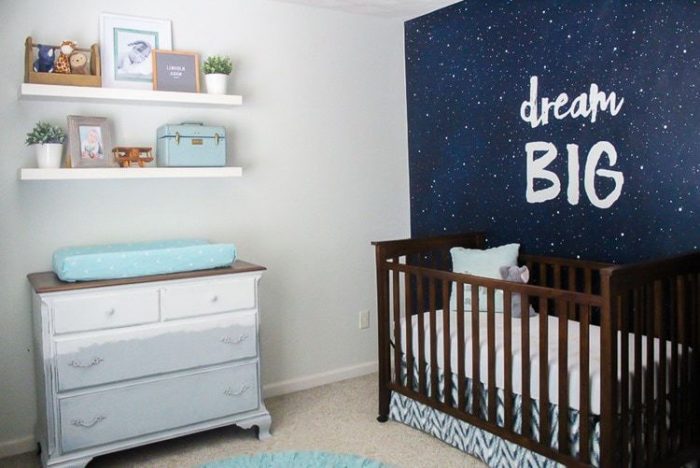 You might be so hyped up at the moment that you splurge on much furniture to furnish your son's nursery. Well, you do not need to do that because you can upcycle several things like this changing table.
This changing table is actually a dresser that has been painted white and gray to give it a second life. Above the changing table are two open shelves that are quite handy in a nursery with limited space.
The accent wall makes a conspicuous look, thanks to the deep twilight blue that contrasts with the white wall. The faux glittering stars allow your baby to explore his imagination and dream big.
4. Bold Baby Boy Nursery Ideas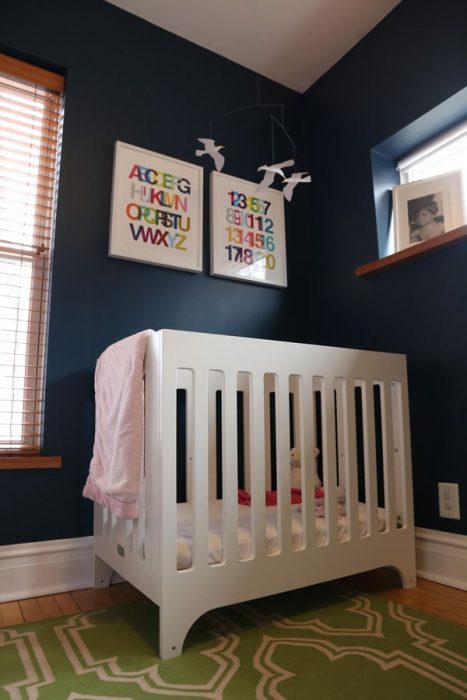 A nursery tends to adopt light or neutral hues that can soothe the baby well. It does not mean you are not allowed to use deep hues like navy blue.
This nursery use navy blue as the backdrop. It incorporates a little bit of boldness in this nursery. And when the baby is getting bigger, the color schemes will still suit his age nicely. To alleviate the dark look, white ceiling and trim.
5. Timeless Baby Room Decorating Ideas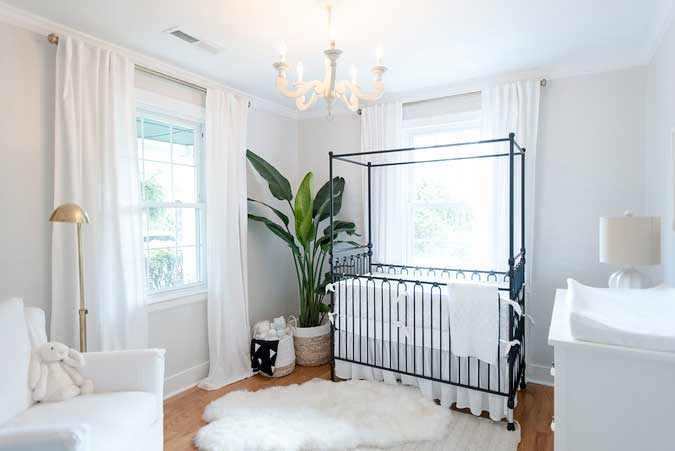 Refurbishing a room is kind of intimidating for some people. If you feel the same way, you can go with a nursery with neutral colors and decor so you will not have to do a major makeover when your son is growing.
This nursery shows that luxurious decor entailing sophisticated chandelier, copper free-standing light, and furry white rug can defeat the cute ones.
The most important thing in refurbishing a nursery is the ultimate comfort that you and your baby will get. And you can get it from this nursery since it provides plenty of natural light and greenery that freshen up the space.
6. Green Baby Boy Nursery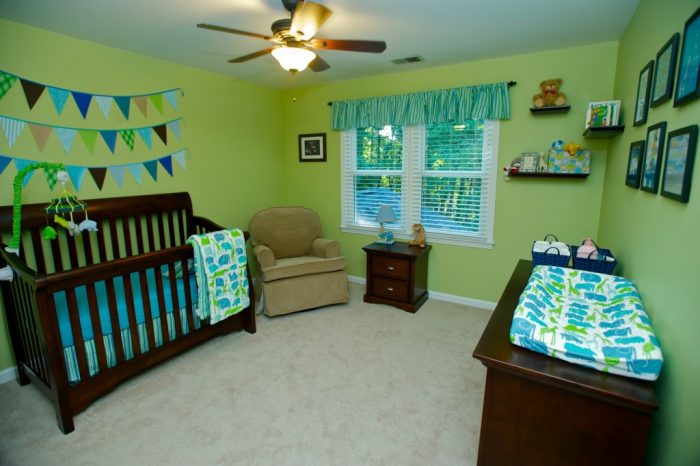 Green is the color of nature and freshness. Bring the good vibes of green into your little boy's nursery by painting the walls green. You can also try light green hues like pale sage for a more calming ambiance.
This nursery is quite spacious. Therefore, vivid green looks great here. Beige carpet is tacked down from wall to wall to comfort the crawler.
7. Shabby Chic Nursery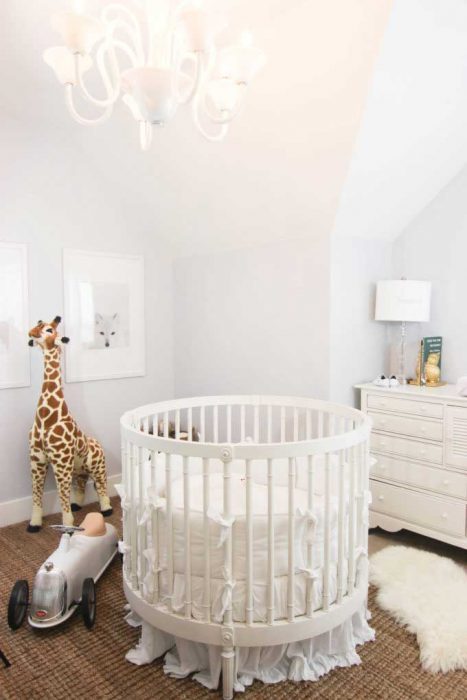 This nursery adopts shabby-chic style with the elegant crisp white and a unique round white crib with many ribbons. Fancy white changing table accentuates the luxury of this nursery.
The white furry rug will make your feet feel comfortable when you are wiping your baby. The sisal rug ensures safety and comfort when your baby is playing on it.
8. Soothing Blue Nursery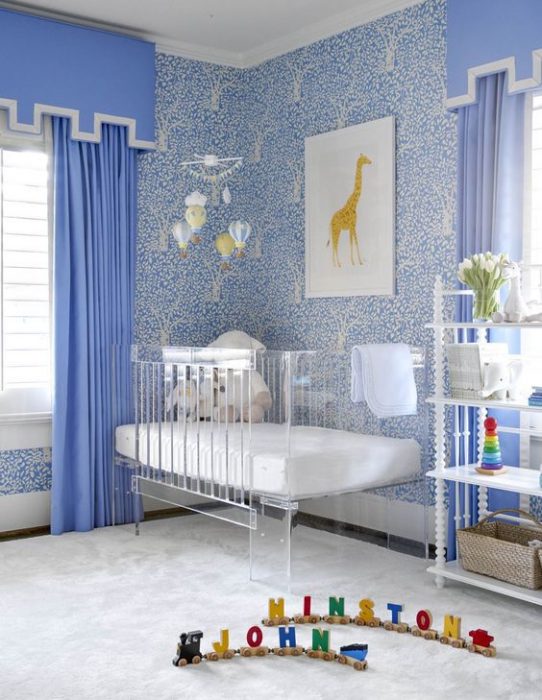 Your son will enjoy staying in this playful nursery. The blue wallpaper colors up the space as well as incorporating patterns to enliven the nursery. Blue curtains complement the wallpaper nicely.
Merry-go-round with some hot air balloons hanging over the transparent crib will make him beam with a smile. An adjustable shelf hosts your son's toy and holds the clutter at bay.
To make this nursery become a safe playground for your kid, gray carpet is tacked down from wall to wall.
9. Space-Themed Nursery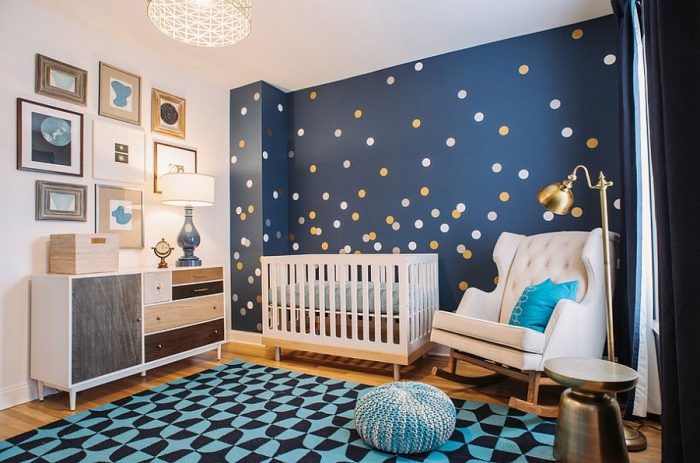 Outer space is such a wondrous and beautiful thing. Thus, it can be an epic theme that you can apply to your baby boy's nursery.
This nursery brings a little bit of space theme without being overboard by painting the accent wall deep twilight blue, just like the color of the night sky. Some white and yellow dots are spread out on the accent wall, representing the twinkling stars.
A comfortable rocking chair sitting next to the crib ensures your comfort when you are pampering your baby.
10. Superhero Boy Nursery Themes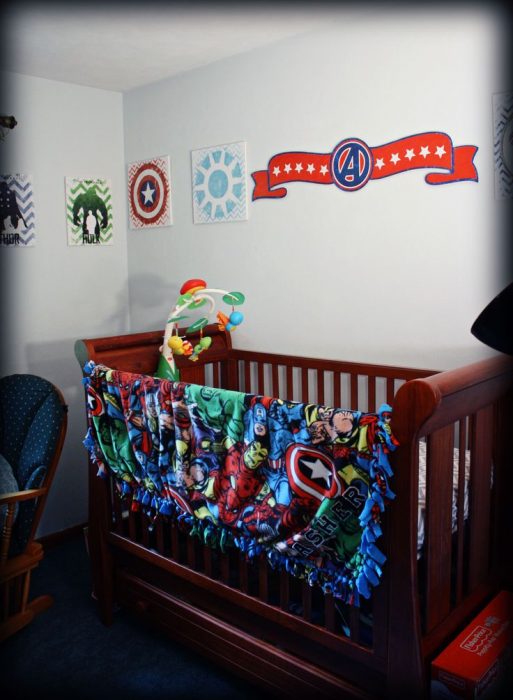 Being a superhero is every boy's dream. Although your baby boy cannot say anything about it, you can tell that he will also have the same dream as the other boys do. Therefore, he is going to love a superhero-themed nursery.
You do not have to paint the superheroes on the wall. Hanging their pictures on the wall will do in a pinch. Warm your baby with superhero blanket is your next way to go. Do not forget to hang marry-go-round over the crib to amuse him when he is getting cranky.
11. Let's Go to the Zoo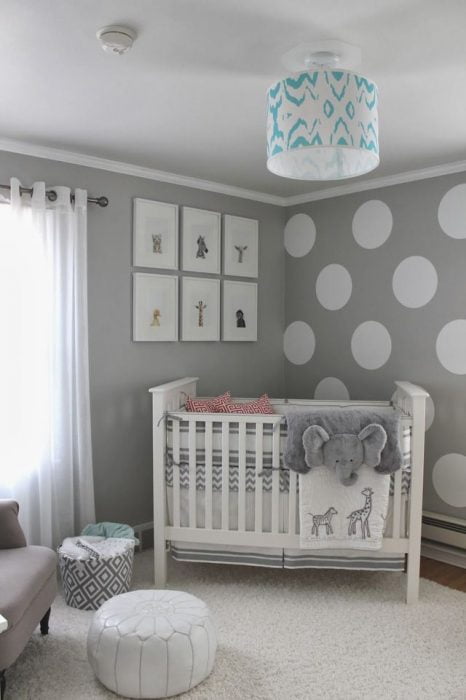 Kids love animals, and so does your son. He will be thrilled when you bring him to the zoo to see some cute elephants, giraffes, and monkeys. However, if you cannot bring him there, you can try bringing the zoo to his nursery.
This nursery looks serene with the light gray and white that adorns the entire space. Simple photographs of animals come in white that contrast with the gray wall. A soft elephant-like blanket is perching on the white crib, ready to grab whenever the baby needs it.
12. Vintage Baby Boy Nursery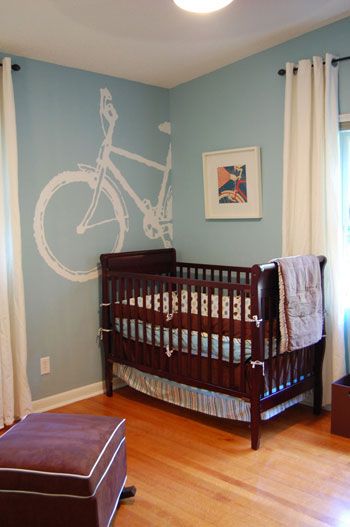 Just because your son is only a baby, it does not mean you cannot add style to his nursery. You can apply any style you want as you please as long as it will not ruin your baby's perfect sleep.
This nursery features vintage décor that pays tribute to the past. The stained wooden crib lends a classic look to the nursery. And the white bike decal on the watery blue wall gives tranquility to the space.
13. Geometric Accent Wall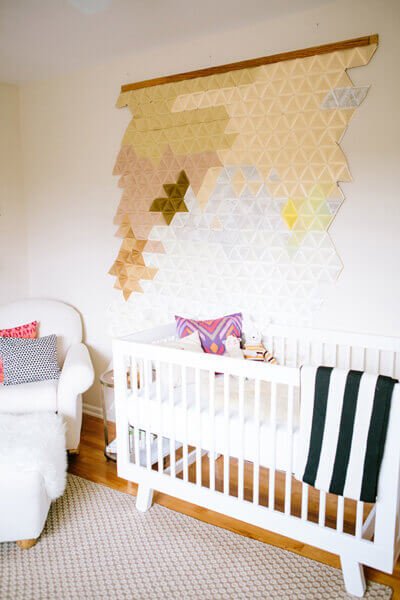 This white nursery looks comfortable with a white English rolled armchair and an ottoman that you can use to stretch out your legs so you can be more relaxed. A white crib complements the décor perfectly.
The white wall would look stark if it were left untreated. Therefore, wall art makes a big impact here. The geometric wall art like this one is a simple choice to amp the nursery up in a breeze.
14. Go Save the World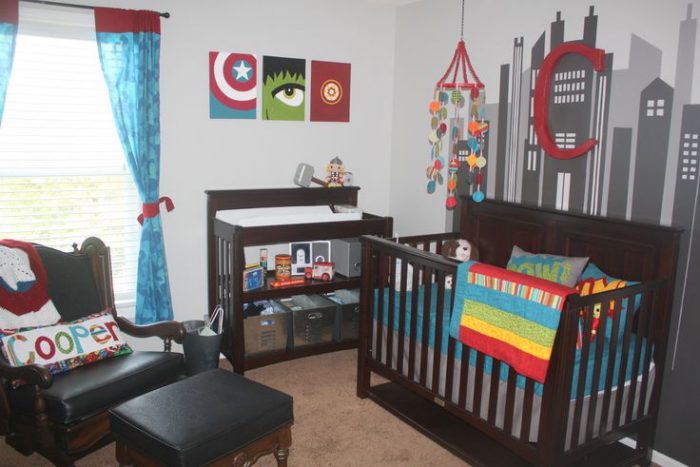 This is another superhero-themed nursery that worth trying. The wall art of the city life makes a perfect accent wall that can draw attention instantly. A monogram hanging on the decal accentuates the accent wall perfectly.
The pictures of Captain America, Hulk, and Iron Man adorn the wall nicely, making it look less stark. They look as if they were ready to protect the city from vicious villains.
15. Cheery Baby Boy Nursery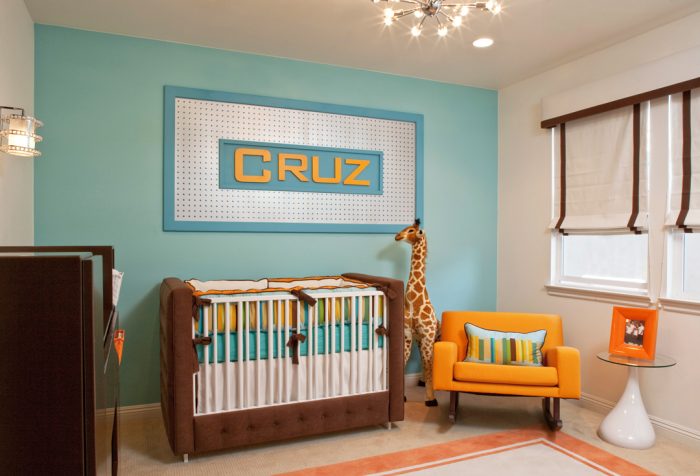 The combination of light blue and mustard is a great mood booster for you and your baby boy. Blue is the color of tranquility, which makes it a perfect color hue for a nursery. Yellow is the color of joy that can give good vibes to the space.
This nursery has both the calming effect and a little bit of joy that will make your baby feel comfortable. To avoid being overboard, the light blue is only used as the accent wall while the mustard comes in the comfy rocking chair.
16. Decoration for Sharing Room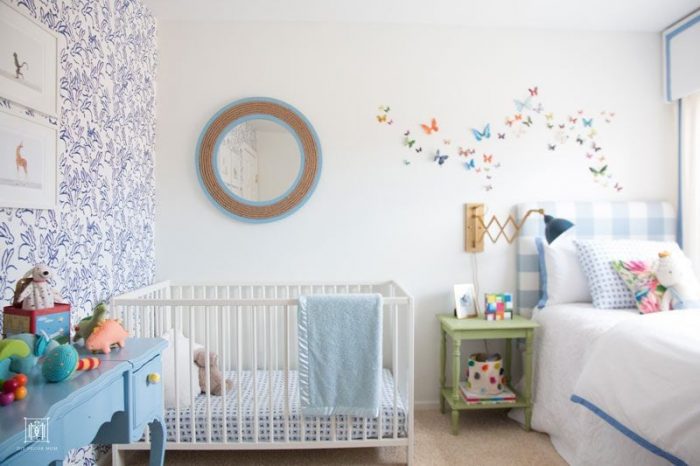 An apartment dweller knows how it feels to get by with limited space. They have to make their kids to share a room.
This bedroom does double duty. A white crib is shoved against the wall to create a space between the crib and twin bed. Rabbit wallpaper looking like toile covers the wall as well as adding more patterns.
17. Cute Penguins for Baby Boy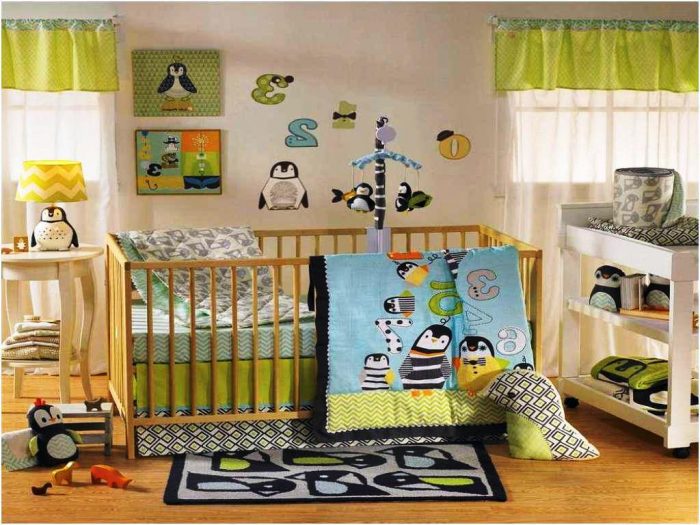 Penguins are exceptionally cute, which make them great embellishment for your cute baby boy's nursery. We are not talking about the real penguins, though. Some pictures and other penguin stuff will work like a charm.
This nursery is like a safe haven for penguins. You can see penguins anywhere in this room. Even the blanket has some penguins on it, and your son is going to love his nursery.
18. Star-Wars Nursery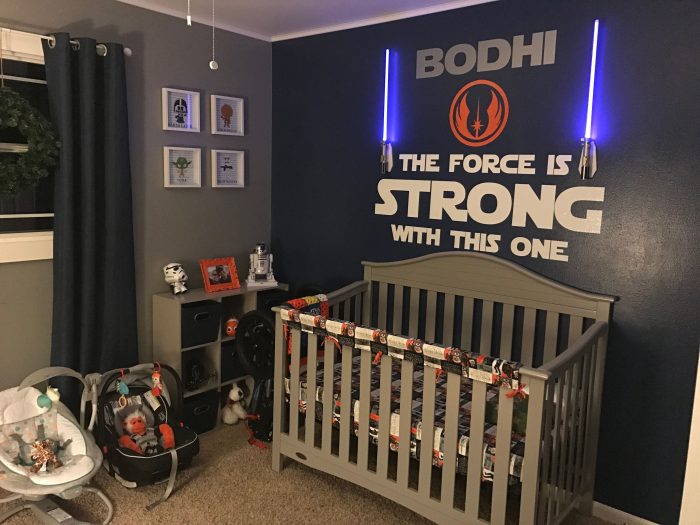 The Star Wars movie on cinema has been over, but the excitement remains there. If you are a big fan of Star Wars, you can apply the décor in your son's nursery.
The deep twilight blue, looking like the color of outer space, makes a nice accent wall. Light gray found in the crib and wall alleviates the dark ambiance. Since it is all about Star Wars, two lightsaber toys attaching on the wall mean a lot.
19. Forest-Themed Baby Boy Nursery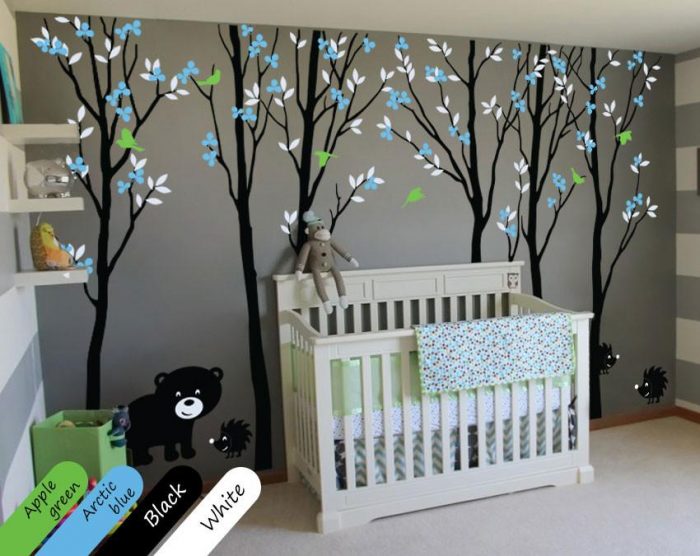 The forest is the safe haven of animals. It can refresh everyone's mind with its cool breeze and the sound of nature. Bring this charm of nature to your baby boy's room by applying the forest theme.
The light dray wall is a perfect blank canvas for any adornment. Besides, the light hue is not overwhelming at all. The decal lends some semblance of life in the forest. It is simple and calm, which is what your son needs.
20. Light Blue for the Calming Effect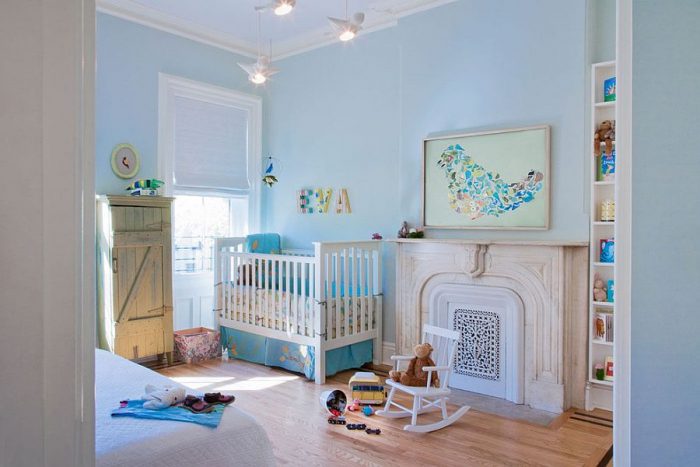 Pastel colors always lend a calming effect to the space, just like what you can see in this nursery. The pastel blue occupies the walls in this room. The white trims make a great pair with the pastel-blue walls.
Placing the crib near the window will allow your son to get sufficient natural light which is good for him. And when the sun is glaring, you can always use the roman shade to block it.
21. Playful Monkeys in the Nursery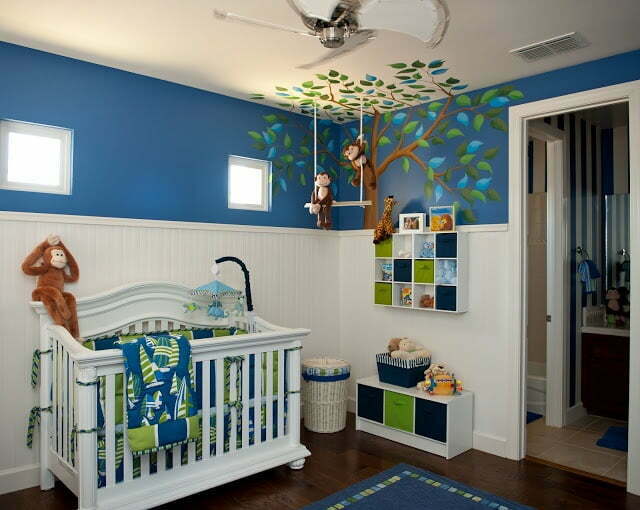 Monkeys are cute and playful. They can be good friends for your baby boy. It does not mean that you keep the real monkeys as your pets and ask them to babysit your son, though. We are talking about monkey dolls now.
As you can see here, the nursery looks cheery with the vivid blue and the painting of a tree. Several monkeys are playing around the nursery, amusing your son and making him smile exuberantly.
22. Simple yet Elegant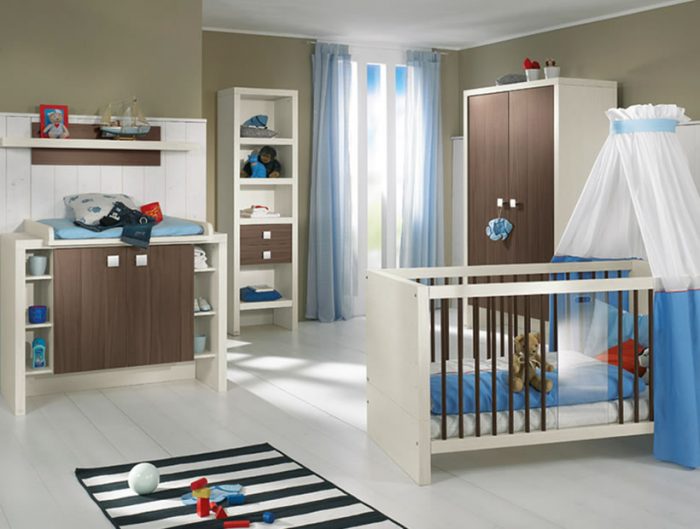 A nursery is for a baby, but it does not mean the décor has to be childish. Neutral colors can also work well in a nursery. Besides, they are timeless.
This nursery looks elegant with the combination of the white tongue-and-groove paneling and hazelnut wall. The shelves and cupboard remain simple. This nursery does not feature a carpet that covers the entire floor space. It has stripped rug, instead.
23. Baby Boy Paint Ideas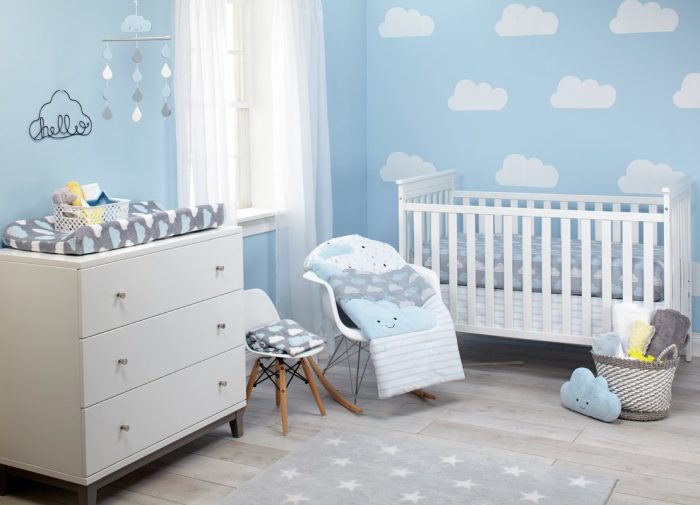 When entering this nursery, you will feel the relaxing ambiance instantly, thanks to the light blue hue that evokes the tranquility of the blue sky. Some white clouds embellish the blue wall perfectly.
Above the changing table is a hanging toy that looks like rain, accentuating the theme well. Besides blue, light gray is also used to fill in the space especially the floor space. Light gray is preferred because it complements the soothing effect provided by the light blue.
24. Nursery for a Sailor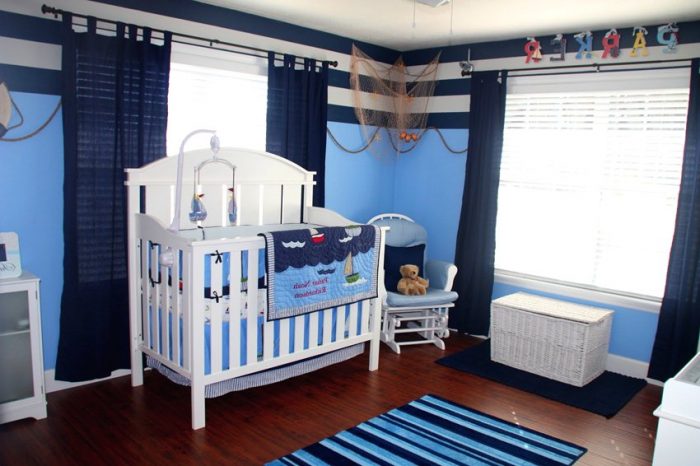 Different shades of blue will give a different nuance to the space. While light blue is as calming as the blue sky, deeper hues represent the color schemes of the sea, which is perfect for a nautical-themed nursery.
This nursery uses blue, white, and navy blue that represent the scenery of the sea. A fisherman net suspended from the ceiling adds some semblance of style.
25. Accentuate It with Decals and Pendant Lamp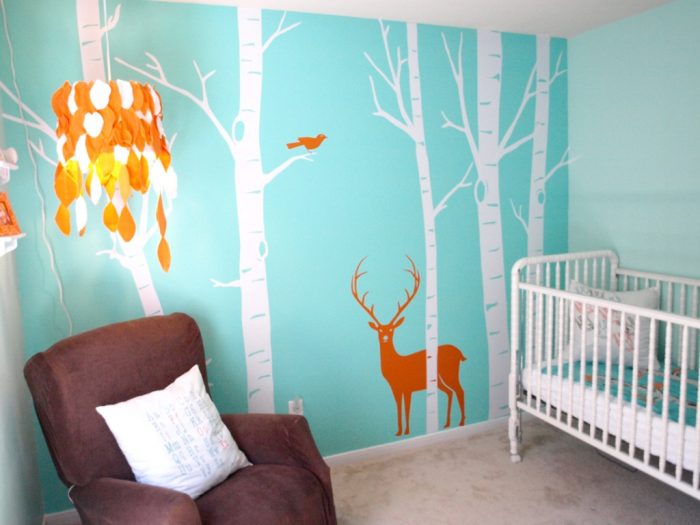 If you think your baby boy's nursery is too stark, you can jazz it up with decals. Decals are the go-to adornments that can add a nuance to a plain wall in a jiffy. In this nursery, for example, a forest-themed decal is used to make an accent wall.
Besides decals, you can dress up the pendant light. This is a very easy method to do a nursery makeover on the cheap. This pendant light, for instance, is actually a lampshade that is covered with some leftover. It is DIY friendly and will not make you short on cash.
26. Nursery for Twins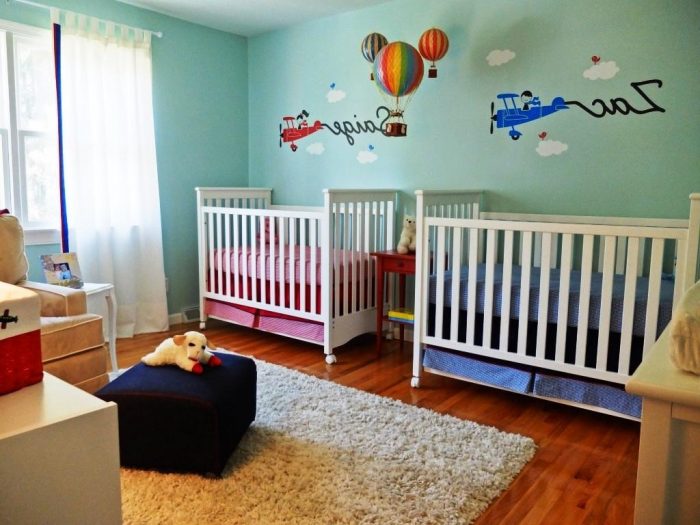 You do not have to separate twins. It will be too much trouble if they are cranky at the same time, and you have to soothe them. They can share a room, just like what you can see in this nursery.
Since this is a nursery for twins, two cribs with different colors are added. A table is placed between them to separate the cribs. Different colors are used to add a personality boost to the twins.
27. Green and Brown Nursery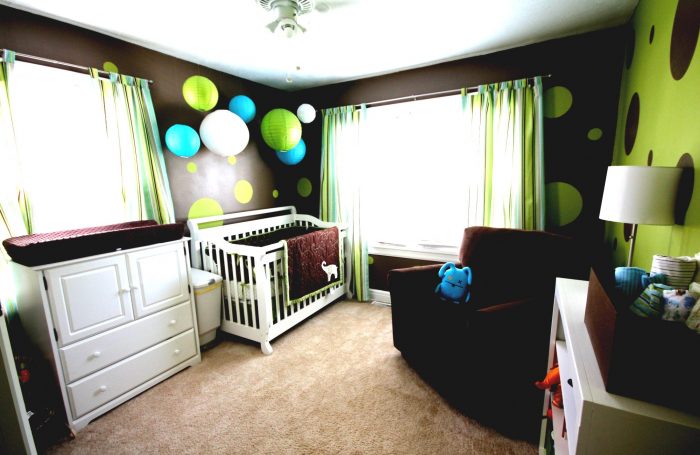 The combination of dark brown and green brings elegance to this nursery. They make the room look bold without going overboard. Some tints of vivid blue and white add pops of colors to the brown wall.
Soft beige carpet is used to cover the floor for the peace of mind. Your son will play comfortably on the carpet.
28. Baby Boy Decor Ideas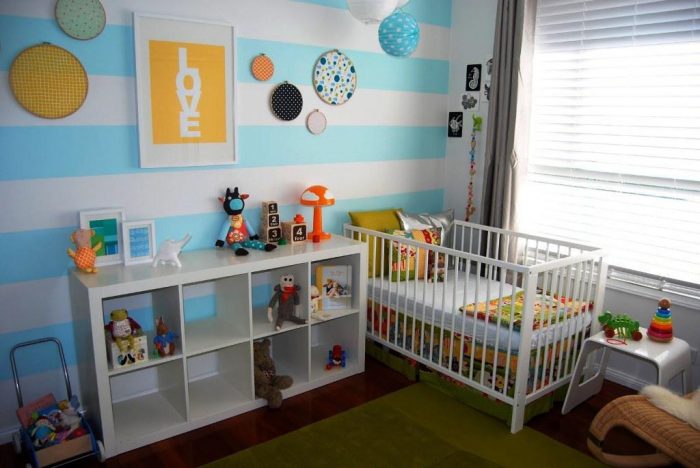 Striped style is used to color up the wall. Light blue and white are chosen to lend the serenity to the space. To beef the wall up, some rattan hoops in different sizes and colors are hung to the wall along with Asian lanterns that are suspended from the ceiling.
White cubic stands next to the crib, allowing your son to learn how to tidy up his toys himself.
29. Football Player Wannabe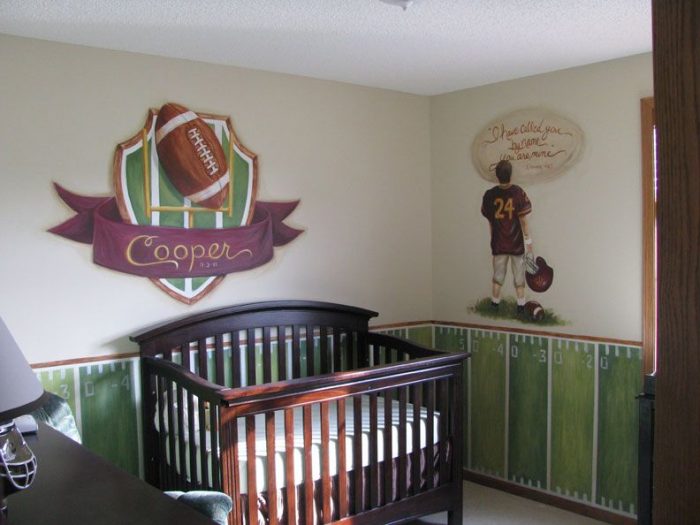 It is okay to introduce your baby boy to a certain sport although he might not get what it is all about. Whether you want him to be a football player or you are keen on football, adorning your son's nursery with a football theme could be a good idea.
The lower half of the wall is painted green, denoting the field. A symbol of a football team is painted on the white wall to create a focal point.
30. Rustic Baby Boy Nursery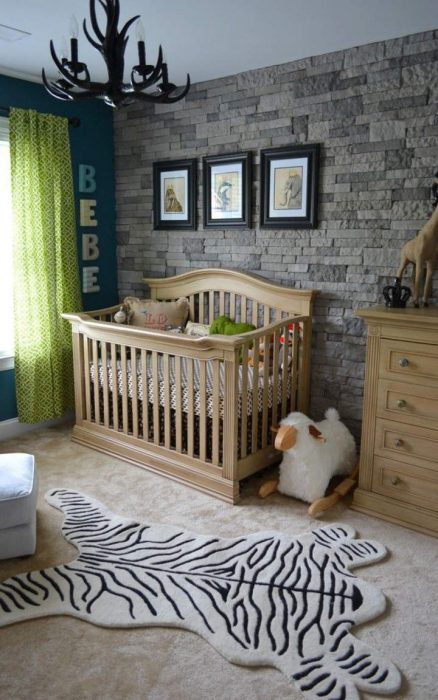 Add a little bit of rustic look to your baby boy's nursery by installing faux stone tiles that as the accent wall. Faux wooden antler chandelier incorporates an upscale look to the space. A tiger-like rug adds some style to this room.
31. Gray and Yellow Nursery Ideas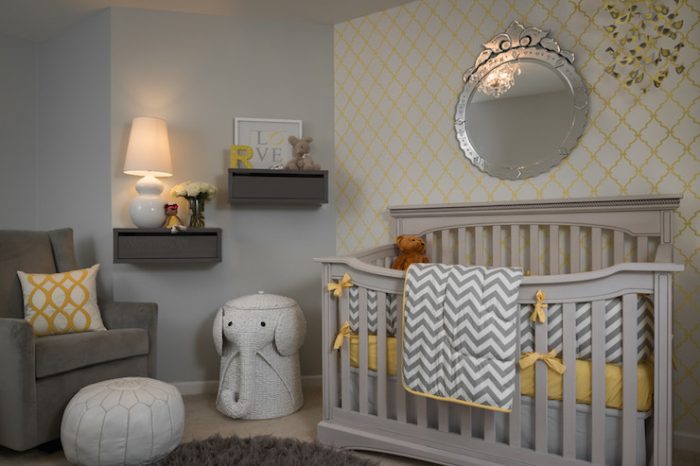 Gray is one of the neutral colors that you can use if you have not made up your mind yet. However, an all-gray room can be dull somehow, which is not quite good for your baby boy's nursery. To diminish the dullness, you can add some tints of yellow as it is the color of joy.
32. Nautical-Themed Nursery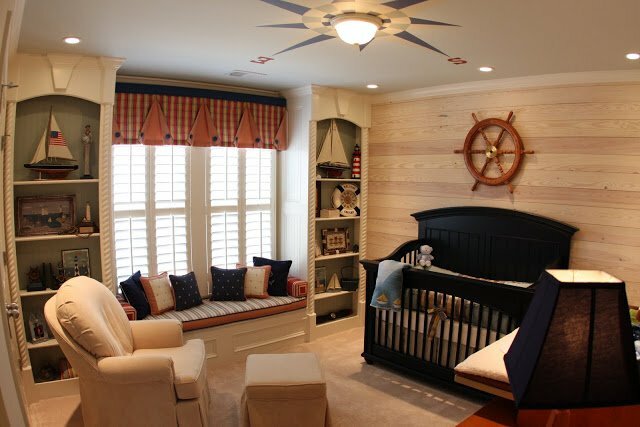 Ahoy, mate!
This nautical-themed nursery might be what you are looking for. It is unique without being overwhelming. The pallet-wood wall evokes a sail while the steer perfects the look.
Two shelves flank the window, creating a balanced look. There're also two tiny sails and some other nautical stuff to highlight the style.
33. Explore the Galaxy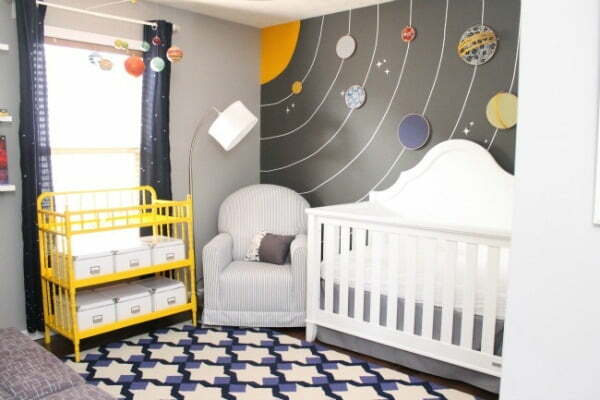 Let your little astronaut explore the outer space. It does not mean you have to put him in a space shuttle and send him to the space. You can try decorating his nursery by imitating the solar system in the galaxy.
You can begin by painting the corner of the wall yellow to represent the sun. Then put some circles representing the planets in the right order. Hanging some balls in different sizes over the changing table or crib would also be a great idea.
34. Pale Sage for More Relaxing Ambiance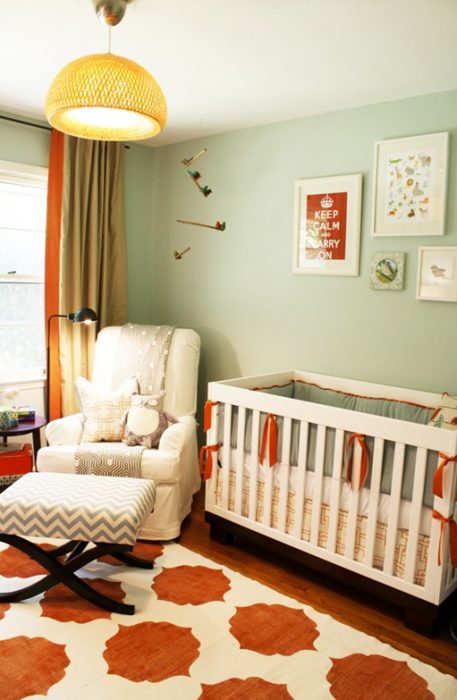 A calming effect can be gained by painting the wall light hues like pale sage. It is a very soft color that will suit your baby boy's nursery well. The pendant light adds a textural element, which makes the nursery look unique. Some tints of burnt yellow add a little bit of nuance.
35. Keep Down to a Minimum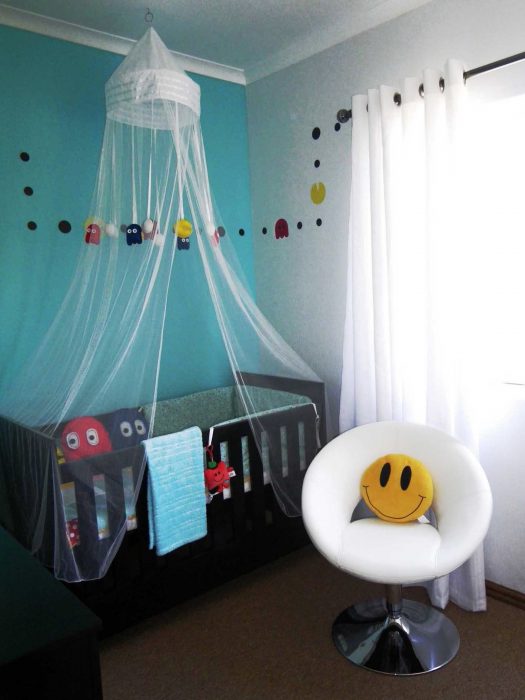 Just because it is a room for a baby boy, it does not mean you have to overwhelm it with toys and playful adornment. Keeping things down to a minimum can be a worth-trying idea.
This nursery only features a crib and a wall sticker of Pac Man. A brown carpet reduces the excessive noise made by footsteps nicely.
36. Crisp White Nursery Ideas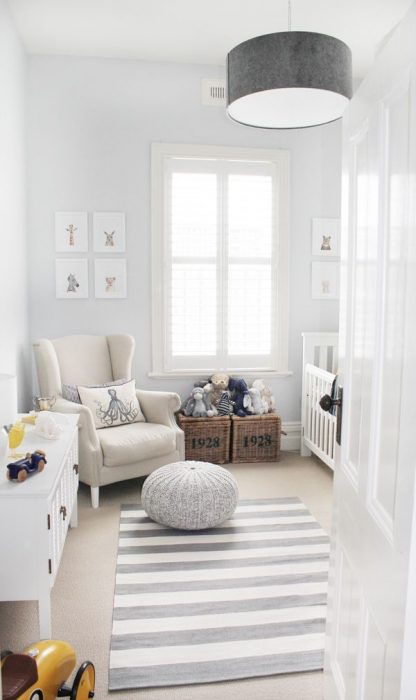 When it comes to a small room, all-white décor is your greatest bet. White can trick the eyes and make everybody think that the room is larger than it really is. Besides, it can give a clean look like what you can see in this nursery.
37. A Little bit Touch of Gold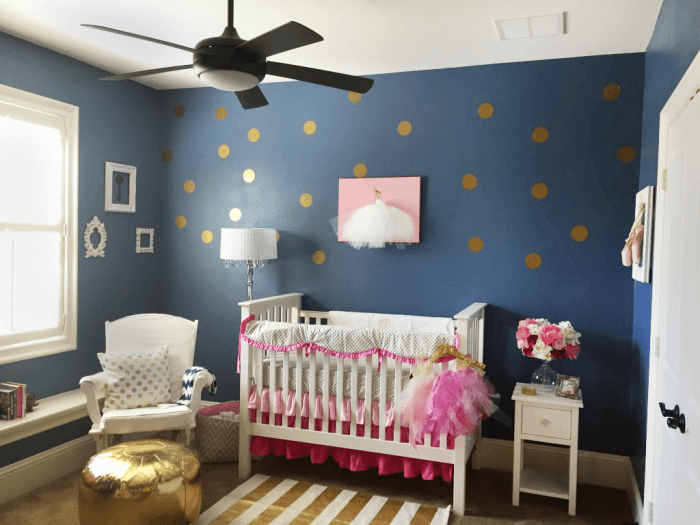 Cobalt blue adorns the walls of this nursery. To make it less dark, white trims and ceiling are used. However, the cobalt blue wall is a little bit tedious.
To perk it up and make it a great focal point, some gold dots are added. Even some tints of gold are also found in the rug and ottoman.
---
Those are cute baby boy nursery ideas that you can try. You might be overwhelmed with these brilliant ideas at the moment. One thing for sure, you need to pick the idea that can provide the ultimate comfort for you and your baby as well as adding a personality boost to the space.