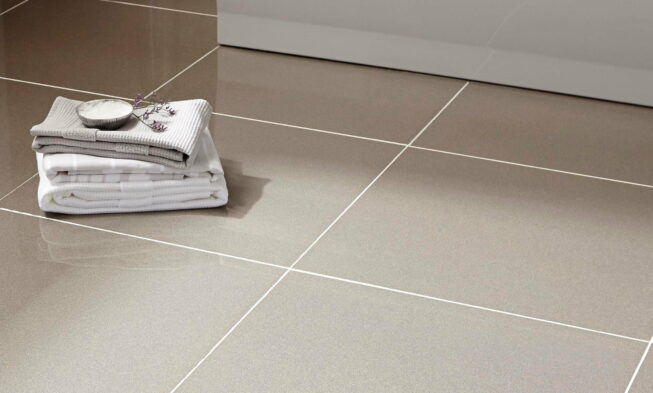 Best 15+ Amazing Bathroom Flooring Ideas
Bathroom Flooring Ideas are some of the important aspects to be consider when you want to design or renovate your bathroom. It is basically a part of the interior design itself. It means that the tiles chosen must be in line with the general concept of bathroom interior.
It is including the colors, pattern, and even the sizes of tiles. More than that, the flooring idea must also make everyone come in feel comfortable inside. Different from tiles used in other rooms, bathroom times must be really safe and not slippery.
If those matters are fulfilled, the idea of bathroom flooring can just be perfect. This article talks more about some stunning ideas of bathroom flooring. Just read it and then share to inspire more people.
1. Long Wooden Tiles for Vintage Bathroom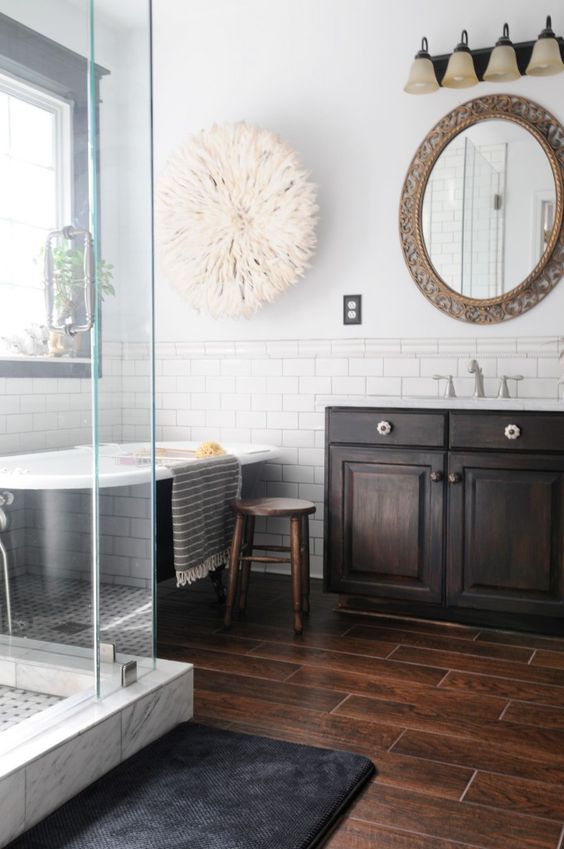 You may call the recent as modern days. But undeniably, there are some interior designs that are indeed everlasting. Yes, vintage interior still has so many enthusiasts nowadays including for the bathroom.
Vintage bathroom can be realized by the application of some modern-classic furniture. Interestingly, long wooden tiles match this idea well.
2. Fish-Scales Idea for Classic Bathroom flooring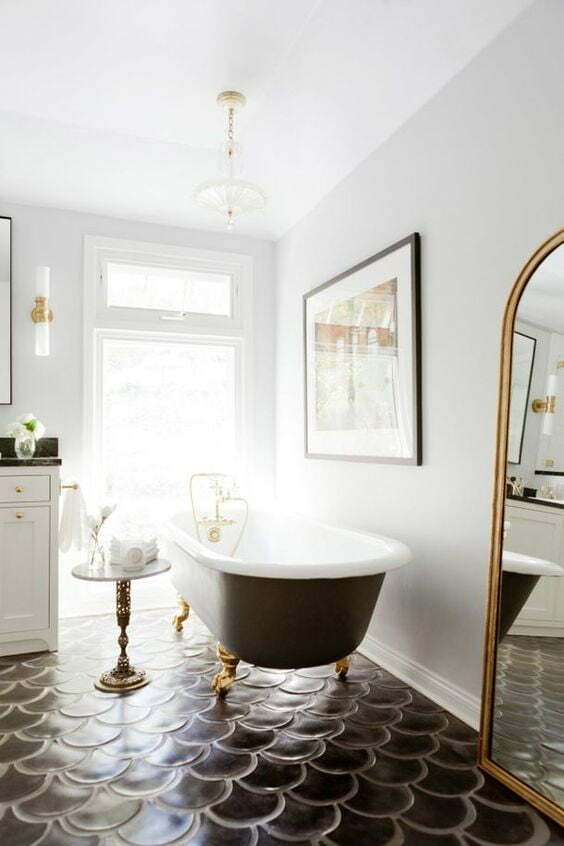 When you think the use of square tiles are too common, you can try this one. The tiles are in the form of fish scales. Since the shape and pattern tend not to look minimalist, this idea is better for classic or vintage bathroom interior. Match it with furniture like classic tub with claw foot. Then, this bathroom is just unforgettable for anybody comes in.
3. Triangle-Patterned White-Yellow Tiles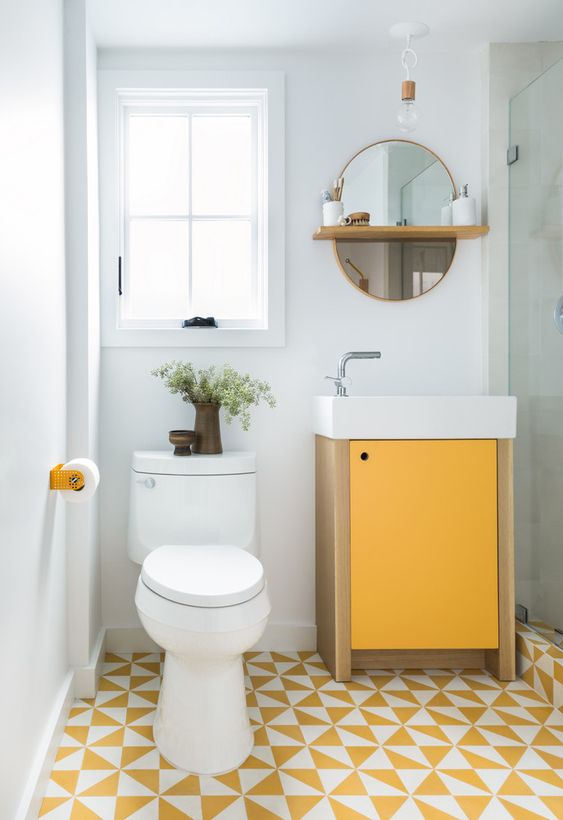 You can just simply change your modern bathroom into retro with only a little touch. One of them is by playing with the flooring idea. If modern tiles are primarily focused on the simplicity and minimalism, try something different. The choice of tiles with triangle pattern is just good. More than that, it is if bright colors like yellow are also applied here.
4. Hexagonal Tiles for Contemporary Bathroom Design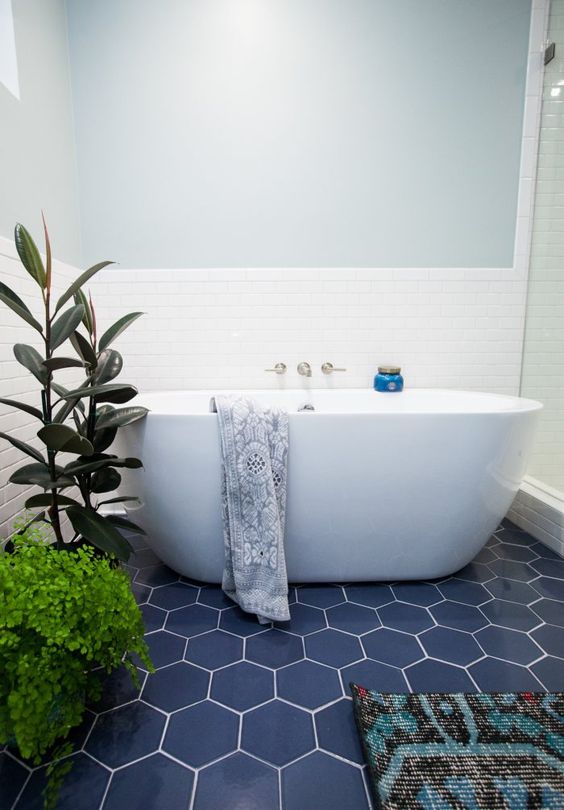 When you want your contemporary bathroom more than just contemporary but also unique, this one is just creative and different. How about applying hexagonal tiles? Make sure to choose them that are plain or with simple patterns or motives. Combine them with bathroom furniture with minimalist design as well.
5. Colorful Tiles for Bathroom with Ethnic Nuance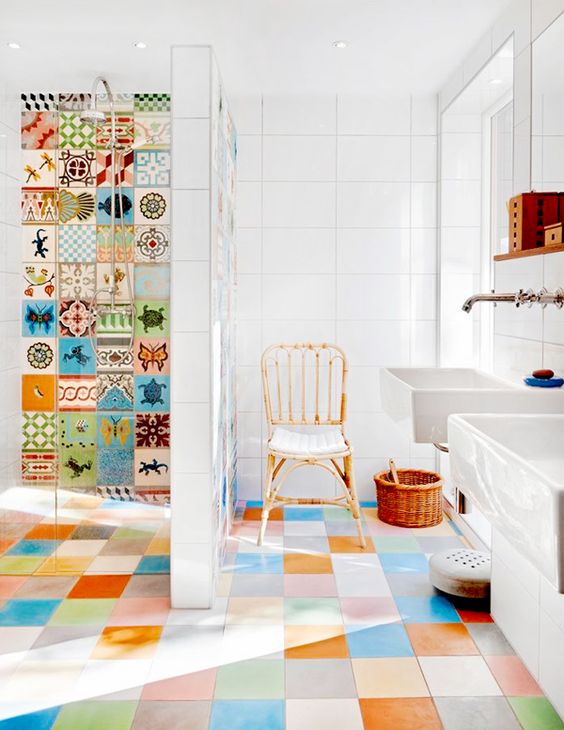 The opposite of modern and minimalist bathroom is not only the classic ones. It is also them with ethnic nuance. Well, are you interested to accentuate the feel of ethnic inside your bathroom?
The flooring idea can be a key point here. If you cannot find tiles with ethnic motives and pattern, choose them with pale colors. Combine some colors at once to make the floor look colorful and unique.
6. Slim and Long Wooden Tiles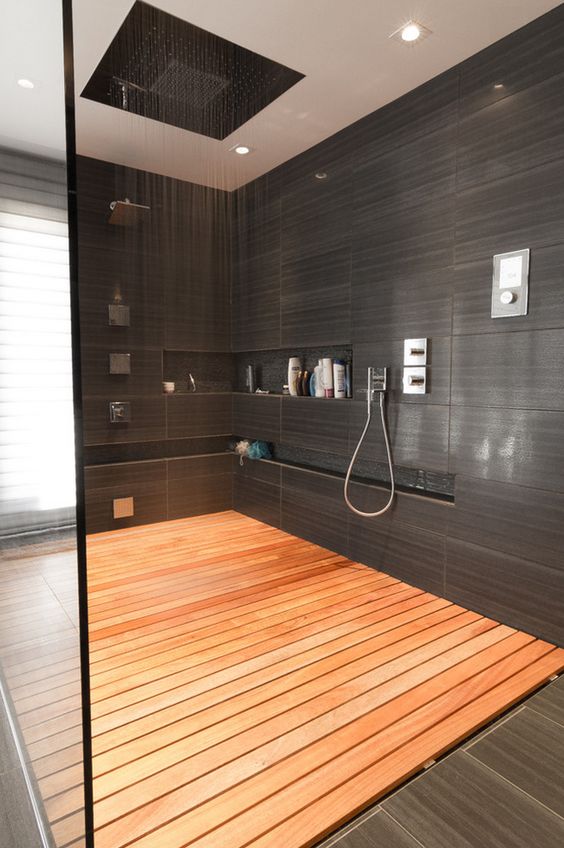 Within your hectic schedule, you may want to relax for a moment inside your bathroom. This way, applying Zen idea is just good. One of them is by installing wooden tiles. The wooden tiles are those which are still maintaining the natural colors and fiber.
To make it look different, forget the square ones and the slim and long tiles are smart choices.
7. Two-Tone Bathroom Flooring Idea in Neutral Colors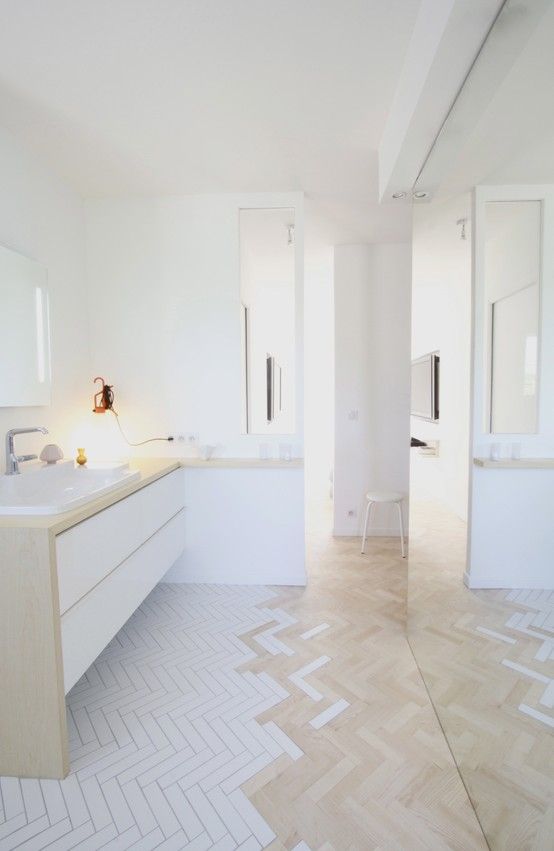 There should not always one flooring idea applied but it can be two or more. Two-tone flooring idea is just unique in which you need to divide the floor into two and use different colors in them.
The two colors can be in contrast to each other but also can be quite similar to form a certain gradation. To make it more unique, choosing long tiles and arrange them differently like zigzag is a good idea also.
8. Modest Flooring Idea for Simple Look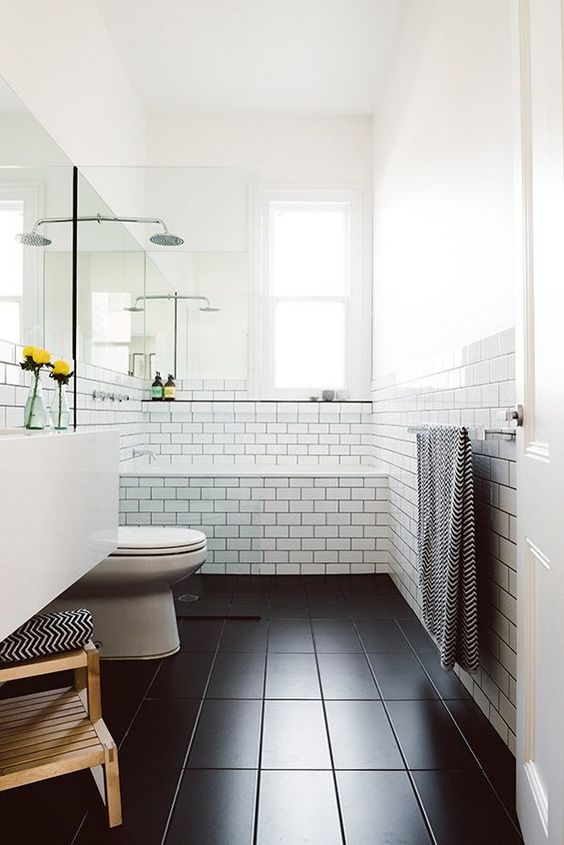 The tiles are commonly not only applied on the floor but also the wall. To avoid it being monotonous, both should have different designs and ideas. If the tiles for wall have been in detailed design and even you choose to use small tiles there.
This kind of bathroom flooring ideas must be much simple and modest. Using plain tiles with earthy colors like rustic or dark brown is recommended anyway.
9. Small Tiles for Modern Classic Bathroom Design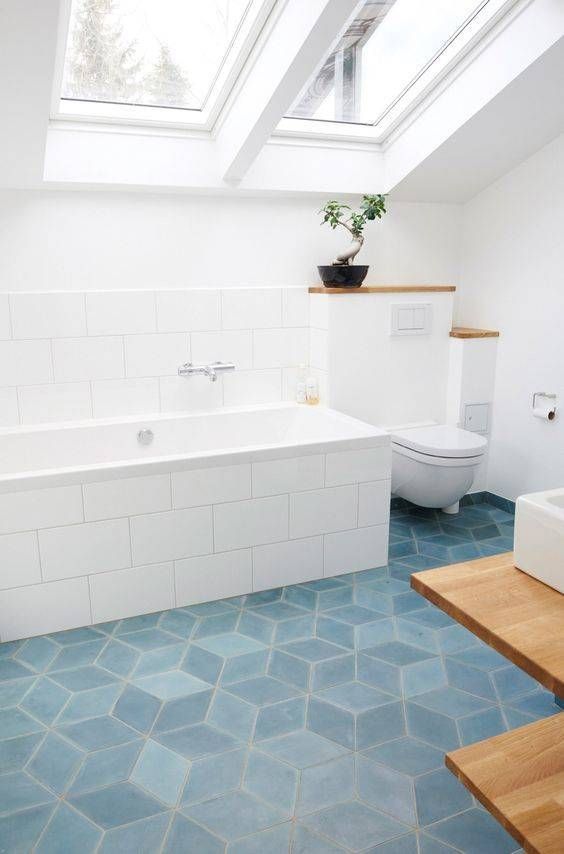 Combining two concepts at once is very common for interior design. It is even for two contrast ideas like modern and classic. For the bathroom flooring choice, it tends to be more flexible also. In case when the bathroom is quite large, small tiles are good choices.
This idea makes the interior look more elegant with the details. Make sure to balance it with bigger tiles particularly for other parts like the wall and furniture.
10. Flooring Bathroom Idea with Classic Motif and Pattern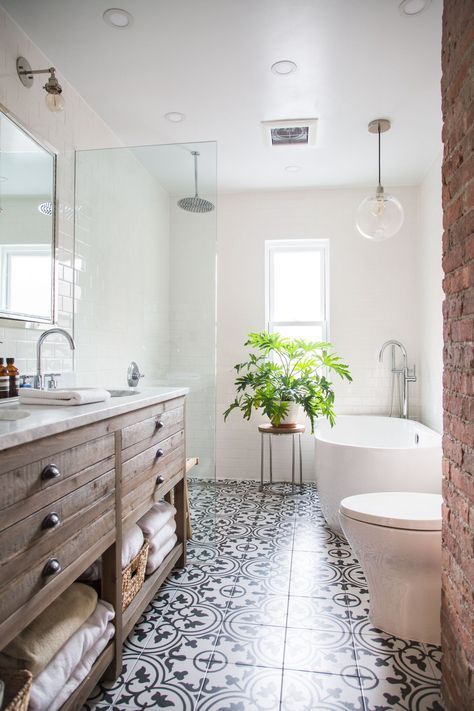 The sense of classic can be realized in some easy ways. One of them is regarding the choice of the tiles. It is no matter if the wall decoration and furniture around have been in modern and minimalist style.
Once you apply tiles with classic patterns, the entire bathroom easily turns into classic. This is a good solution for glamorous look without putting too many efforts. Sure, it is low-budgeted as well.
11. Flooring Bathroom with Dark Color Idea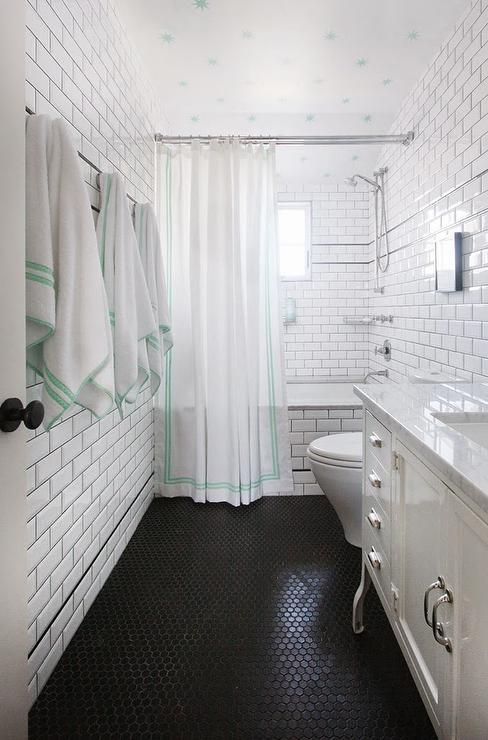 It is true that light-color concept is able to make the interior of bathroom look larger and spacious. However, the wrong application may make it monotonous also. There is a good solution if you want to design it more safely. When the wall and furniture is already in light color, the floor can apply the darker one.
12. Combination of Matte-Sparkling Ideas for Floor and Wall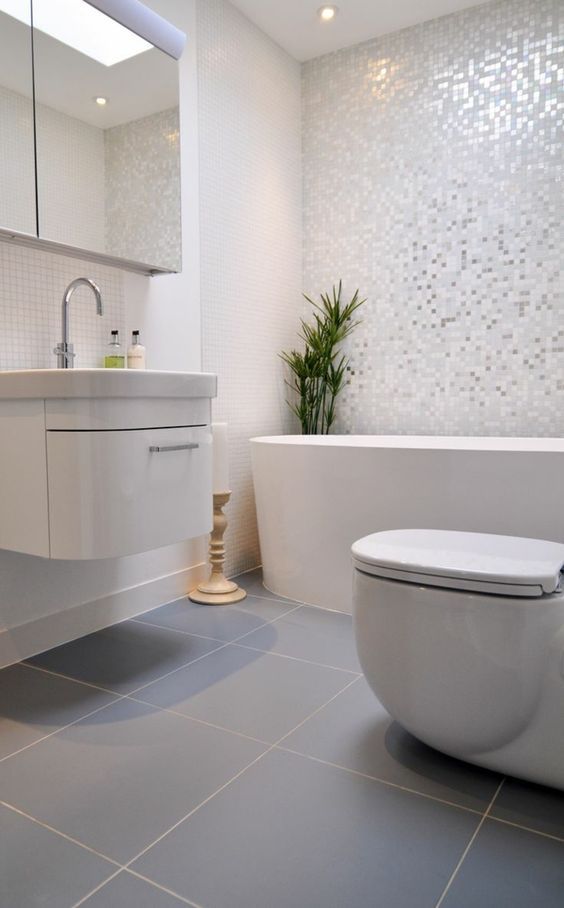 Mosaic tiles are booming recently for bathroom's wall. It gives sparkling optical illusion which is surely unique and beautiful. Well, if you are also interested to apply it, contrast this idea with matte tiles for the floor. It is to avoid the feeling of "too much" and create more elegant atmosphere inside.
13. Bathroom Flooring Idea with Earthy Color and Design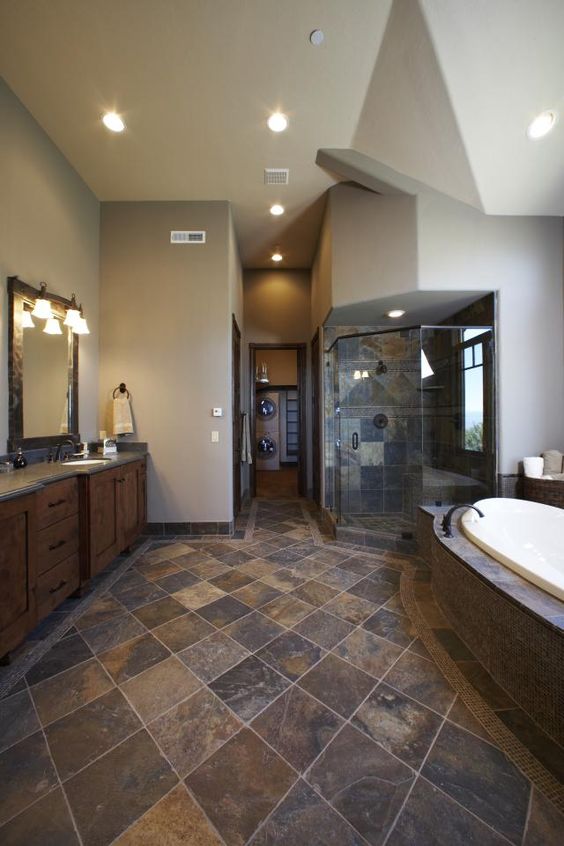 Earthy-designed tiles are necessary for any kind of bathroom whether it is classic, modern, rustic, country, vintage, shabby chic, and more. It is undeniably for you who want to apply something natural inside the bathroom and make it feel more soothing.
14. Checkerboard Tiles for Bathroom Flooring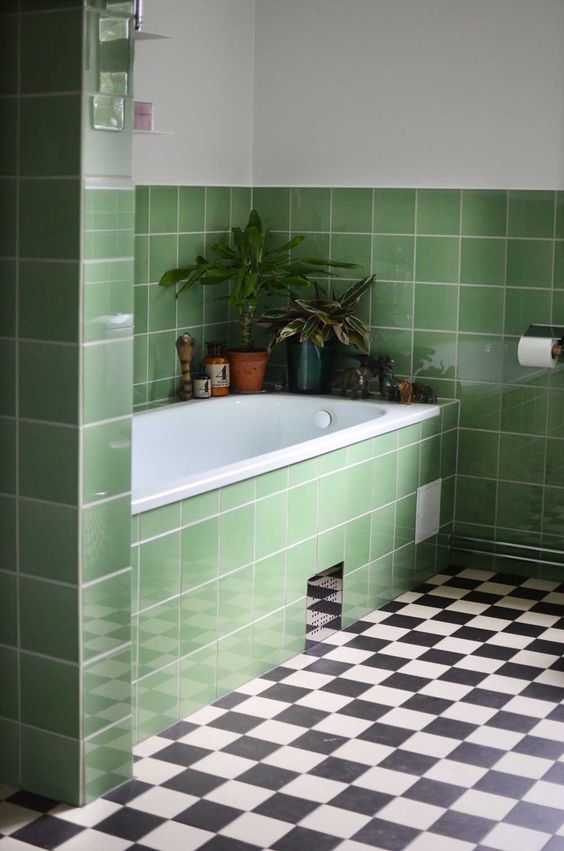 Aside from all conspiracy theory behind this classic idea, checkerboard is undeniably unique. More than that, it is executed well in any kind bathroom design starting from the classic to the modern. To make it less monotonous, combine it with other ideas or colors. Put some houseplants for bathroom with more refreshing and relaxing look.
15. Luxurious Vibe on large Tiles with Fiber Pattern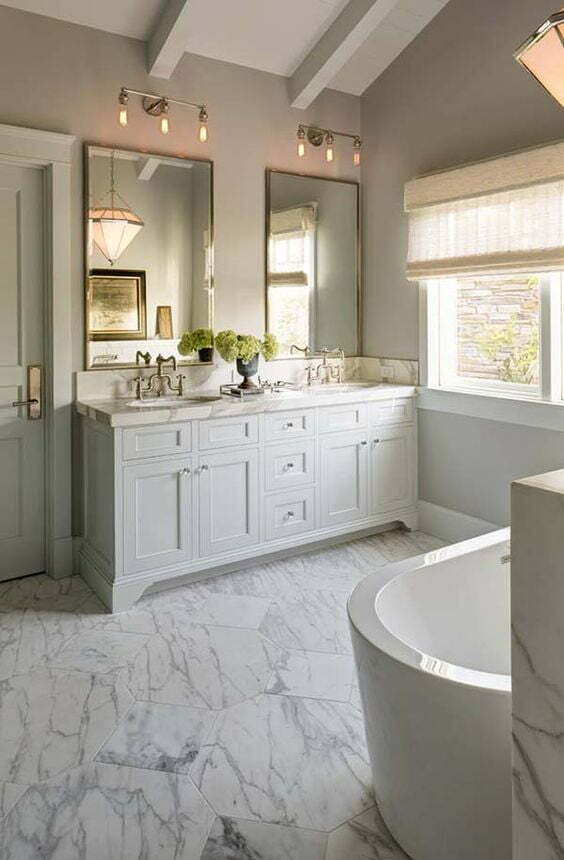 There is a tip if you want the bathroom floor look luxurious and elegant. Choose tiles in larger sizes. Particularly when the bathroom itself is large enough, it just works very well. Another tip is by choosing them with fiber pattern. This is also suitable for any style of bathroom whether you want it to be modern or classic kind of bathroom flooring ideas.