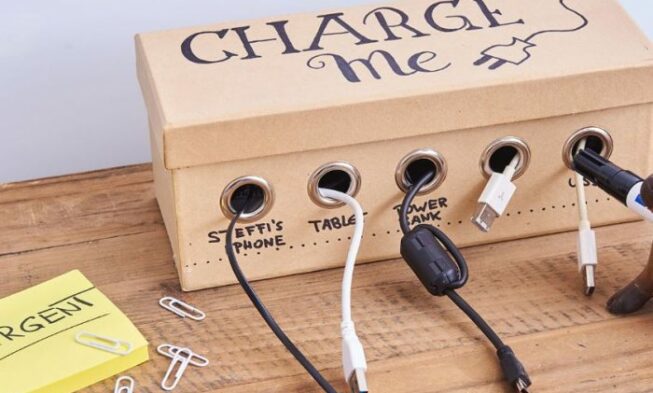 15+ Smart Charging Station Ideas for Your Garage, Kitchen & Office
Charging Station Ideas – Nowadays, people live in a fast-paced world where everything requires an instant solution. Electronic-related-device problems are a common example that seems to consume people's time. We're going to discuss charging station ideas that many people find hard to deal with. 
 An organized charging station will be a life savior for you when you can design it to be practical. Below you can find some ways to tackle your everyday problem when recharging your gadgets like smartphones, tablets, and computers.
1. Neat and Organized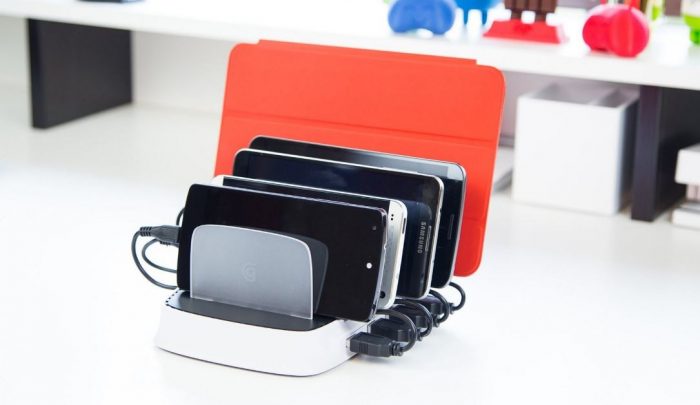 This is a smart way to organize wires charger for phones. It can fit for smartphones ranging from small to a bigger one. It will save some time when you need to choose which wire that connects to your phone. 
It can also save some space as it comes in a relatively small shape. There are lots of stores that offer this smart charging station. Or you can be inspired by it and try to make one with the same idea – or you can improvise and make it better.
2. Show Your Creativity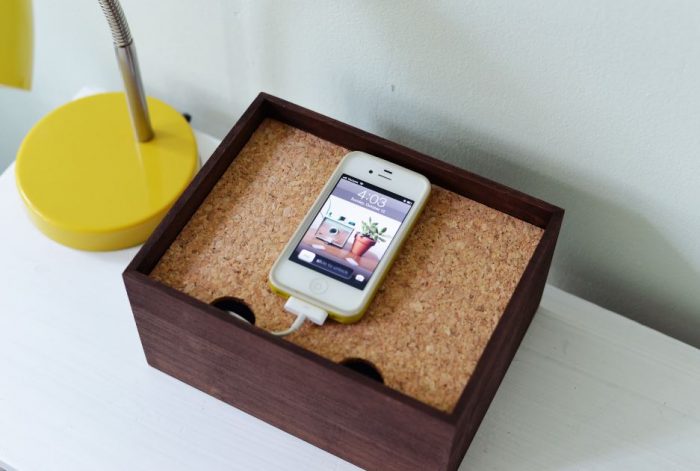 A brilliant DIY idea can come out from people who seemingly don't really find satisfaction from some bought-store items. It can be frustrating when you expect you have a device or anything functional with a high price, but it brings you down when knowing it is just trash.
Those people then decide to make what they need themselves as it can meet their expectations. This charging station is covered with a wooden box. It's simple and easy to make. With a compact size, it won't take up too much space on the table or nightstand in your home.
3. Clutter-Free Space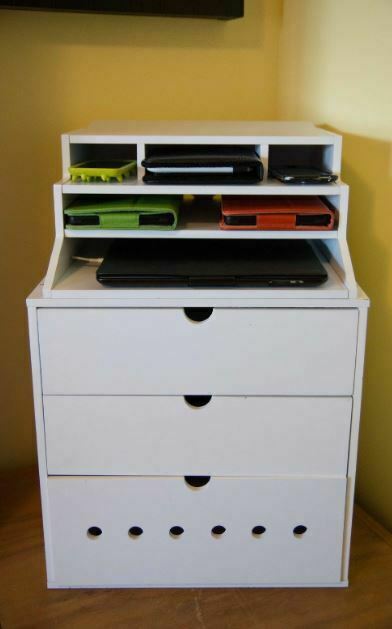 You have to admit it that wires can be a nightmare if you haven't the slightest idea of how to deal with it. Looking at tangled wires on the table either at the workplace or home can give you a stress feeling when you remember that you have to live with it every day. 
Easy! We've got you covered with this wires hack idea. Creating holes inside and behind this cupboard to run them and connect to your devices is the way how you do it. Those wires are now hidden inside the cupboard, making it clutter-free space. 
4. Practical Unit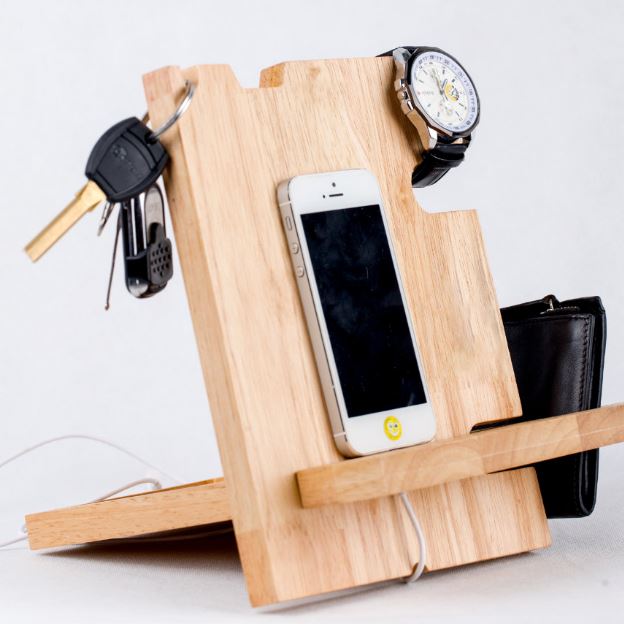 A small charging dock should be convenient enough for you. It has a pretty unique appearance that comes in a small shape. It may be tiny, but if you observe it, you'll know why it's worth making or purchasing. 
It offers you spots on which you can hang your keys, watch and wallet as well. The charging cable itself is passed down through the semi-circular hole that makes it not stick outside, which is awesome. Not to mention its cool neutral tone. 
5. Brilliant Creation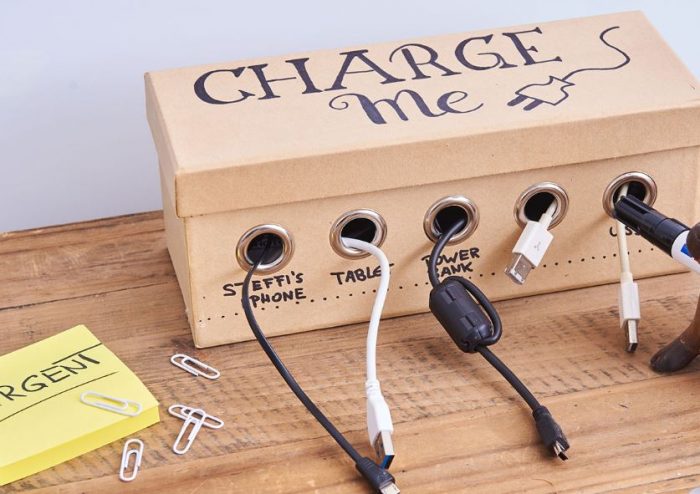 A box isn't only a box in the hand of a highly skilled person – the one who is capable to make any stuff valuable. With a bunch of creativity and imagination, he can turn garbage into something that has a value. 
And what's more important is that it makes your life easier. This hack is ingenious for sure by making good use of shoe a box. Create holes on one side of the box and give each hole a name according to its purpose. Pull the wires out and voila! Your charging station is ready. 
6. Make Use of the Mail Box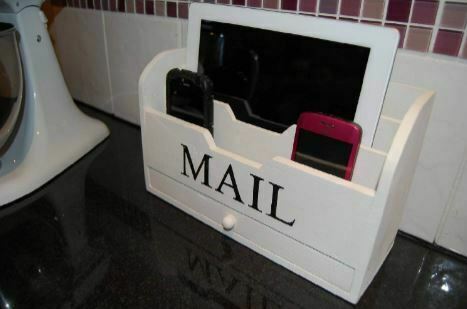 The box mail would also be employed for a charging dock too. It's a simple trick to get a homemade one. Its compact size fits to be put on a table, but it has an ample space to put a tablet in, which shouldn't be a problem for smaller-sized smartphones. 
You don't have to spend some money on a bought-store one since you can make it yourself. It means you can spend the money on something else. Everybody has a favorite color, and you can obviously apply any colors you want by painting it if necessary.
7. Perfect Idea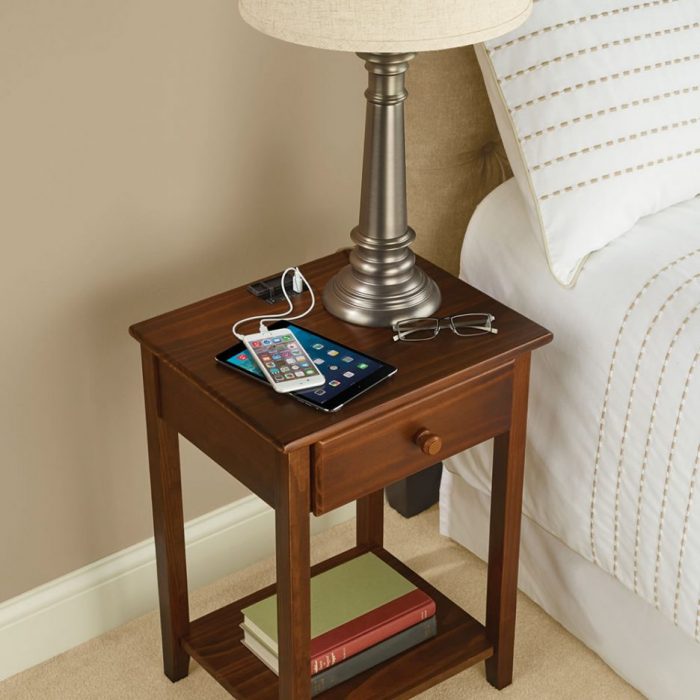 A nightstand can make a perfect place for creating a charging station in the bedroom. You can't deny it that even when it's already late at night; you would still get some notifications from work or from your family that might be important. 
It would be bad if the battery is running low and you can't find any sockets to plug in and recharge the phone. Luckily, the nightstand is there to help you provide a place for installing one. You can now keep in touch without worrying the phone dies. 
8. Sort out Problems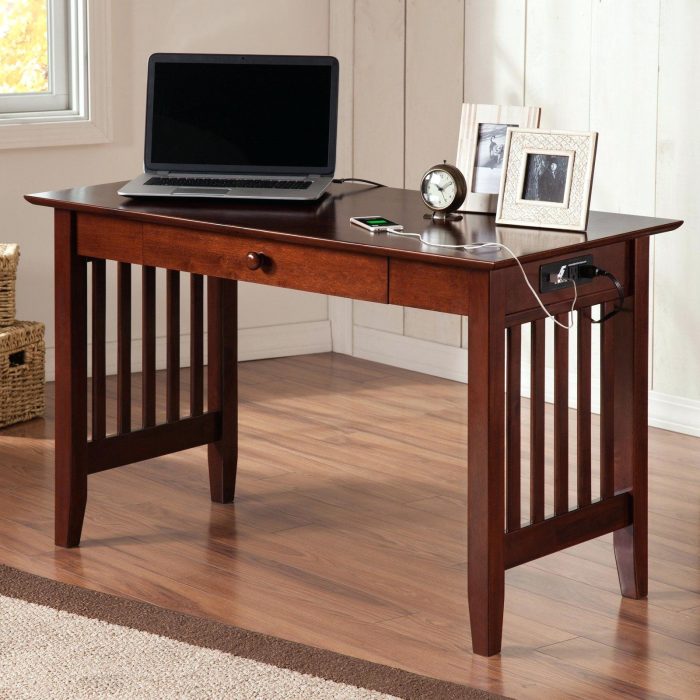 The number of people who work at home has significantly increased as internet access can easily be acquired at a cheaper cost. A computer and other electrical equipment require their own charging places to make your work efficient. 
Nowadays, we often find people get busy with their gadgets whether on the street, at work or at home. That's why charging station ideas are ubiquitous on the internet because people who work by using electronic devices are in need of them. 
They seek some ideas that can be applied both at home or workplace. They would like to minimize the problems that come from their electronic devices in the hope it can make their work easier. No wonder such articles are googled by many. 
9. Hidden Idea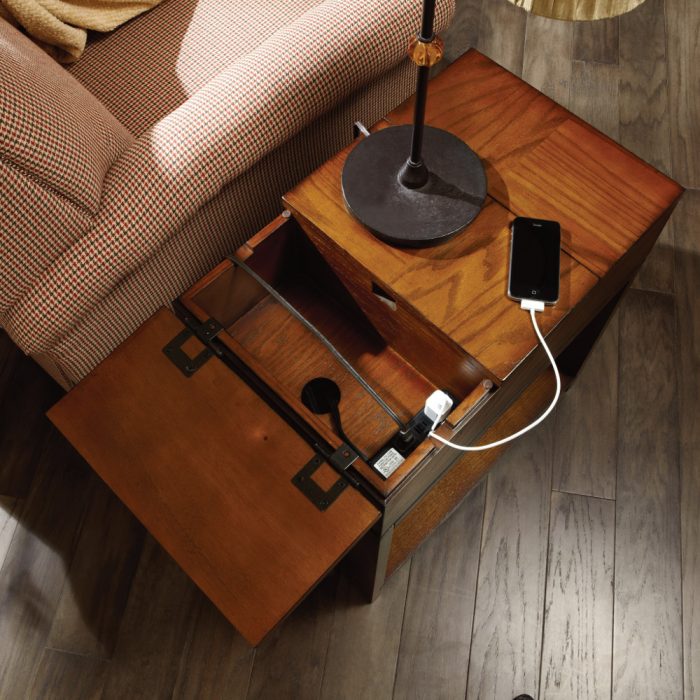 What a smart hidden charging station! If the door wasn't open, you wouldn't know that there was a charging station on the desk, would you? There is even a room in which you can keep a wide device such as a tablet or notebook. 
The door is given hinges that can hold its weight and you can open it 90 degrees and there are holes to let the cords come out. It's a wooden charging station with a beautiful notion you can be inspired by.
10. Don't Throw It Away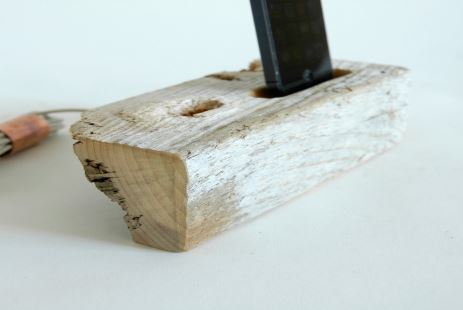 https://grottepastenaecollepardo.org/v/2019/02/end-tables-table-with-charging-station-renowned-portable-hidden-chargings-should-standard-all-chair-side-enticing-tures-design-wireless-furniture-round-storage-large-book-coffee.jpg 
Before it became a hit, this was just an everyday piece of wood or log that people would just throw into a burning fire to warm up the place. Now you know its value when it's displayed in stores or online shops. It's proof that creativity is priceless.
You can certainly make one if you want to. Choose wood with a unique shape, especially the end of a three or root part. Then create a long hole and some other small holes for passing down the wires. You can put it on the table or install it on the wall and make it as a god adornment.
11. Fully Recharged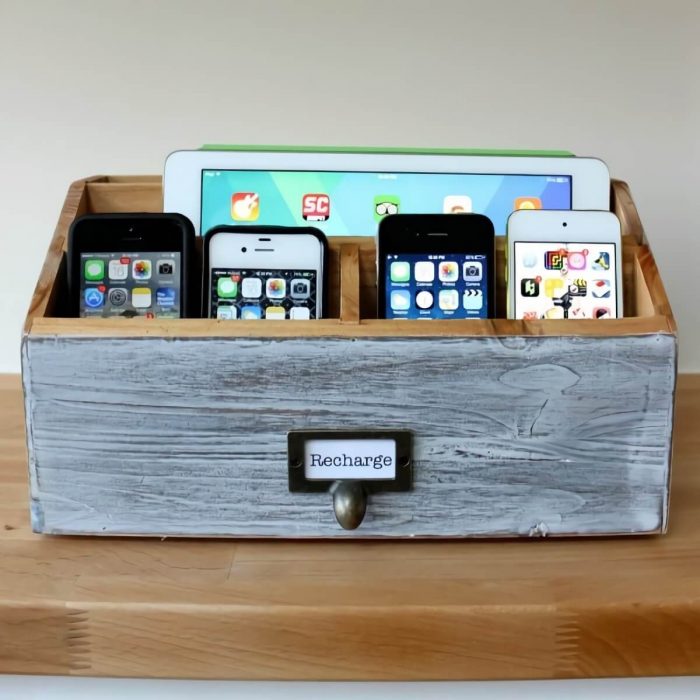 Since you're going to use your phone all day, you need to recharge it fully before you head to work. It will be awkward when a colleague or boss wants to have a conversation with but the phone dies in the middle of the conversation. 
It can decrease their trust to you for being such a clumsy coworker or employee. Make sure you get it 100 full recharged so that there won't be a misunderstanding between you and your colleague or boss during an important call.
12. Create a Comfortable Environment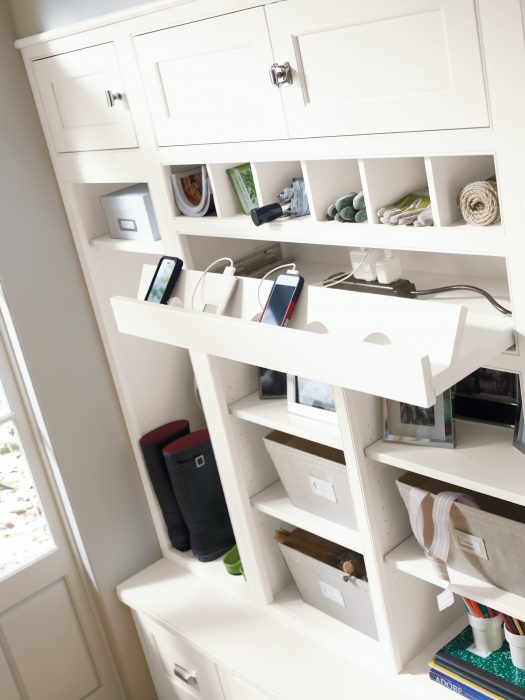 A house needs to be clutter-free because it can make you feel comfier when you're present there. It will be embarrassing when a guest is coming seeing that your house it's such a mess, full of tangled wires.
Making use of cupboard as a charging station by pulling its drawer out and running a wire through it can also be done. Those cords are safely covered in the drawer so that you don't have to be worried about having a guest in your home since it's neat and tidy.
13. Elegant Charging Station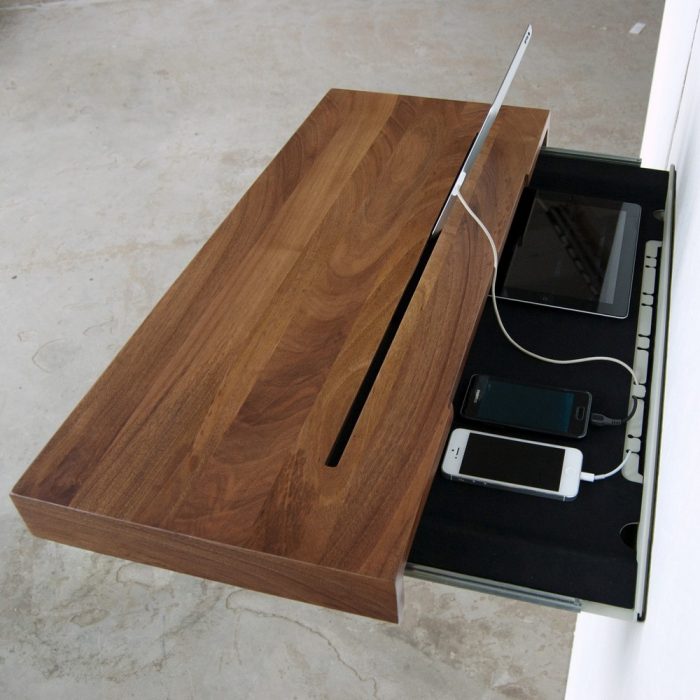 It's a fabulous stage phone that looks like a floating shelf, but it actually works like a drawer that you can simply draw and see what's inside. It's a genuine creation with such an elegant appear ant that I believe you're going to like it. 
It also a cool wooden charging station that functions as a decoration to the wall. If you're looking for a shelf on which you can recharge your phones, this might be good for you. It has a long hole in which placing a tablet shouldn't be a problem and it fits well, after all. 
14. Use Bamboo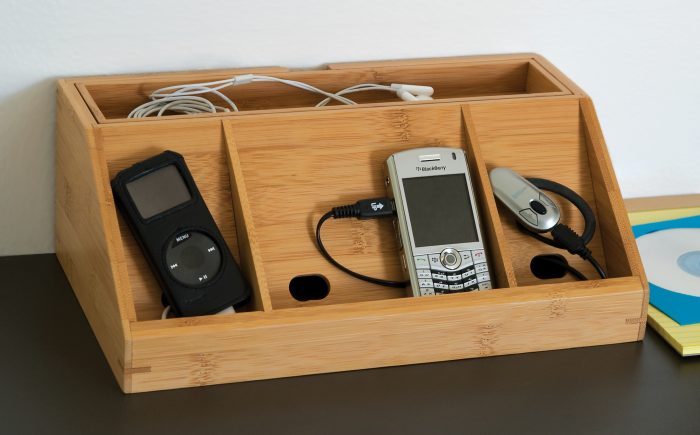 In Asian countries such as Indonesia, Japan or China, bamboo is easy to find. A large number of bamboo furniture and such can be seen everywhere because it's such an affordable material with lots of benefits. 
You can make anything with it. What limits you would be the ability to create it. This one looks simple and shouldn't be that difficult to make. Bamboo is also known as a durable material that is environmentally-friendly. 
15. Stunning and Functional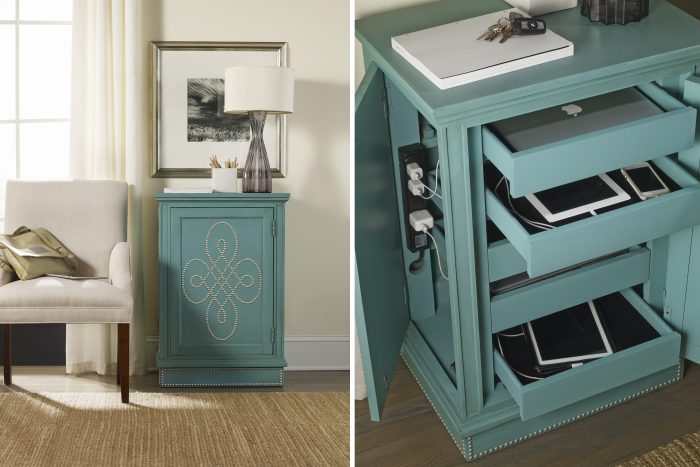 When the first time seeing the picture on the left, it looks just like any other table or nightstand. Who would have thought you would see such an organized charging station inside it. From bottom to top, there are drawers filled with electronic equipment. 
It has two doors that can be opened from two sides as well. It allows you to reach the deepest part of the table when you feel like cleaning it. It is a tablet that's specially designed as a useful charging station that helps you get rid of tangled wire problems in your home.
---
Charging station ideas can be made out of anything you can think of as long as it can be any of use for you. We hope you find it helpful.