Choosing The Right Garden Furniture For The Terrace Lawn
You must utilize garden tables and chairs to make the most of your outside environment. However, finding the ideal style for you might be difficult with so many options available.
Creating the same comfort and design of your interior living environment outside is now simpler than ever. However, there are a few factors you need to take into account while choosing the designs.
Your outside areas will be more comfortable and functional with great patio furniture. So keep reading to learn about the factors determining the best patio furniture for your terrace lawn.
How To Select The Best Patio Furniture For Your Terrace Lawn?
With the proper patio furniture, small areas like balconies and pocket gardens will draw you outside. To pick the greatest patio furniture, use the following advice—
1. Weather Check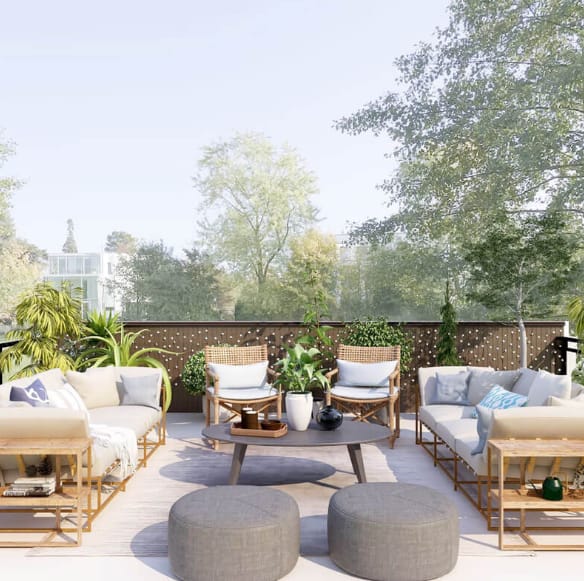 The first step to buying the perfect garden furniture is a weather check!
All furniture is vulnerable to exposure, regardless of the environment. For example, wood can crack and splinter in hot, dry conditions, and lasting moisture can promote rot.
Strong winds might sweep aluminum furniture into the air, whereas iron is wind-resistant but not saline-air-resistant. Finally, the sun is the worst of all.
Paint turns dull and discolored, wood and fabrics fade, and synthetic materials like plastic and rubber often degrade.
When purchasing furniture, be truthful about the material's inherent properties to guarantee durability. For example, metal is generally unaffected by sunlight, but rubber and plastic are always at risk of UV degradation.
Even while wood furniture may have a high-quality, factory-applied, weather-resistant coating, that finish will deteriorate with time. Consider the furniture's appearance in five, ten, and twenty years.
2. Select Washable Furniture
Nobody likes to rest on a filthy recliner or eat at a dirty table. So to keep your patio furniture in immaculate condition, regular cleanings are essential.
Depending on the material of your furniture, you can decide on a cleaning method. Most aluminum, teak, cedar and all-weather wicker furniture can withstand any elements that nature may provide.
To keep patio furniture in top condition, regular cleaning is required. You should clean your patio lawn furniture four times a year for the best benefits. During the winter, keep furniture indoors to prevent additional aging and stains.
Furniture manufactured with easy-to-clean materials will look great for years with a little maintenance.
Moreover, pillows and cushions with detachable coverings can be easily washed and taken care of than inbuilt foam cushions. Look for pieces made of plastic or resin for outdoor furniture that needs even less maintenance.
3. Measure Your Space
Another important factor that shapes your patio furniture choice is space availability. You can't expect to put a long bench on your terrace lawn with limited space.
Is it a long, narrow balcony or a broad, open deck? The size and shape of your outside area should be considered when choosing your furnishings.
The essential thing is to provide room around your furniture so that you may easily move about.
A bar table set may be more suitable for a small area than a traditional dining set. This is because stools are more compact than seats, and bar tables are thinner. Also, look at cafe or restaurant tables and chairs as they have a lower profile.
It's simple to choose furniture that is either too tiny or, more often, too huge for your area since you mentally miscalculated the dimensions. You can go through the Bandpass Design catalogs and select furniture that fits best on your terrace lawn.
Make a quick sketch of the area, measure it, and note its proportions on the drawing before you leave to go furniture shopping. You should take the sketch and a tape measure to the retailer.
4. Sort The Colors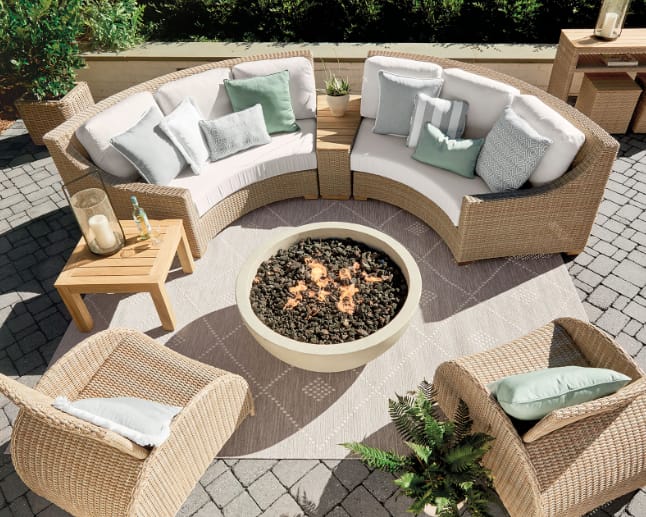 Now that you've figured out the suitable materials, shape and size of your patio, it's time to decide on the color.
Be prepared to use neutral colors for terrace lawn furniture if you plan to sell your house. Stick to browns, greys, and creams for a serene and sophisticated appearance. With some cushions, blankets, or an outdoor rug, you can always inject some color into the space.
Urban bronze is now in style, and we adore the opulent impression metallic paint adds to your landscape. But, of course, the type of material your furniture is constructed of will affect how you decorate it. For various finishes, various materials call for several types of paint or stain.
The simplest approach is to utilize blankets or other scatter cushions to give your space a new look.
If you decide to paint your terrace lawn furniture, exterior latex paint is a fantastic choice because it should protect it from UV rays and mildew.
Whether you paint or stain wood comes down to the impression you're going for and the furniture's condition.
While stain seeps into the surface, paint coats it, and the color will beautify the natural grain if you wish to highlight it. However, the paint will hide problems in your furniture if worn and aged.
5. Know Your Budget Limits
There are techniques to ensure you obtain the finest quality for your money if you're attempting to save money on furniture. First, investigate several brands and seek customer reviews before purchasing furniture.
By doing so, you may compare the quality of various brands and choose pieces of furniture that are worthwhile investments.
As fall approaches, shop for outdoor furniture in late July or early August. Outdoor furniture is frequently sold used since it needs to fit in the moving truck better.
The end of the summer might be a terrific time to shop for outdoor furniture if you want to locate high-quality items at reasonable prices. Although you must adhere to your spending plan, it's critical to realize how costly items are over time—
Will it require replacement regularly?
Is the upkeep too time- and effort-consuming?
You might need to consider these important financial factors while weighing your options.
Get Your Patio Furniture To Multitask
A smart, affordable approach to making the most of available space and chairs for any cozy terrace event is a versatile patio set.
Casual seating, such as a sectional couch or loveseat with an ottoman or coffee table, is the foundation of multifunctional sets.
A dining table, a fire pit table, extra chairs, and sectional units to increase the amount of seating are all complementary components. Select the options that are best for your patio, your party schedule, and your storage needs.
Making the most of your outside area is easy with multipurpose patio furniture. The diversity of quick-change options is the advantage of picking a multipurpose set.
You may easily switch the tables in a set that includes a coffee or dining table and a fire pit table. If an ottoman isn't inviting visitors to relax and drink, it will take a short time to transform into an impromptu serving area.