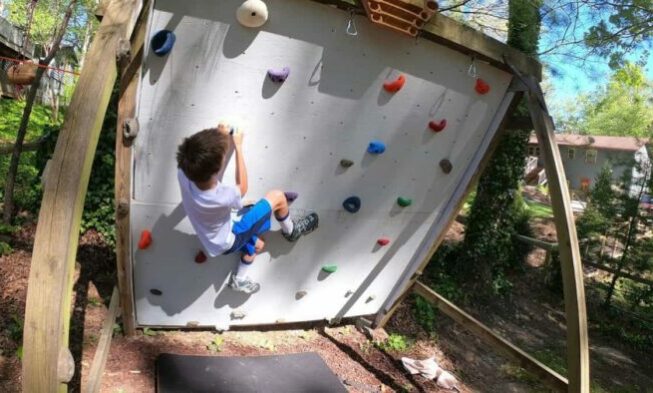 15+ DIY Climbing Wall Ideas for Kids – Indoor & Outdoor
DIY Climbing Wall Ideas – Climbing obviously isn't for you who are afraid of heights. It's for people who love to pump their adrenaline faster. You can make DIY climbing wall ideas at your home, such as in the basement, kid's bedroom, or backyard. 
It's a fun activity, and you will get yourself sweaty in a matter of minutes while climbing the wall.
 Although it may look dangerous, it's safe if everything is according to or following the correct steps and rules. Here is the DIY project list of climbing wall ideas.
1. Build Your Arms Strength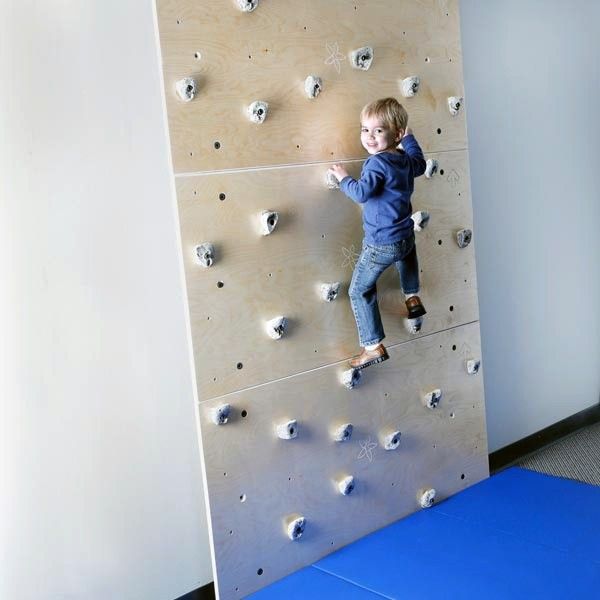 When you need to build your arm muscles, climbing is a perfect exercise for that. This sport relies heavily on your arm's strength with the coordination of your steps on holds.
It can also train you to be more focused when doing something and become a bit more patient than before. 
Kids will likely find this is an interesting sport they should try. They have a lot of energy and curiosity to try any kind of sports they like until they can decide which is suitable enough and they have a passion for it. 
2. Steadily Stand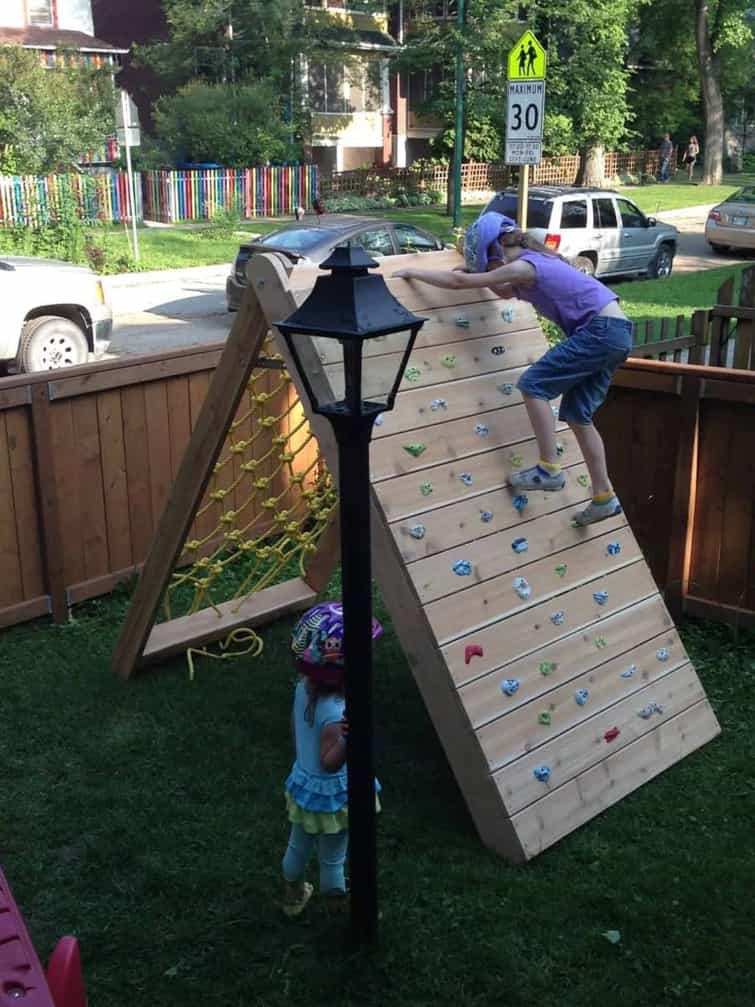 If you mean to build a climbing wall for kids, you can build it with an easy level as they're merely a beginner.
Building a climbing wall requires some plywood sheets, wood, tools or equipment, and a plan. Of course, you need a good one for that.
The rest will be the knowledge on how to execute it. It must be able to stand on the ground steadily and can hold its weight before the kids climb it up. Decide how high it will be, and make sure you have a mattress for the landing.
3. Safety First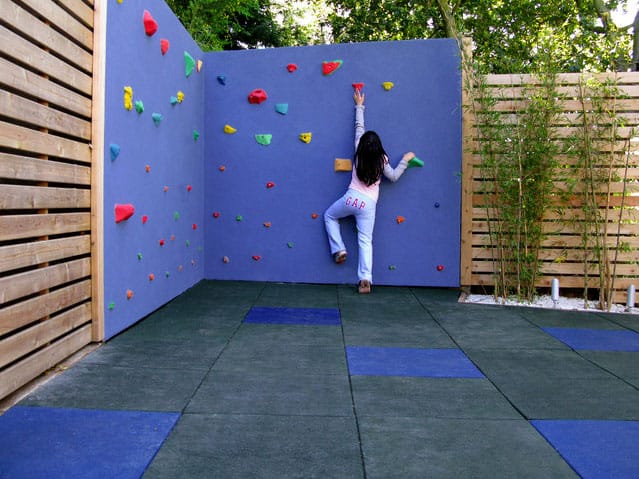 If you want to build an outdoor one, you can have it as high as you want to be because it's an open space — unlike at home, where you can only go as the ceiling permits. A home climbing wall will be a good choice for kids to get to know it. 
The instructions on how to make it shouldn't be that difficult and not that easy either. What you need to pay attention to is safety.
It comes first in any kind of situation or activity. Safety must be prioritized no matter what. Then you can carry out the rest. 
4. Choose a Place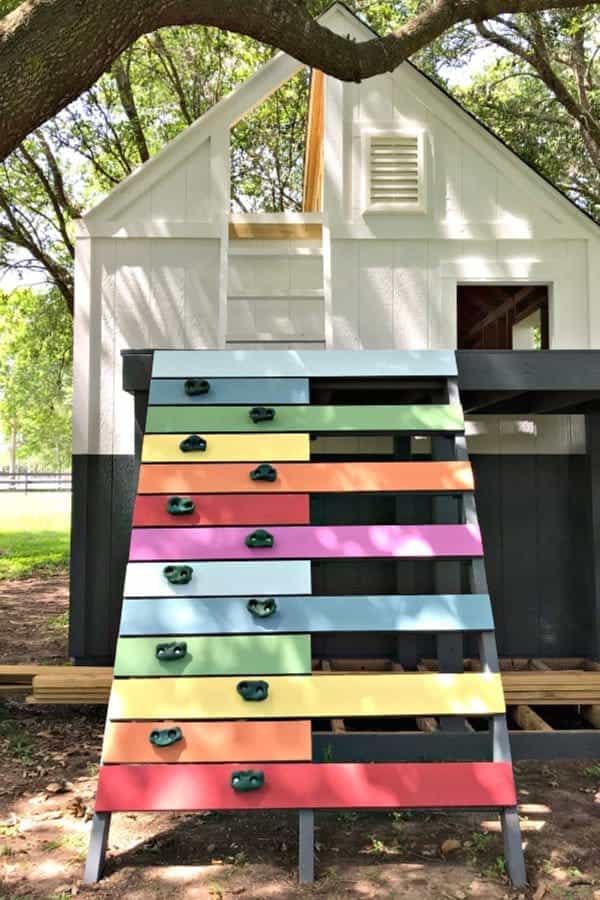 Measure the place you would like to have as the climbing wall area. Cut some woods with the same length or height as the wall or until reaching the ceiling.
Screw each part of them and then put them on the wall. Stick them to the wall with nails or screws.
Make sure it gets a strong grip on the wall so that it won't easily come off when it gets pulled. Test it yourself before you let kids play with it.
Everything needs to be as good as it should be. Don't forget to give them some advice and be careful when climbing.
5. Give a Color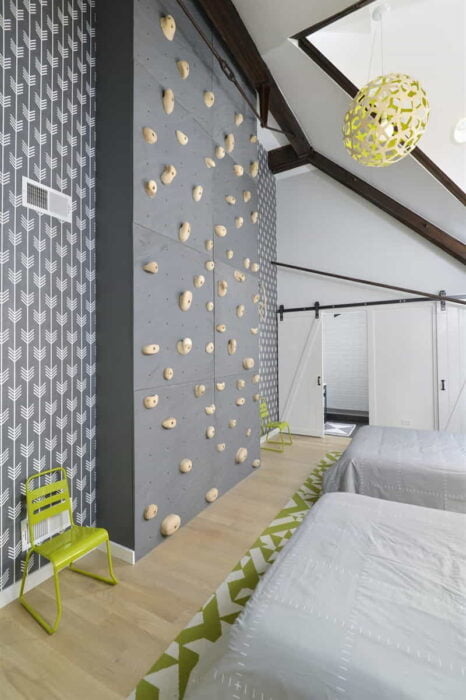 A part of creating an attractive climbing wall is painting. Is painting important here? Well, it's not that crucial, actually, but when you think of a raw plywood sheet that you're going to see when climbing every day, that should be boring. 
Color can make it look a little bit colorful and lovely compared with a raw plywood surface.
It's not wrong when you want to apply some colors to it. This picture shows you why. Isn't it interesting and makes you feel enthusiastic about climbing it? 
6. Perfect Spot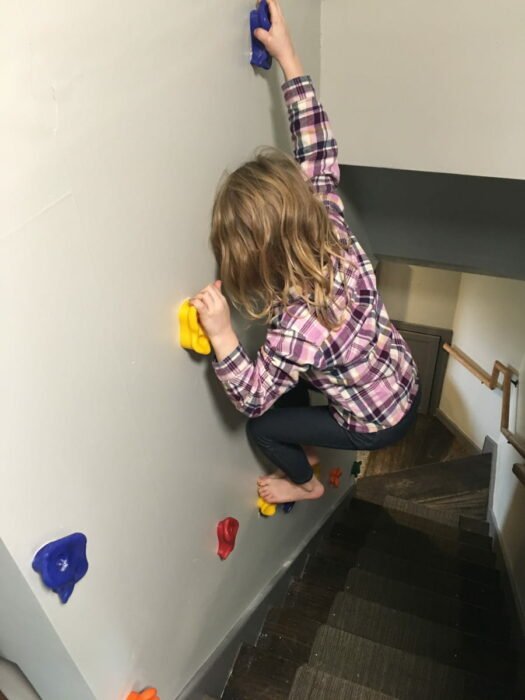 The wall next to the stair can really be a perfect area for creating one due to its narrow space, which is similar to a mountain. All you have to do is a drill or bore the wall and put the t-nuts and holds on each of the holes. 
When you order or let your kids climb there, you should be around and watch them because it's a bit risky when there's no mattress below.
It's the stairs, which are hard ground. Remind them to watch their steps on holds and to firmly get a grip on them.
7. Build One Because You Need It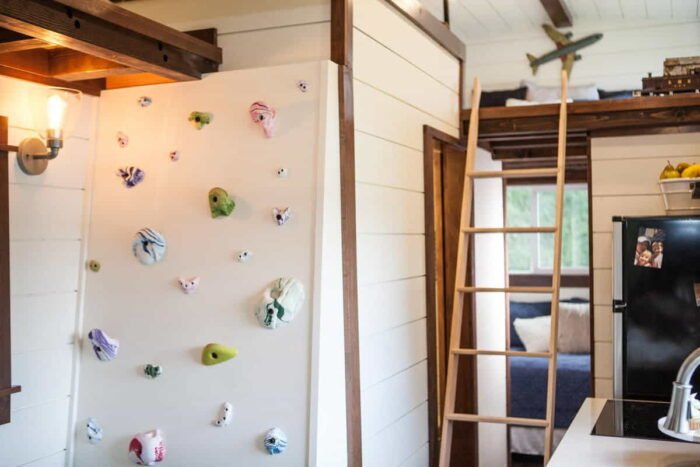 Kids would do anything as long as they liked it. When you're about to build a climbing wall for them, you better ask them if they really like to climb or it's just because they may just feel jealous when they see one in a friend's house.
It'll be a waste of time, money, and space if you erect one, but they rarely use it because they already get bored with it and let it become a giant junk that consumes a big space in your home.
But if they really have a passion for it, then go give it to them. 
8. Not Too Steep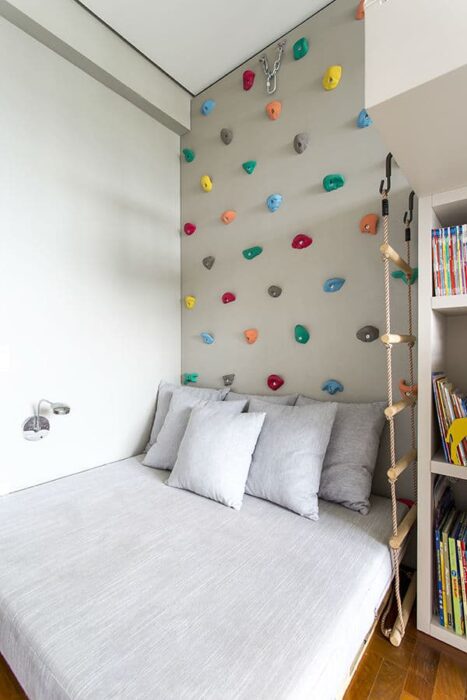 Climbing can be an alternative for reducing the amount of stress you get from work.
You should get one day off to release all that tension after a week battling with a stressful job. Get yourself some time to make your body stay in shape with this exercise.
If you want to build a climbing wall for beginners, you can have one with a straight wall or with an overhang that's not too steep.
It shouldn't be too difficult for them to reach the top as they're still trying to get a hold of it. 
9. Share the Same Feeling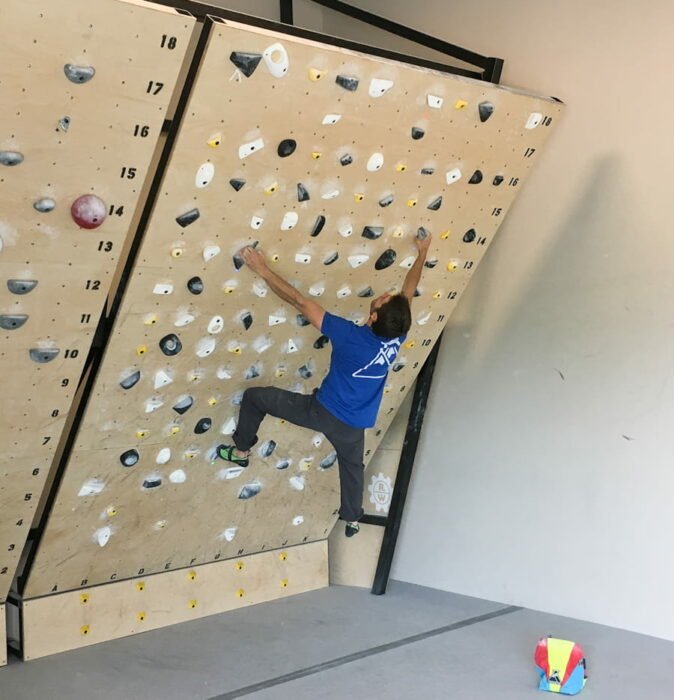 On the other hand, it's different if you want to design one for adults who are at an advanced level.
They would love to challenge themselves and see how fast and far they could go. They would climb any type of wall, even with elaborate steps that would push them to their limits.
A climbing wall is just a model before you climb a mountain. Climbing a mountain sure is more fun, but it may be far and cost you a fortune to go there.
It actually offers you the same kind of struggles to help you prepare for a mountain or rock climbing, and it's also nearby you.
10. Regular Check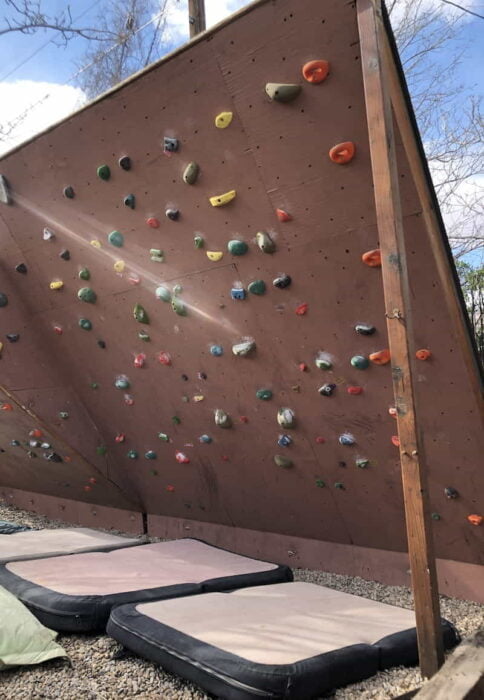 When doing climbing a wall, it's important to check whether or not the surface is slippery.
It could go ugly if it is. You should also examine whether it's still strong enough to hold your weight since it's out there for some time under the sun, battling with extreme weather. 
The material may get rotten and moldy through time. Be sure you utilize durable and high-quality materials that are long-lasting.
The pillars are the element you should pay attention to. It will break once they're decaying. Not to mention the strong winds that can make it worse.
11. Sufficient Lighting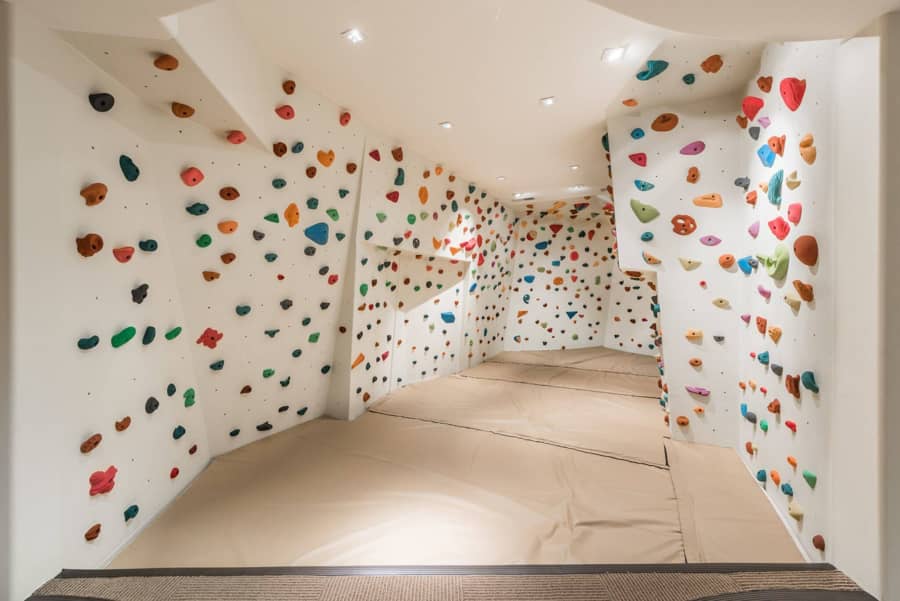 Good lighting is necessary for any situation. That applies to the climbing wall as well. It will let you clearly see which hold you should step on and hang on to. This is a thin climbing wall idea that should be suitable for a cramped room.
Kids always have full of beans and hardly sleep unless they feel tired. This can be an alternative tool to distract them from being occupied before their gadgets or jumping all night long in their room. 
12. Get a Shade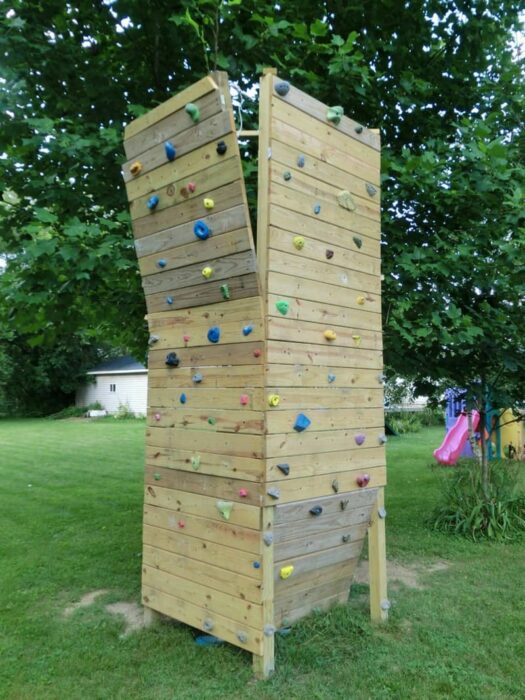 The higher the panel, the more challenging it gets. This is an example of a climbing wall that isn't painted, by the way.
It looks a bit dull, right? But it doesn't really matter since it's an outdoor wall. The point is that everything you need for a climbing wall practice is there. 
It can be good practice for kids or beginners. It's located near threes, should give you some shade. A location plays a big role for climbers because it can influence their mood, and it's in a cool place, meaning they will get less sweaty.
13. Add Ladders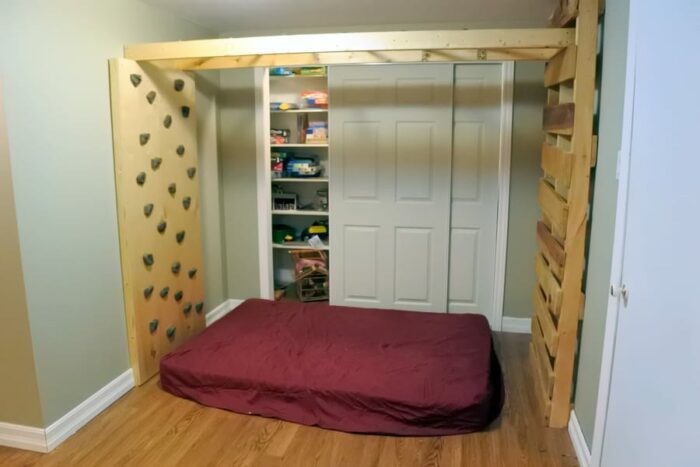 You can't go wrong by joining an idea with another. This is what a combined climbing wall with ladders looks like – a climbing wall to train them to climb and a ladder to hang. Your kids would like to race and make a rival with their siblings. 
It can also encourage them to be supportive kids, and it would be a fun game to play at home. Your kids will already get used to wall climbing when they grow up since you already taught them when they were little. 
14. Make It Attractive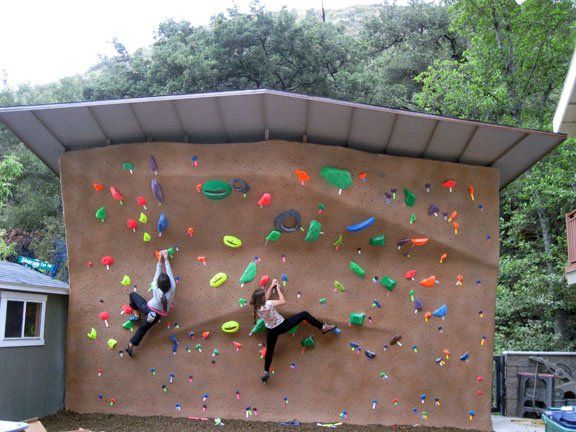 If you have a wide yard, that would be great for making a huge climbing spot for kids or adults. This picture shows that kids can climb together at the same time as the wall has ample space to climb. It would be great if it was higher.
It's also equipped with colorful holds to attract them, and there's a triangle-shaped rock in the middle. Kids would love to play there as long as the weather isn't too hot for them as there are no shades around it. 
15. Elaborate Design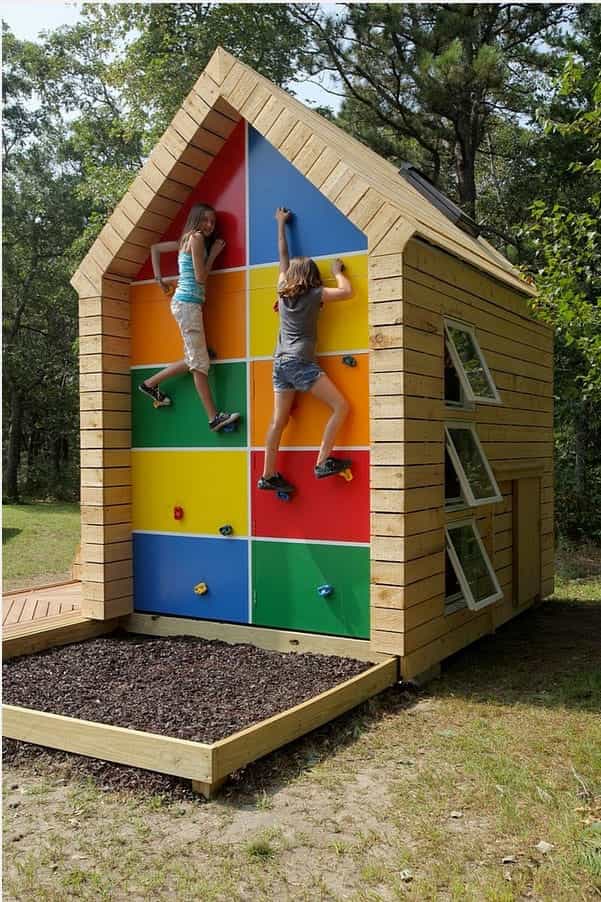 From the look of the wall alone, this climbing wall isn't for kids or beginners. This would be where advanced climbers feel so challenged and pumped to reach the top. This should be a kind of wall that you should build to hone your skills. 
It's high enough and wide enough to climb with attractive walls and holds that would entertain you while climbing. It's sure filled with lots of holds with a variety of vivid colors. It also has a spacious surface for you to land. 
DIY climbing wall ideascan be constructed everywhere with any shape and design. It's dependent on whether you're able to build it or not because it requires some skills to make one.