When Do We Need To Use Drywall Flange Recessed Access Panels  
Drywall flange recessed access panels are a vital aspect of any drywall installation. They provide a secure, easy-to-access area for wiring, plumbing, and other utilities to be run through walls. You would use these panels to access hidden wall components, such as electrical wires, pipes, or ductwork.
If you're looking for an access door that combines convenience and aesthetics, the Recessed Access Panels with a drywall flange are your perfect choice.
Benefit #1 – Seamless Results
The Drywall Flange Recessed Access Panel is a revolutionary product that offers a host of benefits to customers. For any contractor or DIY enthusiast, the 5/8″ recessed door is the perfect solution for adding a unique touch to your space. With this door, you can easily install drywall inserts, regular tiles, and ceramic tiles for a secure fit into the panel.
Moreover, this panel comes with a piano hinge that allows the panel to remain nearly invisible when closed yet can be easily opened when needed. These qualities make it an ideal solution for areas where aesthetics are essential, as it can provide a seamless blend with the surface finish.
Benefit #2 – Easy Installation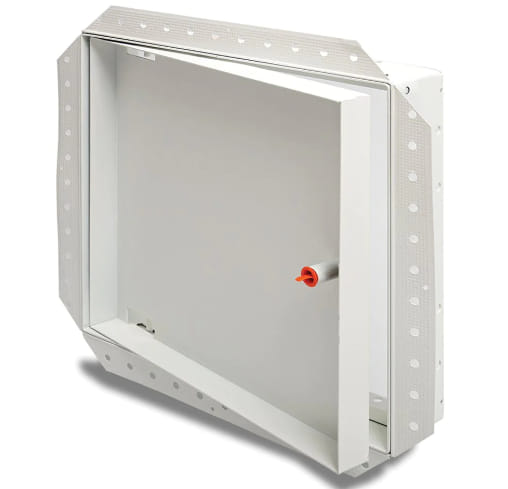 Recessed Access Panels are a great way to make drywall installations more straightforward and efficient. These panels come with an innovative drywall bead flange that features a perforated taping bead with pre-punched holes for easy installation.
This flange helps simplify the installation process, saves time and energy, and ensures a secure fit for any drywall application.
With only the door panel exposed, it blends perfectly into the wall, and only the panel is visible. This elegant design allows for a sleek look while also providing strength and durability to ensure your walls stand the test of time.
Benefit #3 – LEED Certification
LEED certification is proof of a building/design project's commitment to sustainability, as it sets an international standard for evaluating the efficiency and environmental impact of said project.
Businesses can stay safe and compliant in addition to improving the ecological quality of their space with these innovative measures. They get access to facilities, equipment, and amenities that will enhance the indoor environment while meeting health and safety standards.
If your project requires LEED certification, the quality of your Recessed Access Panels is critical. Fortunately, some reputable manufacturers specialize in producing products that meet LEED standards and can help you reach your certification goals.
Not only do their panels ensure you meet proper building codes, but they can also contribute to LEED credits so you can reach your desired level of certification quickly and easily.
Benefit #4 – Sturdy Construction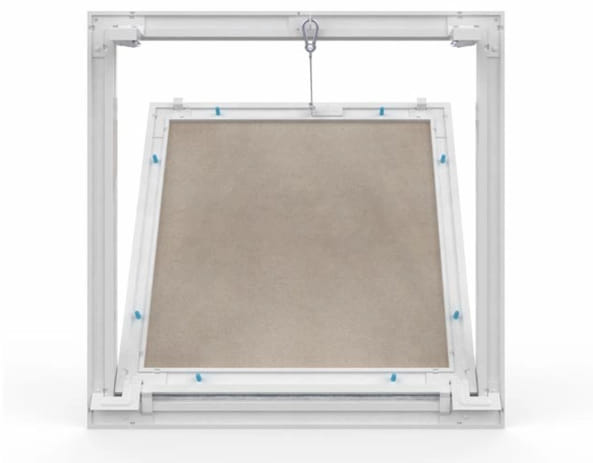 If you need to conceal electrical wires and other components in a construction or renovation project, then the Recessed Access Panel is your answer. Built with 16 gauge cold rolled steel, it provides superior strength and durability while seamlessly blending into any wall or ceiling design.
For those looking for an efficient, cost-effective solution to their access panel needs, look no further than the white powder coat primer panel.
This highly durable panel is perfect for homes and businesses and is easily paintable to match your existing decor. With this access panel, your project will last for years without needing to be replaced.
Benefit #5 Security
Keeping your utilities and equipment in top shape is essential for everyday operations. To ensure your investments stay protected and remain accessible for maintenance or repairs, you must invest in the proper latch for your access doors.
If you're looking for a simple and reliable security solution, the Allen hex head cam is an ideal choice. This system is easy to install and use, with just a set of Allen keys needed to secure your property. The Allen hex head cam offers low-level security while providing convenience to proper personnel.
On the other hand, Key-operated cylinder cam latches provide an extra level of security with a more reliable locking mechanism than other types of locks. In case of stolen or lost keys, you can easily swap out the locking cylinder for a new one and maintain your security.
Get The Most From Your Access Panels!
When it comes to installing access panels, the Drywall Flange Recessed Access Panel is a great choice. Its flexibility and easy installation make it an ideal option for commercial and residential applications.
You can use this access door in multiple applications, from residential to commercial, and its durable construction means you can enjoy the features of this access door for many years.
With all these advantages, you can be sure you make the most of your choice from your investment when choosing a Drywall Flange Recessed Access Panel.