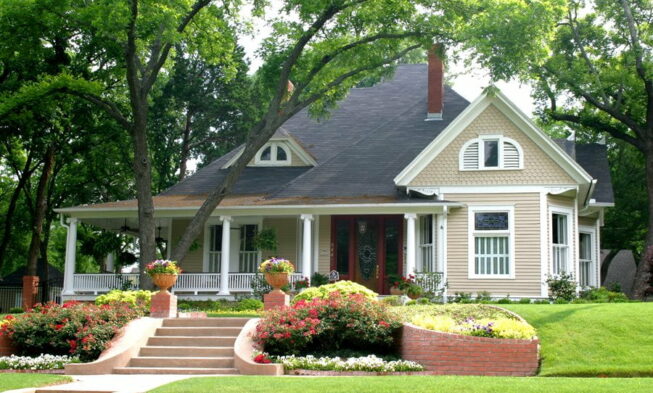 Top 15+ Small Front Yard Landscaping Ideas
Front Yard Landscaping – You are able to add more value to your house and enhancing the curb appeal with a functional, attractive of front yard landscape. These front yard landscaping ideas are great and help you to transform the house's curb appeal.
These front yard ideas can give a great impact on your house looks from the outside view. So, you are also able to use these ideas as your inspiration and you can add with a touch of your creativity as well.
It was easier than you think to change your front yard and boring entryway become the very well balanced look from the botanical creativity which can add more value to your property. You can share this article for those who need inspiration for front yard landscaping

1. Bring River in Your Front Yard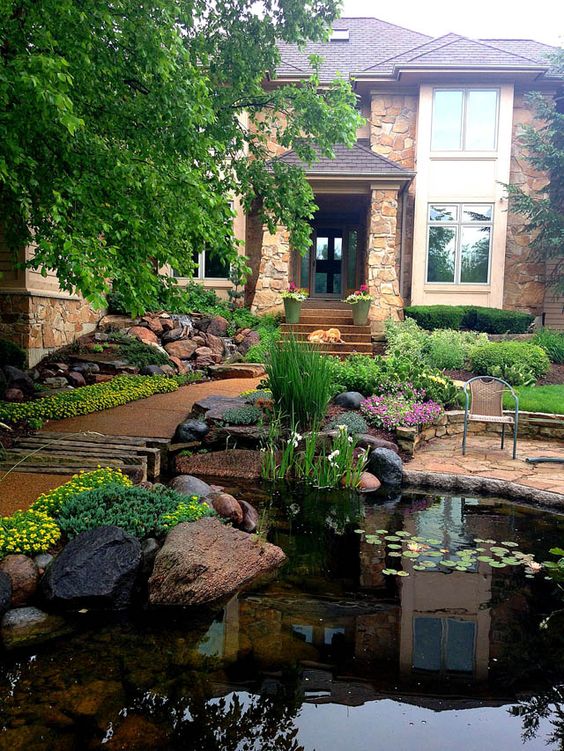 This is a great idea if you have enough space to build up the rivers manmade. This idea employs the view of the natural river along with Lotus flower on it. Then you can place the stone on the edge of the river and do not forget to add a seating area to enjoy the view. This is so interesting and makes your house looks like being built in the center of the forest.
2. Back to Simple Flower Plant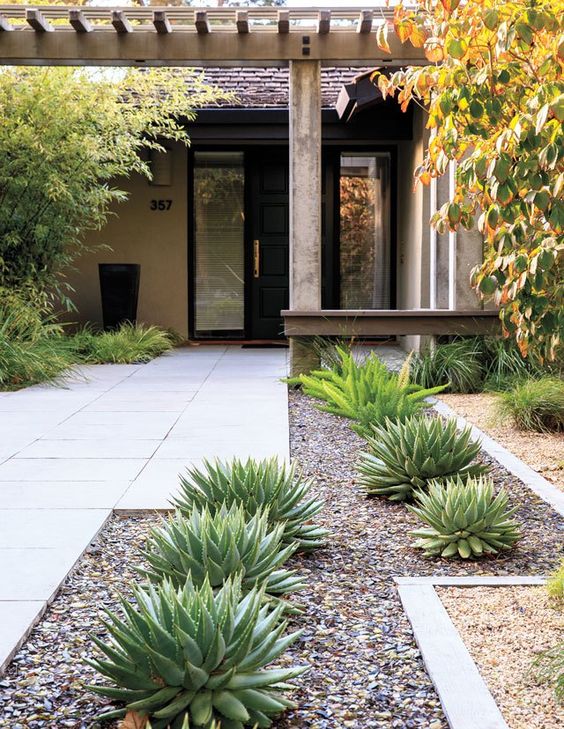 If you want something simpler without required you with high maintenance. Then you can go with this idea which is very simple and easy to try. You can separate the entryway become two parts then you can grow something on that stone area. For that stone area, you can choose the cactus family that only needs very low maintenance.
3. Deck in Your Front Yard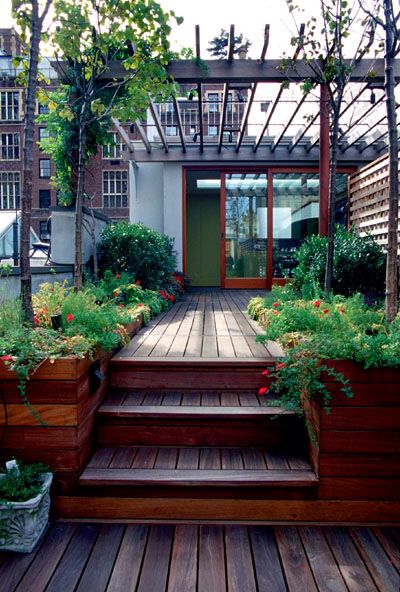 You might think that deck or patio might be placed in your backyard, however, you can place it in front of your house, just look at the picture. The deck in the front yard has stair as the entryway go to the house. On the side of the deck, you can see that there are flowering plants that make it looks more beautiful along with the cascade plants.
4. Utilize Your Small Space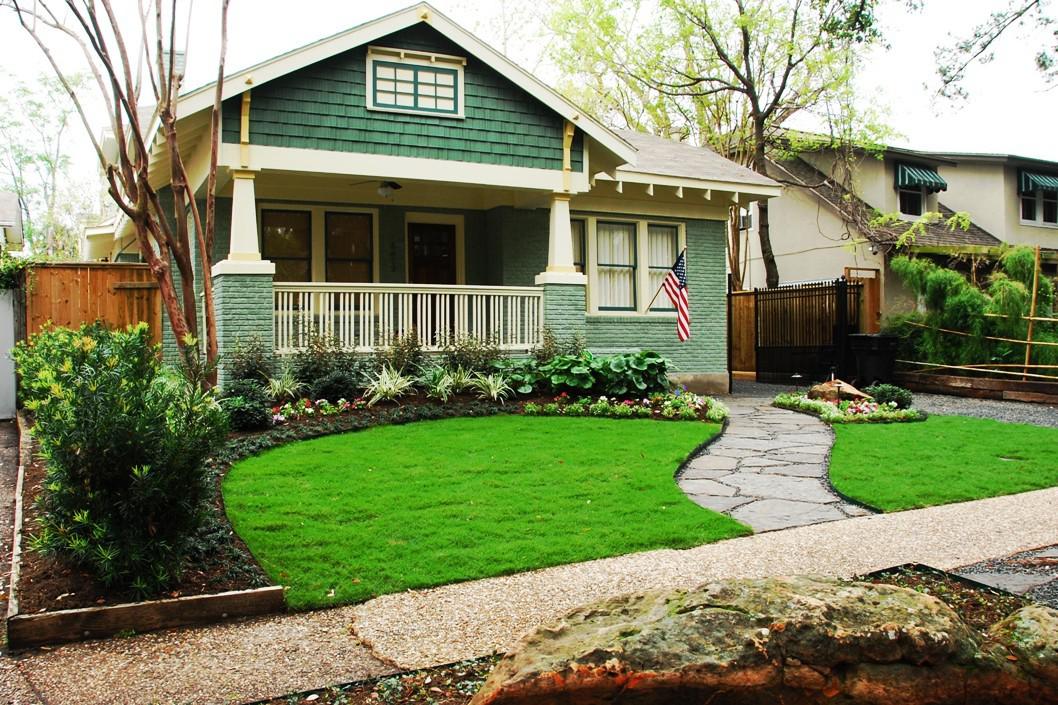 As we know that city resident were not limited for the stamp lawns and foundation shrubs. As you can see, although this house has small space you are still able to employ the curvy stone path as the entryway and the stamp lawns. You can utilize anything surround your space and growing plants surround the lawn.
5. Let Your House do Talking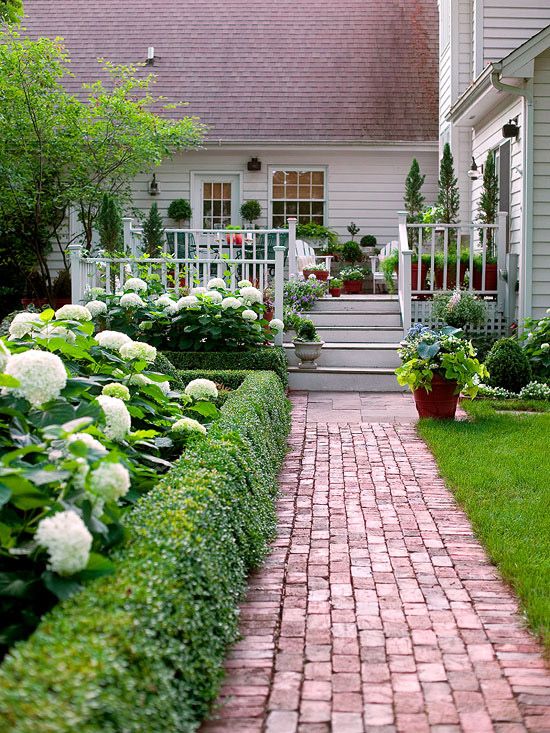 There are many ideas in various forms of landscaping, sometimes, this is also better to let your house become the focus of your front garden ideas. The beautiful house or even sharply modern house might be better to be served by keeping the landscaping to the minimum. As you can see on its picture, the neatly trimmed shrubs make the house looks more stand out and help to define its porch.
6. Magical Tree House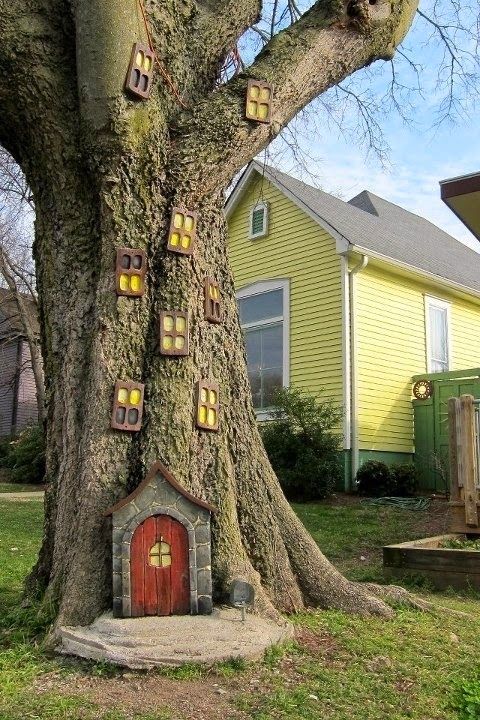 This idea brings you like you are in the magical or fairytale world. You can decorate your tree with that idea and make it as if there are dwarfs live inside this house. This is very simple, but this idea can make your house feels like you are in another world.
7. Modern Back Yard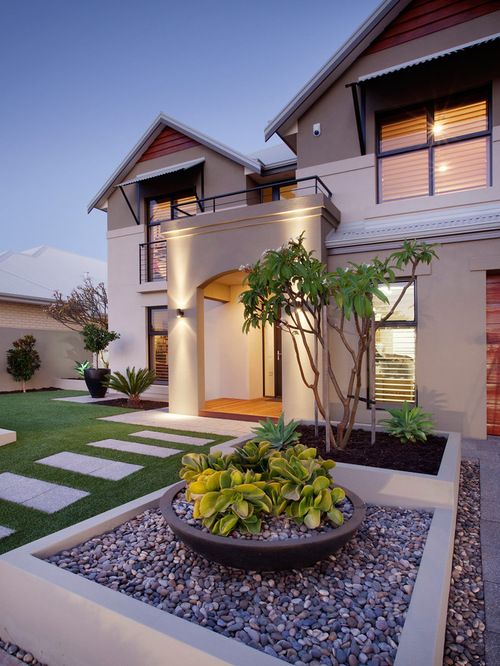 The concrete walls might not have directly occurred when you are planning for front yard landscaping ideas. However, this neat design can blow up your mind. If you have a modern house, this idea can be your good choice. This idea allows you to get focused on planting. As you can see that it only has few plantings.
8. Fill Up with Colorful Flowers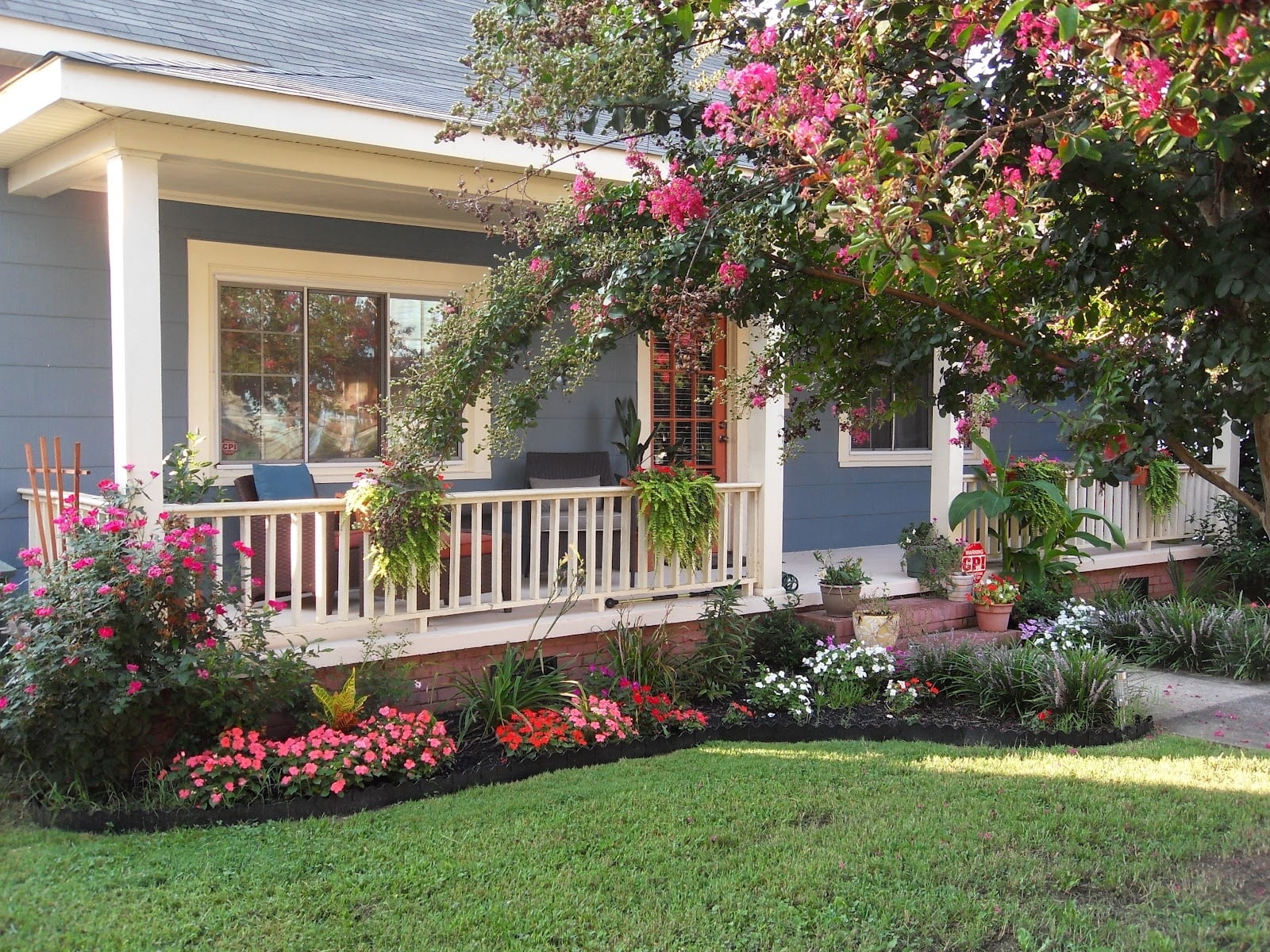 Growing colorful flowers or bloomers is a definite way to make your front yard feels more welcoming. You can use the bold and bright colors in order to create the great impact although you do not have much space. Of course, these bright bloomers require high maintenance and your commitment as well.
9. Go All White and Clean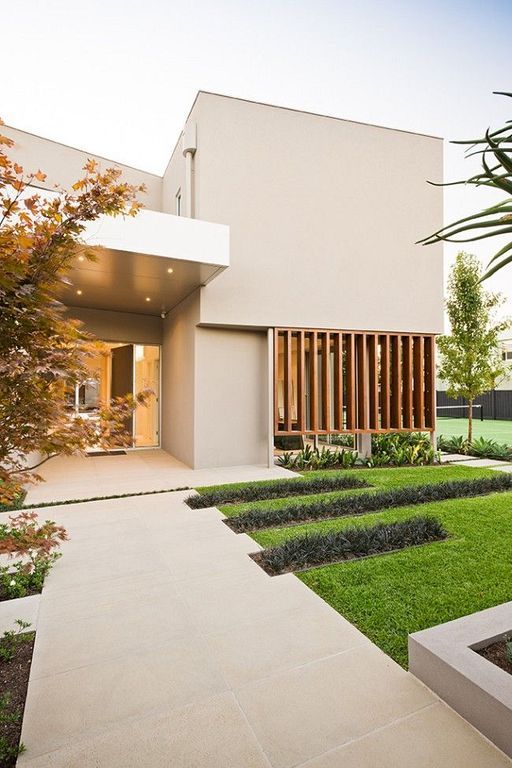 If you like to get clean and neat clean in the more classic white shade then you can use this idea. The classic white shade in your wall with brings you something great when it meets with deeper green lush. To add a whiter element, then you can try hanging a basket with white blooms in order to reflect this combination in deep green and white shade.
10. Modern Front Yard Design with Clean Line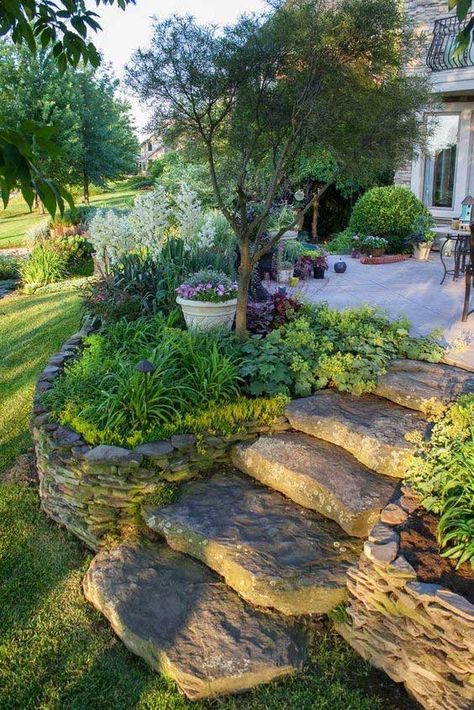 If you really have very modern decoration for your house, then you can combine it with this idea. This front yard idea really complements the modern building with the clean line. The lawn is so neat with the planting sections on it. So, it looks like they are growing together and the clean entryway can add more value.
11. Let Nature Become a Guide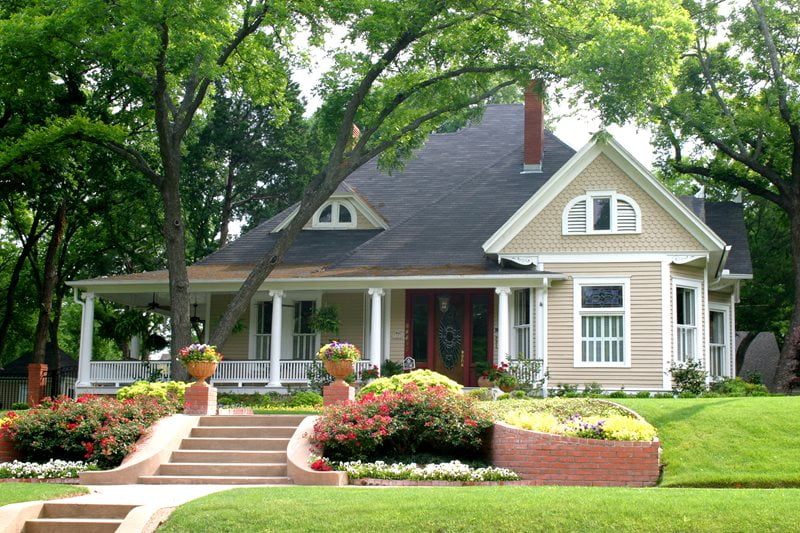 You can answer the wild element simply by following the lead of nature. You can choose the plants and other landscape materials which are native in your region. The butterflies and birds can attract them to your front yard and enhance you as well as your guest. This idea use the nature lead to bring you feels like you are really back to nature.
12. High Up Your House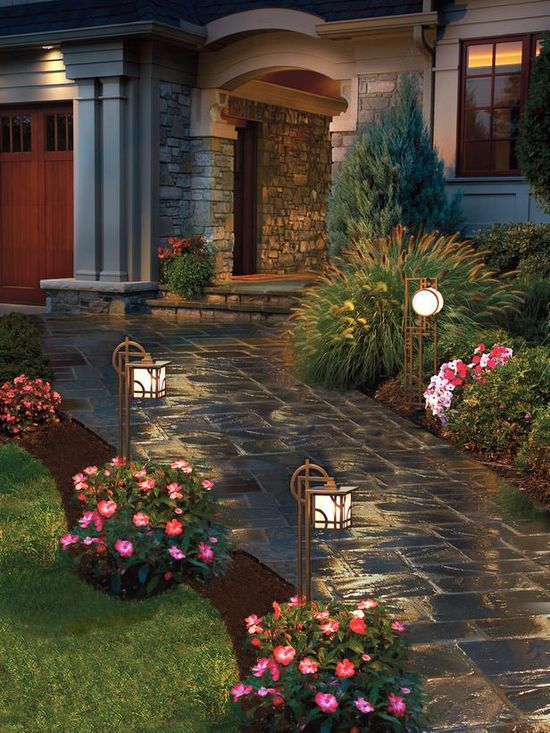 If your house is located in the higher surface, then you can try this idea. You can build up the beautiful starts into a few parts and do not forget to bring the colorful blooms. The colorful blooms give great effect when combining with fresh green trimmed lawn.
13. The Lighted Path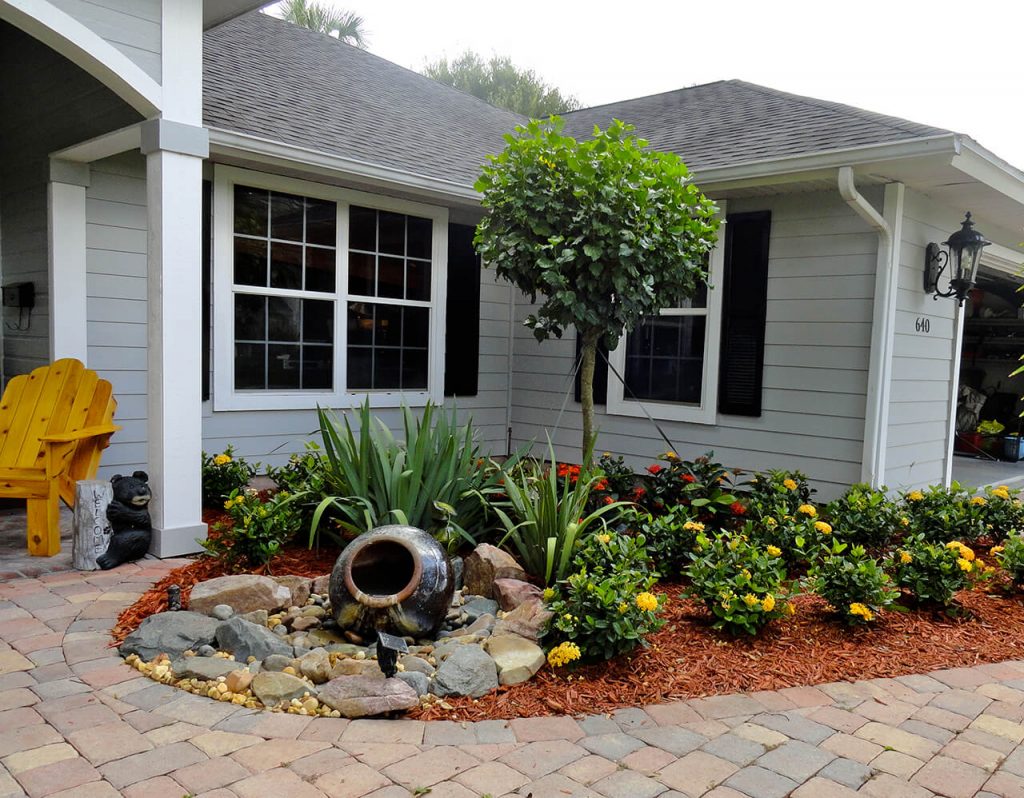 Those metal path lights can be used as the slim alternative for a lantern that brightens up your front yard. While the pathway lights were not always important, however, they prefer to give more welcoming nuance in your entryway.
By choosing to upgrade this element, you can make your landscape design elevates the notch. They can be paired with the flagstone path and solid combination of the classic and modern theme.
14. Employ Mini Water Feature in Your Entryway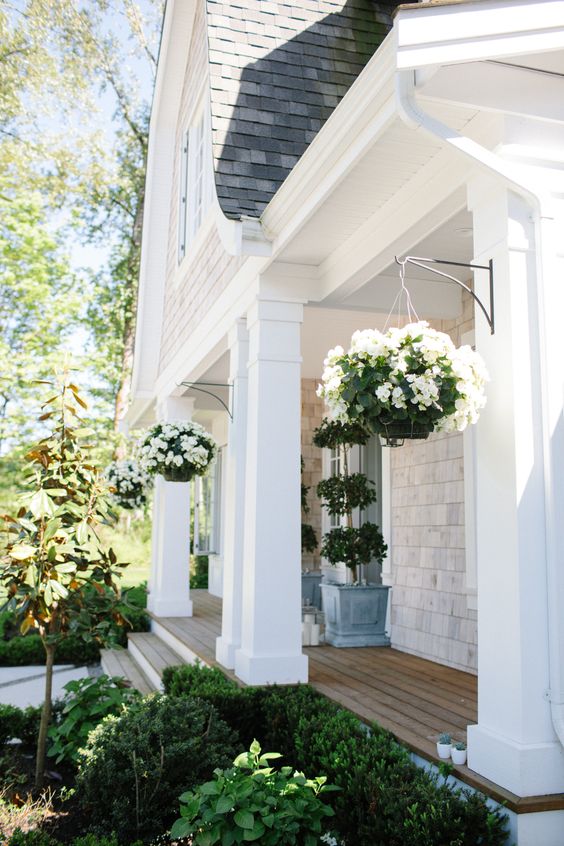 You might not think that you have enough spot for the water feature in your front yard, however with your creative touch, then you can add small fountain almost in anywhere. That small corner between the garage and entryway use to display the pondless fountain. If you have the shady corner where the plants struggling to grow, then this small fountain is great for the rock garden.
15. Front Yard Living Space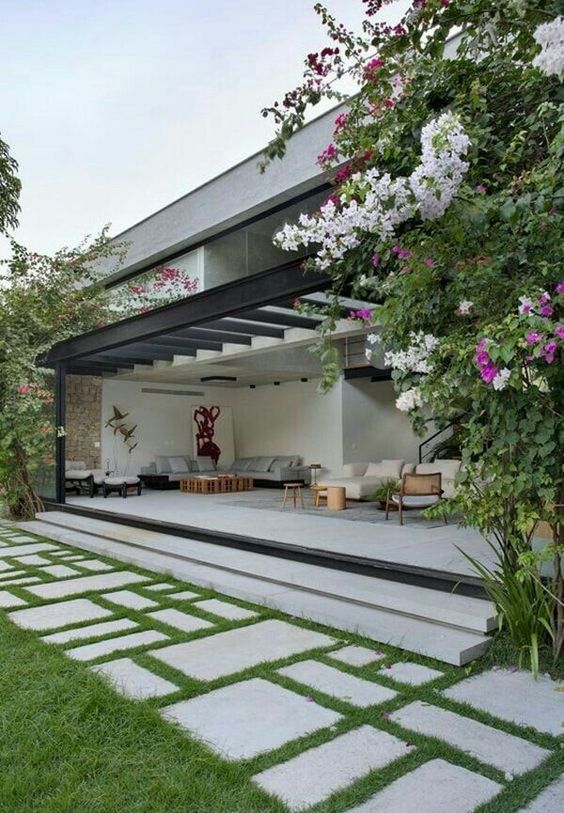 This is can be your space to display the living area which is so comfortable and welcoming as well. You can design your pathway with that kind of steps along with the plants and other green features. So, you can choose one of the best front yard landscaping ideas.