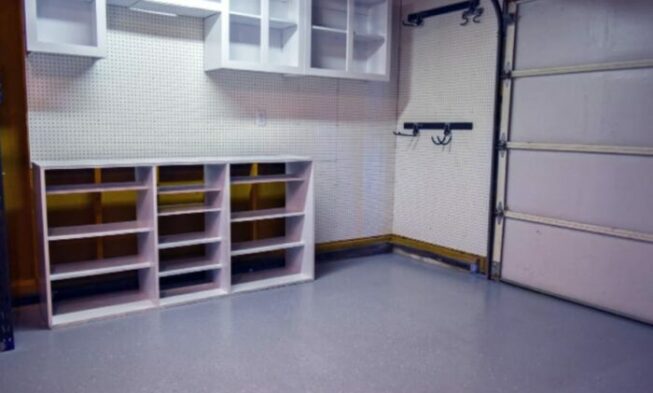 Garage Floor Paint Color List: a Simple Buying Guide
Color paints play an important role in creating harmony in a garage design. They will not only make the garage looks cleaner but also provide some protection to the floor.
But, how to find the best colors to paint your garage flooring? Well, here is everything about the garage floor paint color list to know about.
Garage Floor Paint Ideas
Due to the many options available out there, picking up the best color for garage flooring can be a tough task. The key is that you need to know about the rightest formula to be applied to the floors.
You need to know that basically, there are two paint options for garage floors you can choose from. They are pre-mixed 1-part epoxy garage floor paint and latex acrylic paint used for concrete garage floors. 
Between the two, the pre-mixed 1 part-epoxy is considered the best option for most garage floors. This type of garage floor paint is more resistant to mold.
The paint type also tends to resist chemicals, scuff marks, chipping, gasoline stains, and oil better than the latex acrylic paint.
Picking Up the Garage Color Floor Based on the Usage
As the garage floor paint color list can be quite long, make sure that you start with the usage. This will help you to pick up the ideal color for the garage floor.
For example, you might need to choose a paint color that can mask tire marks and grease if your garage is used to just park your vehicle.
In this case, selecting black or other dark colors to paint your garage floor can be the best option.
However, the paint color should be close to the sawdust color if you not only use your garage to park your car but also for woodwork.
This can be an ideal choice since the color will make it easier for you to disguise the dust. In this way, your garage will look less dirty and messy.
Consider the Lighting
Another thing that you should put into consideration when selecting the garage floor paint color list is the lighting. The color you pick for the garage can complement the space well, depending on how it is lit.
For example, you need to avoid choosing metallic concrete sealers if your garage gets a lot of natural light.
These metallic concrete sealers tend to reflect light. Using these colors will lead the garage floors to give off a blinding light, making them less attractive.
In contrast to a garage with adequate natural lighting, the one with poor lighting should have flooring paint with lighter colors. The color options will reflect natural light, making your garage look to have better lighting.
Not only that but the light colors will also make the garage look more spacious than it is actual size. This could be a perfect option to take if you have a small-sized garage and want to make it look larger.
Additionally, applying light colors for your garage flooring also allows you to get rid of the need to provide more light sources for the area.