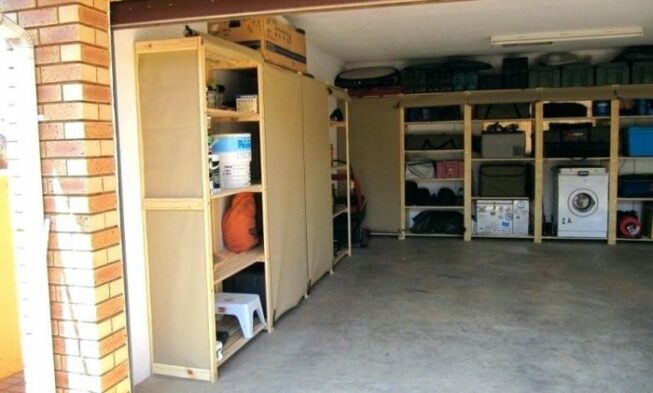 15+ Cheap Garage Wall Ideas – Interior & Exterior
 Garage Wall Ideas – For you who fond of in doing automotive things, no matter if you are men or women, probably garage is your perfect "palace" to spend time. No wonder if every time you find out how dull and tedious it is, you will figure out the best garage wall ideas to renovate.
Most of the homeowner turns out don't really care about their garage. It is a common thing to see the garage as an abandoned room since it just a wrap up construction where everything is kept unfinished. But, no more sad garage, thanks to this article.
1. Red Painted: Bloody Masculine!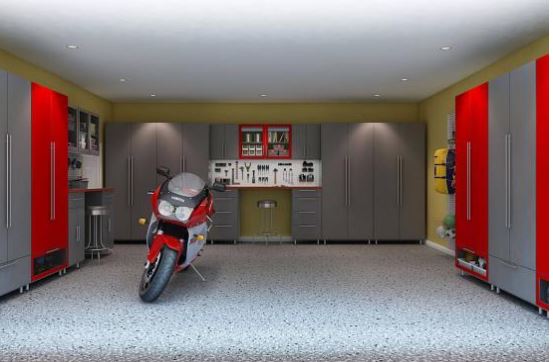 A combination of red and white-grayish is pretty popular among automotive enthusiast. While most people will obviously say no to white accent to be used in the garage, but actually as long as you just utilize the room to park your vehicle, then it will totally fine and acceptable.
On the other hand, if you need a garage for workshop instead of only to park your vehicle, these bright colors maybe not a good option for you. Like everybody knows, white and any other bright tones are dirty prone color.
2. Open Shelves Storage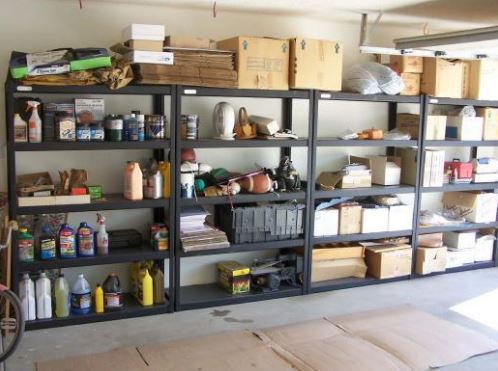 Modifying cars and motorcycles are ubiquitous hobbies, particularly in men's circle. If you are one of them, we understand if you need extra storage to ensure all your equipment, knickknacks, and any other tiny ornaments will keep tangible.
The problem with cabinet storage is, sometimes it is hard to find something small. Also, you need to open all the cabinet, just in case you forget where exactly the place is. So, it is an incredible option to cover all your need without adding new troublesome.
3. Storage Cabinets for You Who Prioritize Tidiness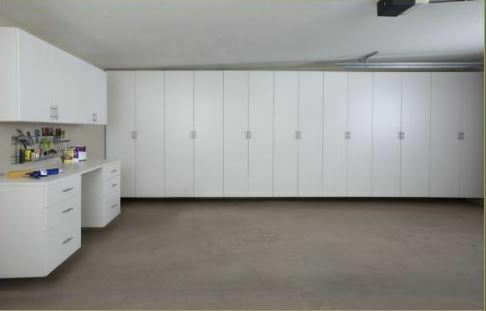 Besides the fact that it may hard to find several things inside a cabinet, but none can deny the idea of making everything organize and tidy. It is available in plethora options of size, conform it based on how big or how small your stuff is. No more messy tools on the floor.
Make sure your cabinets are enough to cover one entire side of your wall. If you have broken surface in one side of the wall, then you don't need to pay too much for recovering. Just to make it easier, glue some labels on the doors to help you recognize what is it inside.
4. Make Your Own Version of Workshop Spot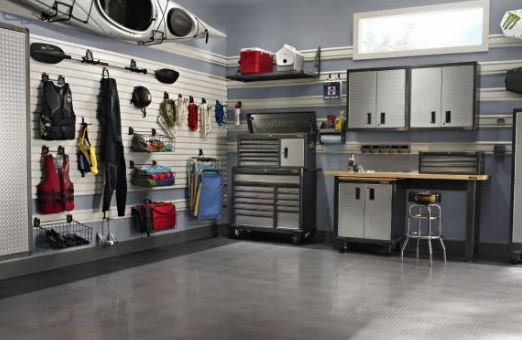 If you don't want to face the hassle of redecorating but feel disgusted with all the messy things, don't worry. Let it be unfinished and alter it into your own workshop area. Put initial boards to hang your equipment, several dressers, and some storage cabinet or shelves.
This extraordinary skill of organizing is definitely useful if you use your garage as a workshop instead of only like a showroom. If you agree about how functional it is, then your next responsibility is to make sure your hanging tools don't get messy and keep it clean.
5. Add Some Personal Touch for Your Private Garage Wall Ideas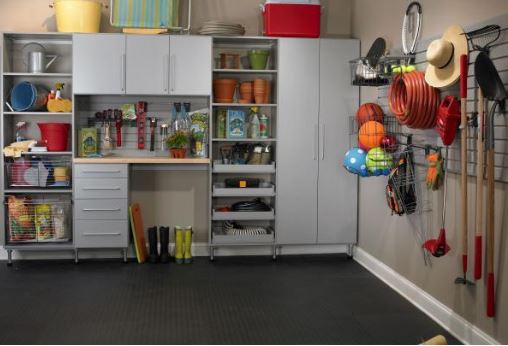 Nothing can disturb you every time you are busy with your vehicles. Especially when it is dealing with the latest trend, the most sophisticated technique, or trying the newest spare parts for modifying cars/motorcycles. The more skillful you are, the more pride you will get.
No wonder if most of your spare time is spent in this area. Sometimes, the thing that needs a proper place is not only your automotive toolkit but also your personal stuff. If there is still any remaining wall, make it into your private space and arrange it as you wish.
6. Avoid the Ordinary with Mural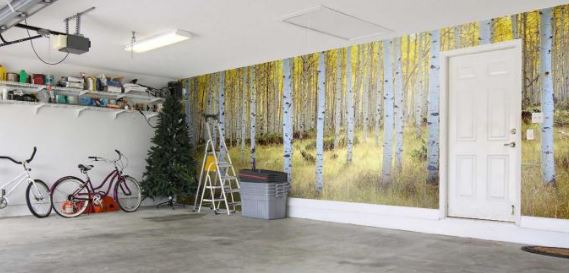 Only painting the wall with a solid color or using wallpaper, even though there are countless options of color you may choose, but it may seem overwhelmingly mainstream. When the remaining side of the wall still there and you running out option, why not to choose the mural?
A mural can liven up the ambiance of your garage, in the literal meaning, especially if it is the room where your workshop is there. Feel free to choose the picture, depends on what atmosphere you want to establish there. Is it natural, vintage, or modern?
7. Monochrome for Sleek and Delight Finished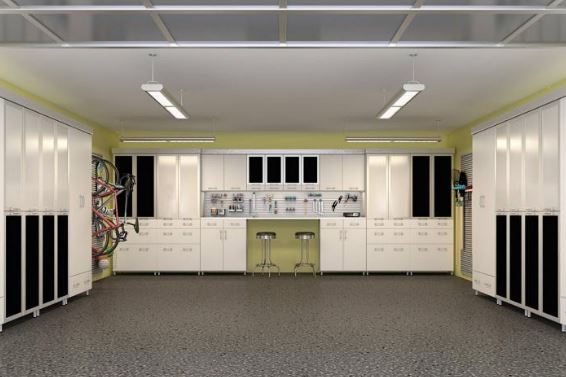 Probably you will laugh with the idea of a white garage. Everybody knows if the garage is so vulnerable with any dirt and dust. And bright color or specifically neutral hues are not the best mix and match ever your garage wall ideas.
Well, we still can make it as long as we know how it works. Bear in mind, bright neutral color can give effect to make anything else around those tones to be popped up and more outstanding. So, it is good to be a showroom of your vehicles instead of a workshop.
8. Modern Minimalist Style for Millennial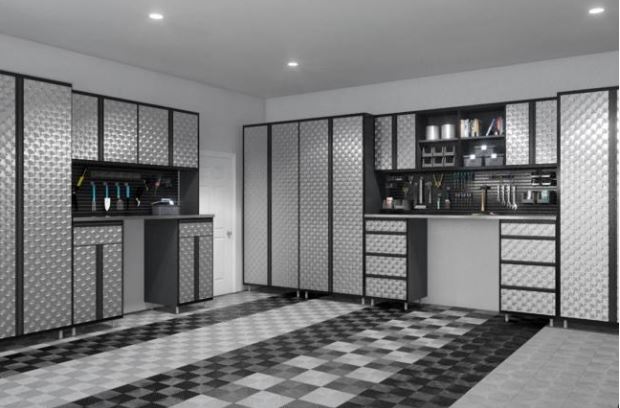 Masculinity in the millennial era has a quite different perspective. It is no longer related only on what kind of activity but also how you present yourself through respective design or style. This high-end classy modern decoration will absolutely lift your taste up.
The combination of black and white monochromes with a little bit touch of silver-finished illustrates your active and cool personality. With proper material, you can make your garage looks glossy. No more drab and dull garage! 
9. Be More Playful with Orange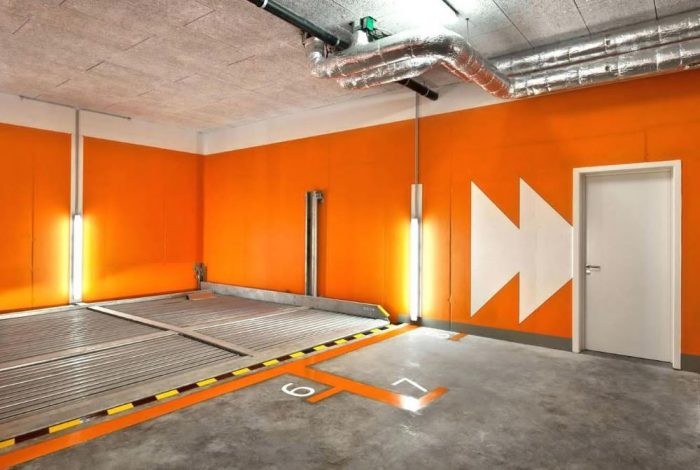 If bold primary color like blue or red doesn't satisfy you enough, you can execute your wildest garage wall ideas in a radical way: orange. Even though it is not usual, but doesn't mean impossible, to begin with.
Like you know, orange provides an energetic and warm ambiance for you to invite fellow automotive enthusiast or if you just want to keep busy with yourselves on the workshop. Plus, you will be trendsetter instead of only a follower in the context of home decoration.
10. Grayish Painted to Boost Your Confidence Level 
No one can hold you back in utilizing gray palette for garage. In certain level, gray is not always successful to elevate the sensation of masculinity but also show people the best side/angle/spot you have inside the garage. It is pretty cool, right?
As you see, gray gives the illusion of a cool and chill character. It is really suitable if you are well-known as a charismatic mysterious person. Supported with dim light as the ultimate source of light beside natural sunlight, it just looks perfect.
11. Gives Detail of Balancing Blue Line
Pay more attention to most of the garage you have ever visited. It almost has the same paint: neutral but tends to be monochrome. But, there are not enough outstanding elements to avoid the boredom of monotone design.
Make it more interesting by adding blue lines in the middle of the wall, underneath dark gray and on top of white. This simple detail successfully brings significant impact for your entire garage look. Say goodbye to the monotone and flat appearance.
12. Floating Shelves to Cover Your Upper Wall Surface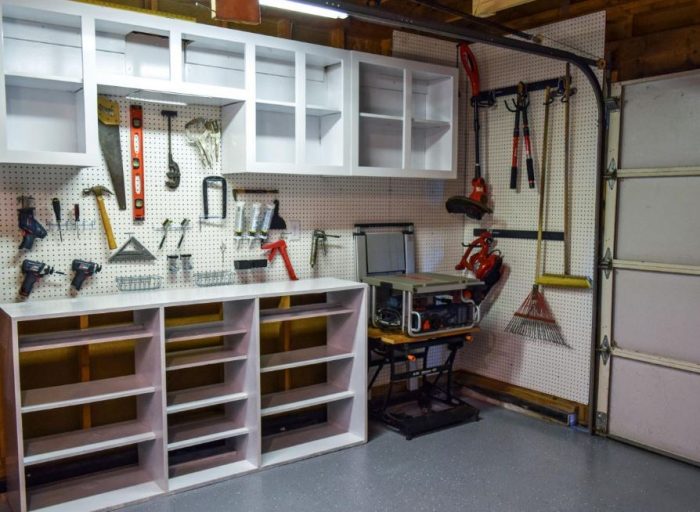 Not every homeowner really needs a super big cabinet to cover one entire side of the wall. But on the other hand, you have an ugly surface which needs to be covered. So, you can combine floating shelves, small basic board, and drawer on the ground.
13. Rustic Vibes with Wooden Surface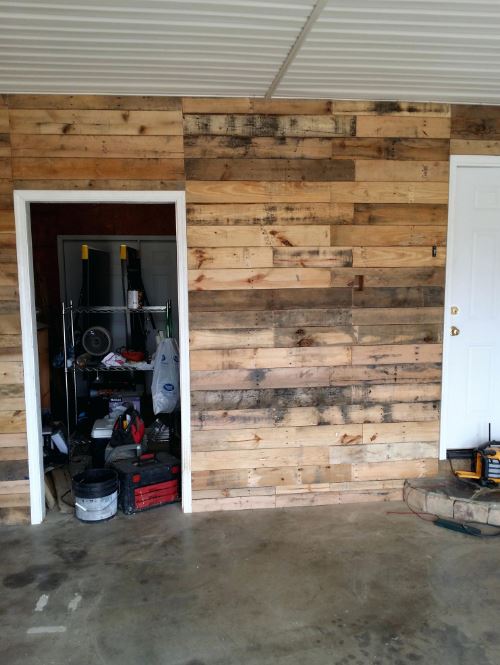 It is like any other home design; you may have multiple options for decorating the garage with basic design. If you like to be in the middle of the countryside, rustic design can represent the vibe you wish. All you need to prepare is a piece of wood to cover the wall surface.
Cut the wood into small pieces like in the picture, and then arrange it thoroughly. You can keep the color and the texture to be raw to get a natural look. When you don't paint or varnish it, then you may have a different color of the wood on the same wall surface. Interesting, right?
14. Combine Red Wall with Chess Board Tiles: Why Not?
This is a super unique combination, and maybe only suitable for you who have fun, playful, and out of the box soul since this is very rare to be found as decoration of the garage. But, it is surely eye-catching and makes everything inside there grabbing attention to the visitor.
Even though the garage is a place where you keep the safety of your vehicle, but it doesn't mean you cannot add wall hanging ornament like any other room. Turns out, these decorations can enhance the function of this room as a showroom gallery. It's absolutely worth trying.
15. Metal Plates for Industrial Style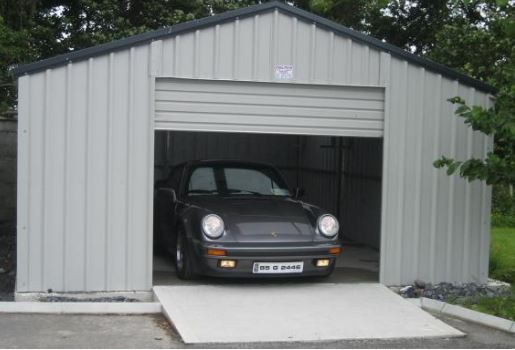 For the sake of security issue, many homeowners prefer to choose full cover metal plate for garage wall ideas. Especially if the construction is separated from the main home, then you need extra durable, well-maintained, and safety material. Use a rolling door to complement it.
At the first place, you may think that metal wall preserves the heat inside the garage and in the long term period, it can damage the vehicles or any other tools you keep there. Control the airflow with proper vents or you can add an air conditioner to balance the temperature.
---
So, what do you think? Are these garage wall ideas enough to illuminate and blow your mind? You can pick whatever design you want with consideration of entire home design, taste preference, and of course the purpose.