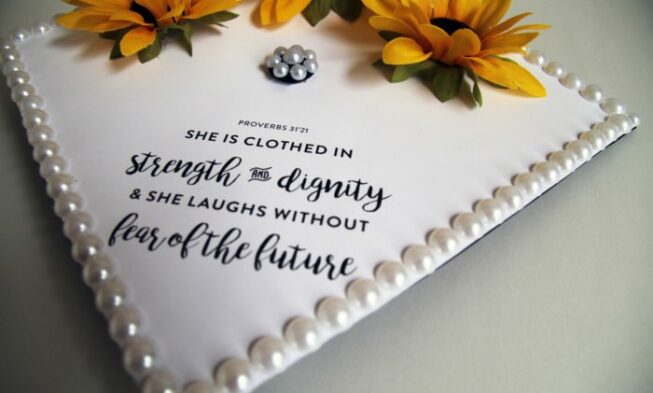 Best 15+ Funny Graduation Cap Ideas | High School – College
Graduation Cap Ideas – To honor the efforts you have done in your study, you might want a great celebration on graduation day. One good thing to express it is by using some graduation cap ideas. 
You might want to decorate it in a funny way, beautiful, unique, and showing the world a bunch of happiness you have. And here are some inspirational graduation cap ideas that you can choose to make your important day more artsy and colorful.
1. The Hogwarts Style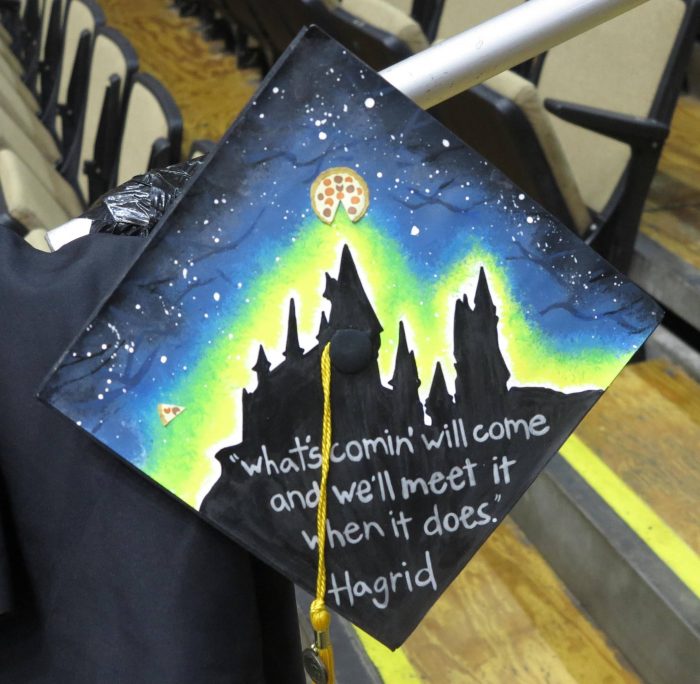 Hogwarts is a symbol of education, in that wizarding world. So, how about showcasing your unique side to other friends and family? This will be such an impressive nod that will remind you of childhood.
Another good side is the cap idea is so hilarious at the photos that give you so much good memory during the graduation time. You might not get your first letter to Hogwarts at your eleven years old, but surely now you'd be much happier getting your first diploma.
2. Gold and Bold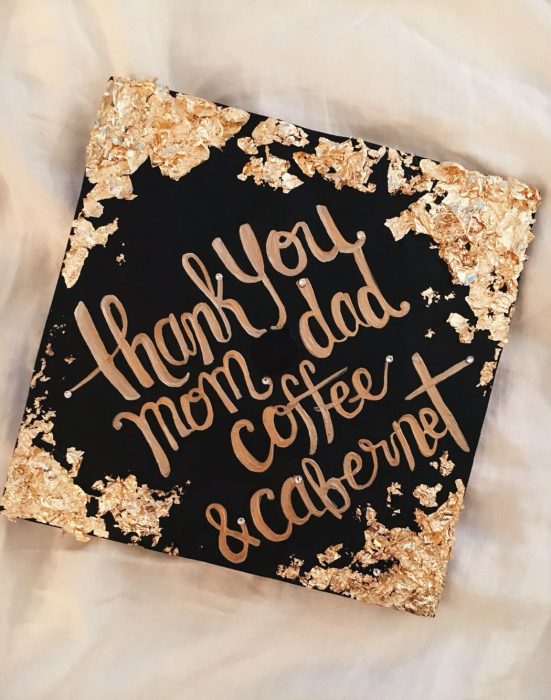 The gold ink is so elegant combined with the black hat. It shows exactly to everyone how your future will be: bright and glow. Do you think the cap can bring so much positivity to yourself?
Opt for the inspirational quote design with the additional design such as flowers of diamonds made up of the gold foils. This is the best way on how to make you stand out in the middle of the crowd.
3. Girly Cap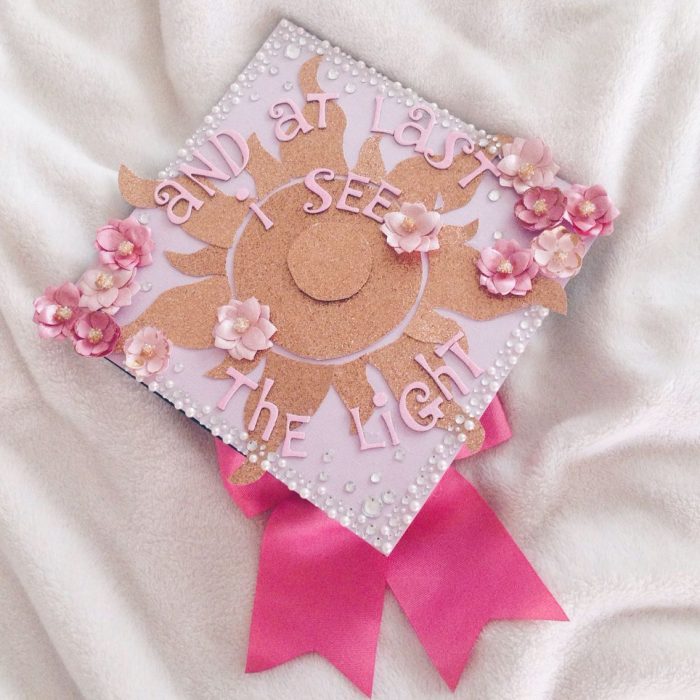 The girly graduation cap idea with pink color can embrace all the good sentiments a girl has in her graduation day. The concept is extremely sweet that makes many girls feel so special on their important day.
Include some imitation flower as a fresh touch to your cap, and don't forget to add an inspirational quote as a variety to impress yourself and other people.
4. The Artsy Cap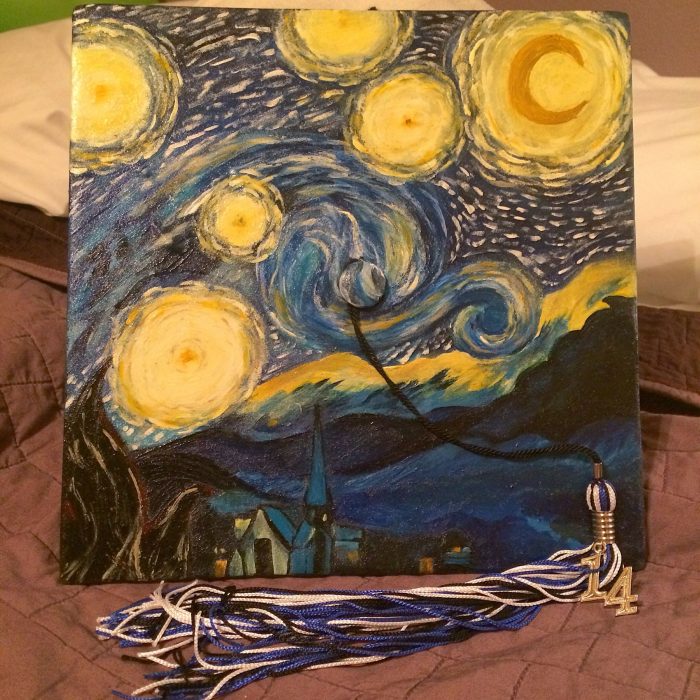 Show your artsy side in this artsy cap with the paintings on it. It perfectly showcases all the beauty and the talent you have. This graduation cap idea is a marvelous representation for those who graduate from art major. 
As long as you have the talent in painting, you can make this hat effortlessly. Embody your entire favorite painter's creation there. Either Monet, Van Gogh, that's all your call. Such a wonderful thing to celebrate your achievement in the study!
5. The Hama Beads Cap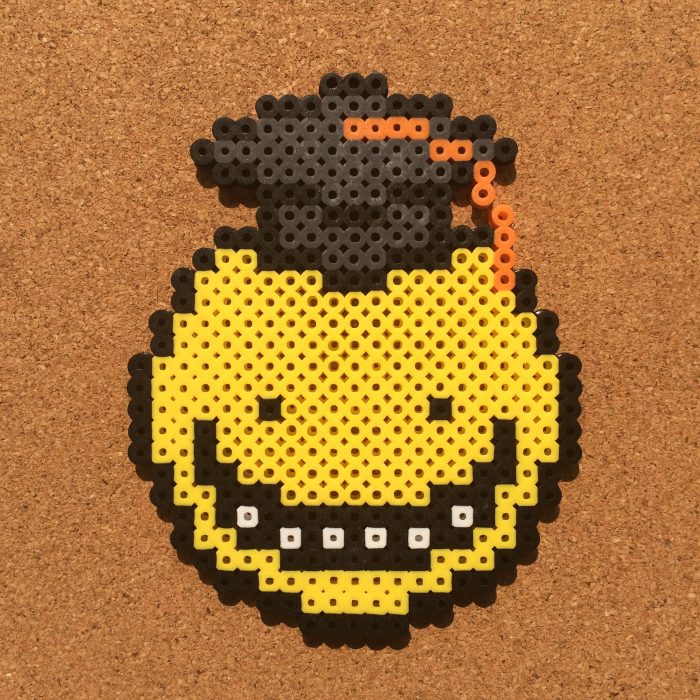 In order to add a more playful accent in your graduation cap, opt for the HAMA beads to arrange a sophisticated design on your graduation hat. Hama Beads are the elements that are so funny and easy to arrange.
After you make some design in the pegboard, now you can stick your HAMA beads design to the graduation hat. It makes a stunning pop-up look but easy to make even though you are not good at designing.
6. Dobby Hat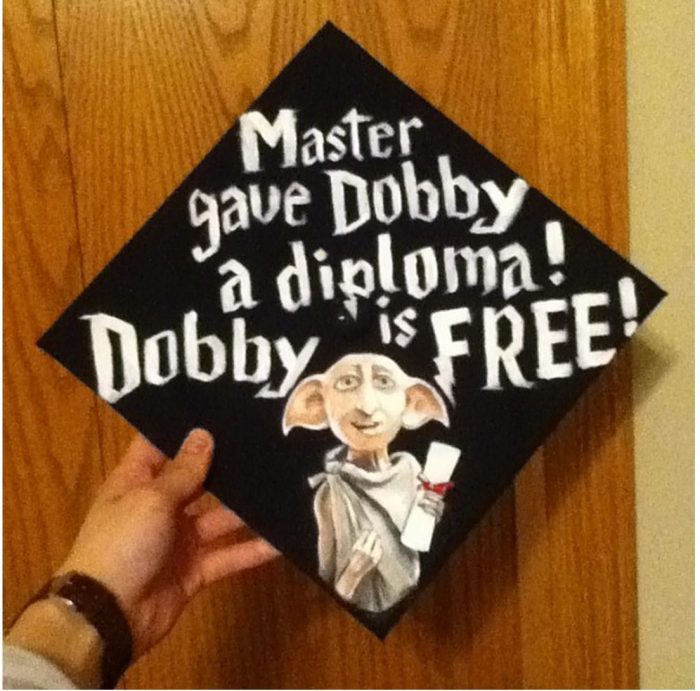 After all this time, there are many ideas you can get from the Harry Potter franchise. The books and movies give you so many precious characters, and Dobby is also a hit.
What do you remember from Dobby? He is a home-elf and the owner shall give him something to let him free. And after you sacrifice the time and thoughts during your study, this is the time when you are finally free and you deserve to get the graduation cap!
7. Sweet Sensation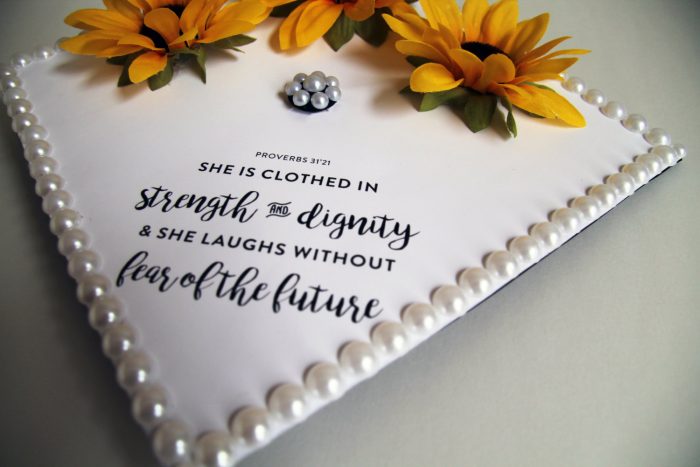 The quote will always be so inspiring to anybody, including you. So, how about making it a sweet sensation? You can opt for nice colors such as pastels, broken white and nude pink. Those colors can blend so well and give you a feminine impression.
To feature the nice quote in your graduation cap, first thing first to do it by painting it – if you have novice skill on painting. 
If you are not blessed with that, you can just print a nice quote with some sweet decorations and the nice option of the font. Selima or Amatics are two kinds of fonts at the computer that can help you reach that expert "design skill".
8. A Great Quote from Philosophers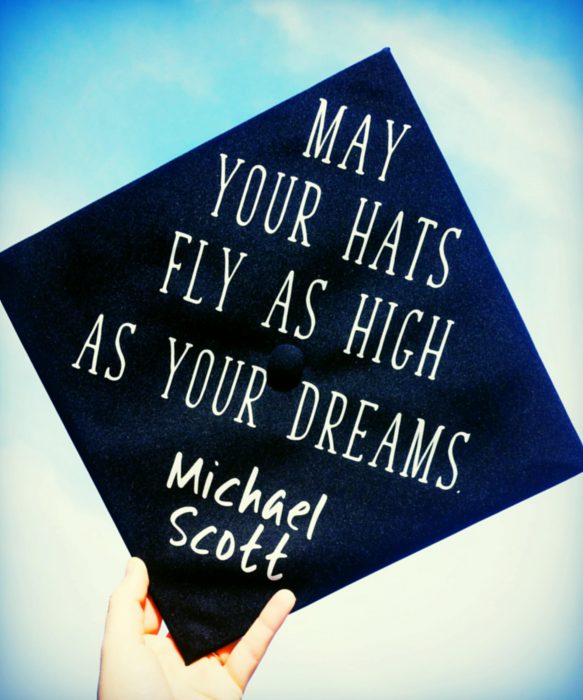 You can really guess what the future holds, so how about encouraging yourself with the inspirational quote that you trust by the philosopher you love? Make a unique statement of yourself by doing this.
Use the ink, or, if you are not that good at painting, print a lovable quote and stick it to your graduation cap. Look how you will feel so blessed.
9. A Graduation That's Too Fast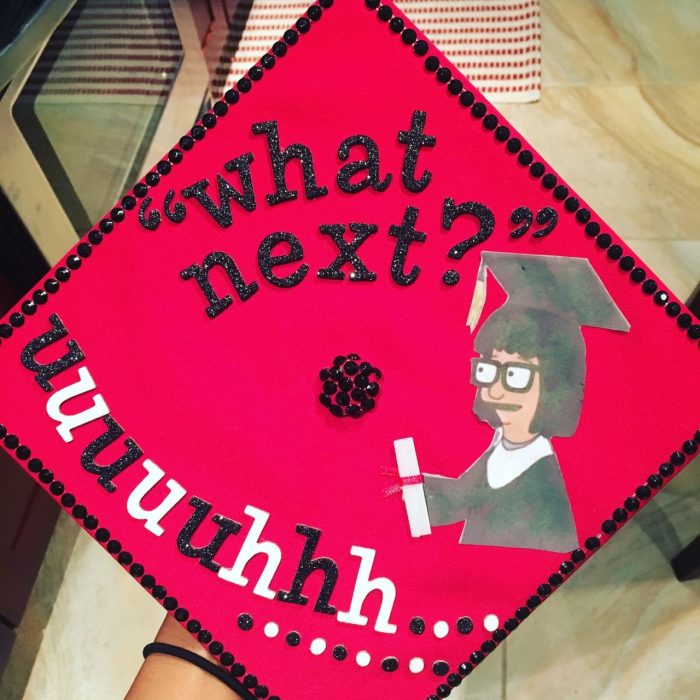 Some students might think that they are not ready to go just yet, so, you can confess it through your graduation cap. Do you still understand nothing? Tell it clearly in that high-anticipated hat.
You know what? The graduation day is not only about how you celebrate what you have reached but to celebrate the fact about yourself (or maybe your besties too, we think).
10. Blings Statement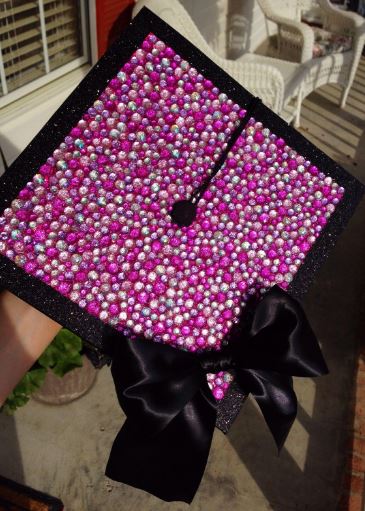 The bling looks so stunning in the dark background, for example, the basic graduation cap. Exhibit your hope to the bright future that you will earn through those bling imitated stone that looks so stunning.
You will get all the attention on the graduation day. And you know what? It is something that you truly deserve since you've sacrifice with your sweat and tears. Make some lovely design as a nice touch.
11. Mosaic Hat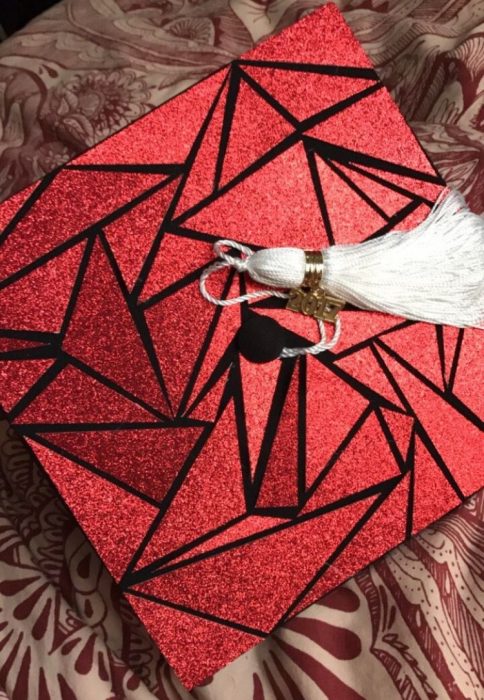 Have no ideas what you must write or design? Don't be so hard to yourself. You don't always have to make some marvelous design or writing just because you want to be the center of attention during your important day.
The iridescent mosaic has some tiles with different colors under the light, and it depends on the angle of your view. It can portray a bright future that can boost your optimism through whatever will be in your life.
The other reason why you should give a shot to this idea is that it doesn't require an expert skill in painting – even a kid can do it well.
12. Ravenclaw-ism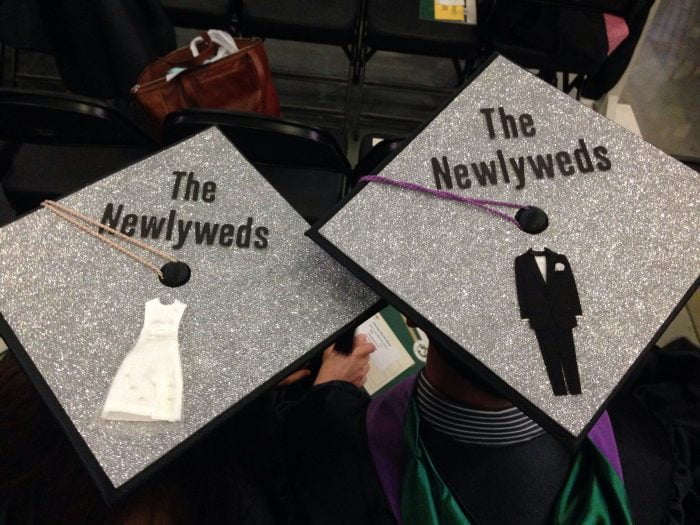 Sum up your hard works at school by showing the pride of being the same as Ravenclaw student. The members of that house are known for their brilliant brain and their hard work during the study.
And if you feel that you are not so into the house (maybe The Sorting Hat has a better option for you) you can change the design into Gryffindor, Hufflepuff, or even Slytherin. Every house at Harry Potter has its own strength and you know where house to enter by yourself.
13. The Graduated Bride-to-be/Newlyweds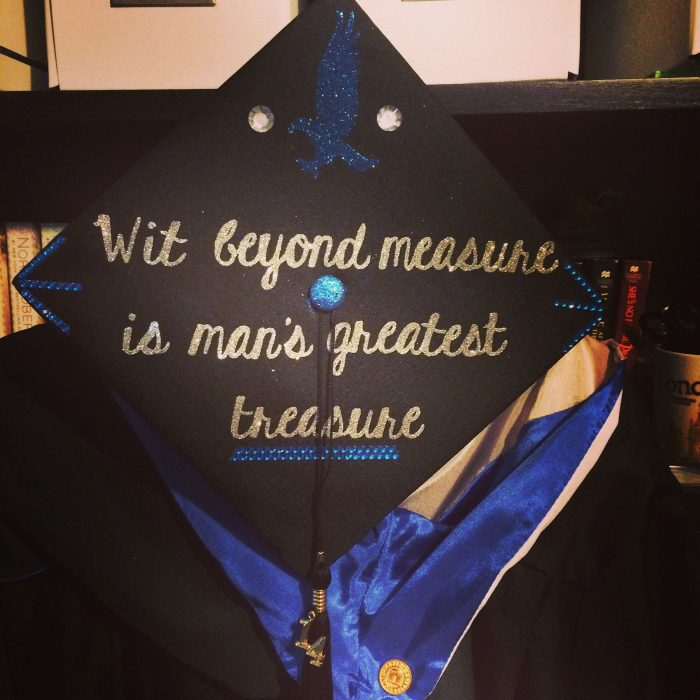 Wrap to important life events into this magnificent cap idea. Show to everyone that you have planned many things in the future, both career and love. You can pick some glitter to decorate this stunning graduation cap.
The people in the sea of the graduation hats will realize that you try to push the boundaries in your life and you really crave for it. It is not overrated, right? Because you have the right to decide your life.
And this idea will run better when your plus-one come to your graduation day. Do you think it is the best give in your special moment?
15. Up!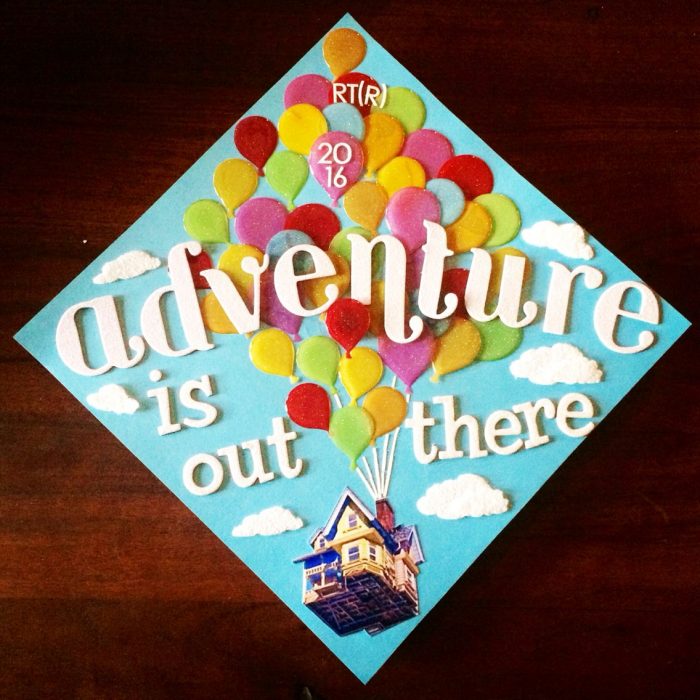 The Up from Pixar is a good reference for you who intend to have many adventures ahead. The movie is timeless, as well as all the quotes mentioned there. It shows us the optimism to face all the troubles in the world.
If you are an artist who is good at painting, you can design the Up characters and quotes by yourself. However, if you feel that you have no talent as an artist, you can print the picture from the Internet, or asking your friend who can do this professionally.
All the things come up from Up Pixar movie are so quotable, moreover, if you are about to go to a new life phase. As you can see from the movie, the adventure from college is enough and now, it is time to have another one.
---
Graduation caps might be making you stress because you are burdened with the ambition to be stand out in the sea of the hat in your special day. But, no more worry to feel. Now you already have many choices to pick in your graduation day. 
The ideas of making an unforgettable graduation cap are actually limitless. You can apply movie themes in general, like Up, or pick the specific characteristics, such as Hogwarts, Dobby, and Ravenclaw from Harry Potter. Or, you can embellish it with painting, photos, beads, or pearls.
Of course, the list of graduation cap ideas could be longer than just fifteen points. It depends on your creativity, after all. So, con-graduations, and make the others awe with your cap!