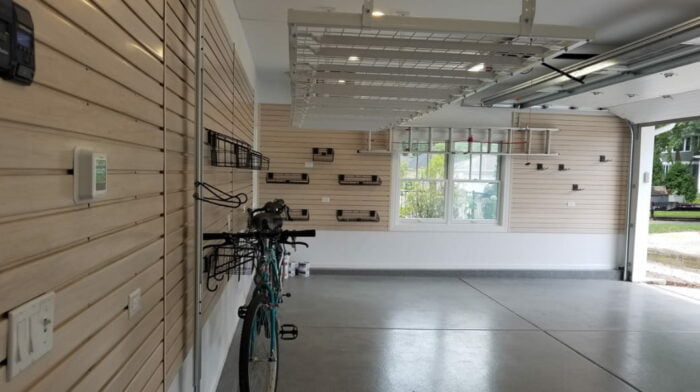 Want to Have an Attractive and Effective Capacity of a Garage? 
We can feel the rapid developments in the world economy today. One of them is the increasing number of two-wheeled and four-wheeled vehicles. A vehicle generally requires the owner to provide a garage.
Why should you have a garage?
One of them is as a vehicle storage area. For those of you who have a motorbike or car, is it impossible not to park your vehicle on the side of the road?
Can't you even leave your vehicle in front of the house's terrace? So that's the reason why you should have a garage.
You can store your vehicle safely and without disturbing other things with a garage. In addition, if the weather is hot or even heavy rains, your vehicle will still be protected.
When at night, you can sleep well because you are sure that your car is safe from the weather and can be stolen.
Garage Design That Fix on You
One of the essential things for the garage is the garage wall, especially for the front garage wall as a place to enter and exit vehicles.
Not only that, even the garage can be modified not only as a place to store vehicles but also to store your tools. Then, how to optimize the function of your garage?
The way is installed garage slatwall, the garage design is needed for the behind and left-right side of your garage. So, what is garage slatwall?
Garage slatwall is an appealing and safe solution to expand your garage's storage capacity. Mold, mildew, and water are resistant to the panels, which also work as a protective barrier for your garage walls.
The advantages of garage slatwall
As just said before you will have so many advantages of garage slatwall, one of its benefits is as a vehicle equipment storage.
Paneling with horizontal shelf grooves is known as slatwall. The user can store a variety of objects in the garage thanks to these grooves.
These shelves could be used in a variety of ways, including as hooks for hand tools and racks for items like blowers and brooms.
This type of storage system is unusual in that it converts the entire garage area into a smart storage place. Slatwall transforms into a bike rack, paper towel holder, and shelf space in addition to facilitating the usage of hooks and racks.
If the storage system takes up the entire space, you can rearrange items according to your preferences and usability. Based on your choices, you can decide where and how the storage should be.
How To Install Garage Slatwall system?
The initial step that you must do is lift the slatwall up off the stack. Allow the panels to acclimate to room temperature before installing.
After that, stud spacing of 16″ on-center is recommended. You can mark and locate the studs with a stud finder so the panel can be firmly fastened.
Cut the panels face down if the Slatwall needs to be cut to size. When cutting using a table saw, keep in mind that the panel should be cut face up.
You'll need screws if you're installing straight to studs. Use two "If you're putting it up over drywall, you'll need screws. Slats should never be used for attachment; instead, the channels/grooves should be used.
Screw into each of the other grooves. According to the screw size, pre-drill holes for the screws. Allowing screws to protrude into the grooves may obstruct the movement of the hardware.