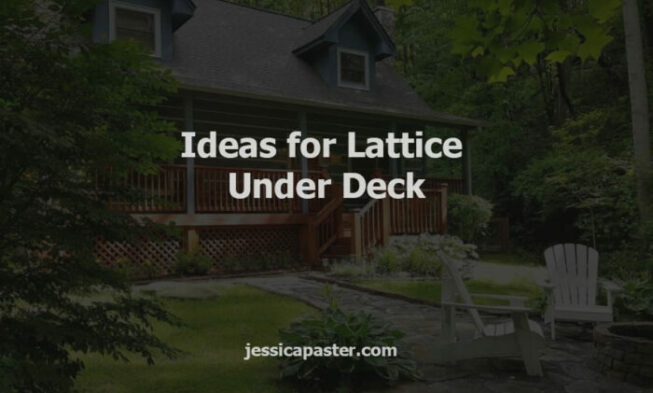 5 Alternative Ideas for Lattice Under Deck
People might not pay great attention to the lattice under the deck, but it can affect the whole appearance of your house. That is why these ideas for lattice under deck should be considered.
Modern Wood Slats Skirting
Are you looking for the best alternative ideas for lattice under deck that is on-trend today? You can try to utilize wood slats for this purpose. The horizontal lines of wood slats will give a modern look to your lattice under deck.
You can feel free to cover the wood slats with the same color or contrasting color to your home paint color. A darker color can also be a great choice. Besides using wood slats, you can also use metal slats instead.
Shiplap Installation
If you want to bring a farmhouse style into your lattice under the deck, you can use simple wooden planks. You can install the shiplap horizontally. Of course, you can feel free to stain, paint, or leave the shiplap bare.
Do not forget to allow some airflow when installing the shiplap because the gaps between the boards can be very narrow. You can also install vents if it is necessary.
The shiplap will look great when you stain it in the same color as your wooden deck. The seamless look can be found along with the boards, railings, and deck stairs.
Ideas for Lattice Under Deck for Storage, Relaxation, or Entertainment Room
You can create a room with various functions beneath the deck if you have a deck with a two-story level.
If you want to make dry and usable space under your deck, you can add a drainage system. It can be done before installing the deck boards. You should talk to your deck builder before beginning the deck construction.
Plants or Shrubs
If you are looking for the easiest deck skirting ideas, you can consider changing the landscaping around the base of your back porch or deck.
Of course, the additional landscaping around the deck base must be suited to the overall landscape design to make everything look natural.
Planting plants or shrubs might be great for bringing a new look to your deck but it will not stop critters, like possums or raccoons from getting underneath your deck and making it their home.
Durability Focus
If you want to look for durability for your deck skirting, you need to find the right skirting material.
Brick or stone will be great to make your home look solid and well-grounded. Do not forget to coordinate the color and texture of the ideas for lattice under deck with your home.