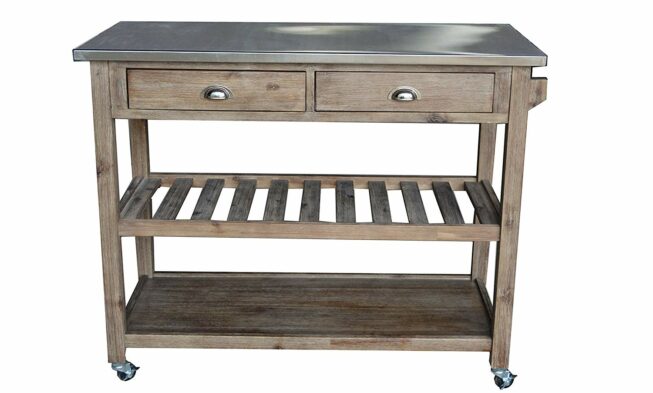 Best 25+ Kitchen Carts and Island Ideas
Kitchen Cart Ideas – You can have either a kitchen island or a kitchen cart in your kitchen, but if none of them is already present in your kitchen, I suggest you install a kitchen cart instead of constructing a kitchen island.
Kitchen cart is more flexible because it is movable. It is also easier and cheaper to get because unlike a kitchen island that requires full-on kitchen renovation, a kitchen cart doesn't. Because kitchen cart is movable, it offers space-saving solution in your kitchen.
A kitchen cart also provides you with countertop and storage spaces that are obviously needed in a working kitchen. If you want to install a kitchen cart in your kitchen, here I will show you fifteen great kitchen cart ideas that you can use in your kitchen.
1. Install a Wall Coffee Bar Table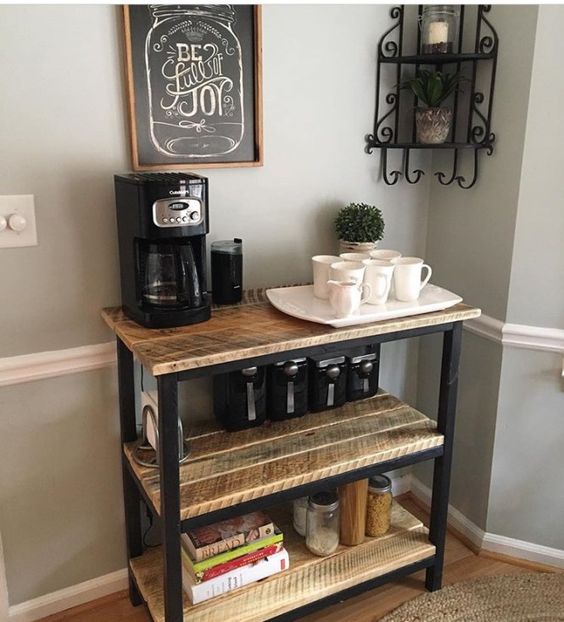 A slim coffee bar table is an excellent addition for your kitchen. It sits neatly on the wall of your kitchen and it provides you with handy storage for all of your coffee utensils, including coffee maker, mugs, and containers.
Coffee time in your kitchen will be hassle-free and fun with this wall coffee bar table acting as your kitchen cart.

2. Decorate with Elegant Black Portable Kitchen Island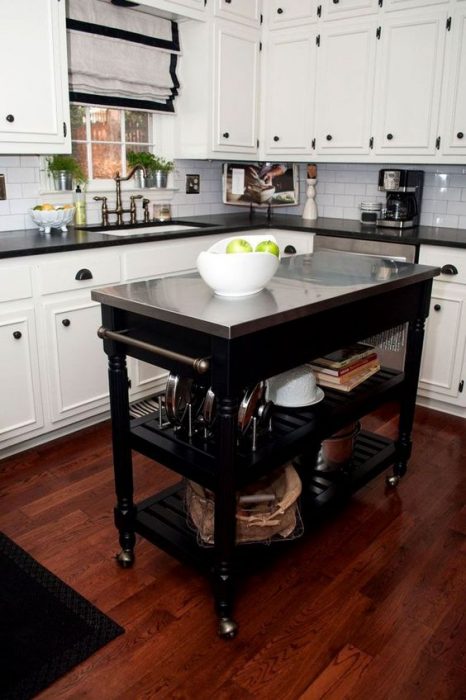 A kitchen cart, as mentioned above, is basically a portable kitchen island. If you don't want to do massive renovation to your kitchen to build a kitchen island, you can use this handy black portable kitchen island. The countertop is scratch resistant and its racks are perfect for storing a variety of utensils.

3. Use Lightweight Vintage Metal Rolling Cart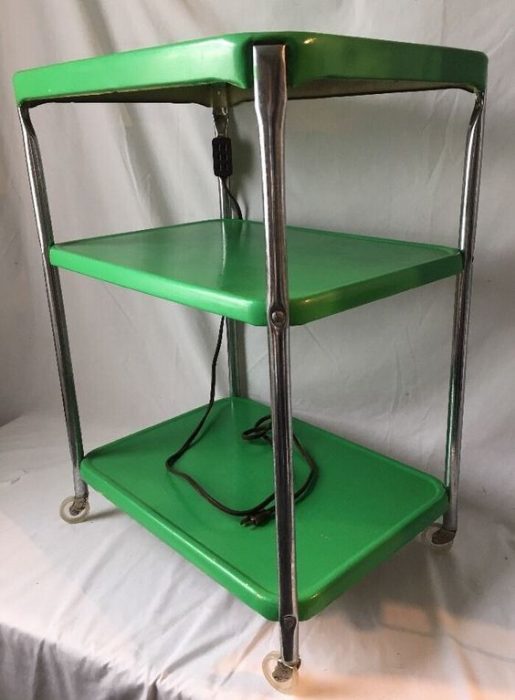 A metal rolling cart in a kitchen might seem unusual, but it is not unacceptable. In fact, the metal countertop and the racks underneath are useful for all kinds of kitchen jobs. Besides, the all-metal structure of this kitchen cart makes it lighter and more versatile than its bulkier wood counterpart.

4. Buy IKEA Kitchen Cart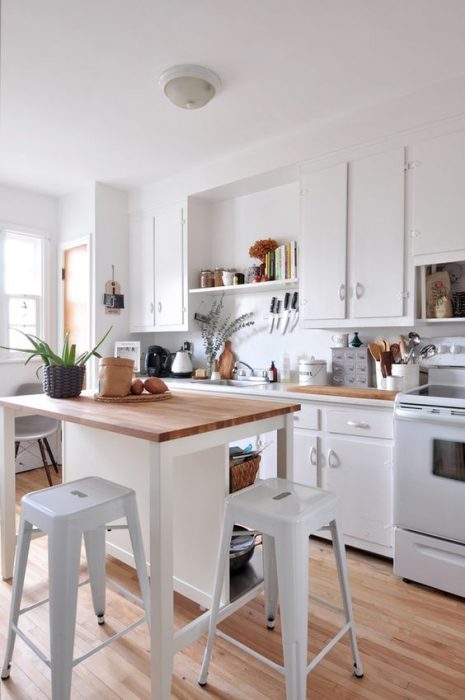 Using IKEA kitchen cart in your kitchen is a great idea. IKEA knows how to make fancy items that are still affordable. IKEA kitchen cart looks clean and sleek with its white legs and wood countertop and is a great choice to be either a kitchen island or a dining table.

5. Use Dresser as a Kitchen Cart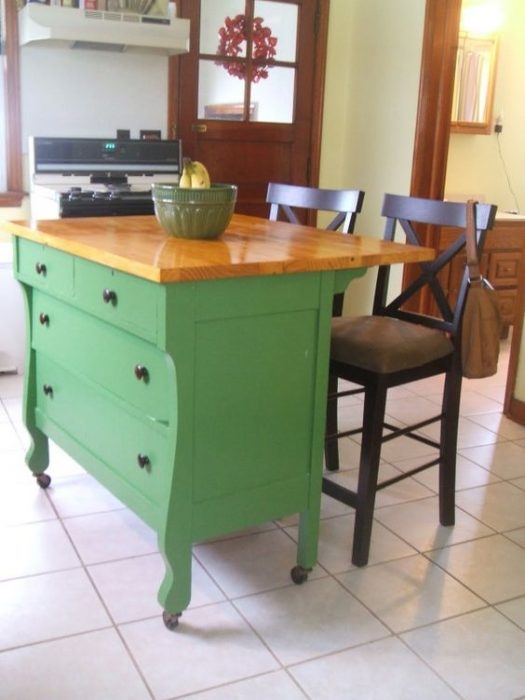 A dresser doesn't necessarily have to stay in your bedroom forever. The drawers of a dresser are spacious enough for storing all kinds of kitchen utensil and its solid top is a versatile countertop. You can enhance the strength of the countertop by adding a layer of wood, metal or stone if you want to use it for hardcore kitchen jobs.

6. Get a Kitchen Cart with Baskets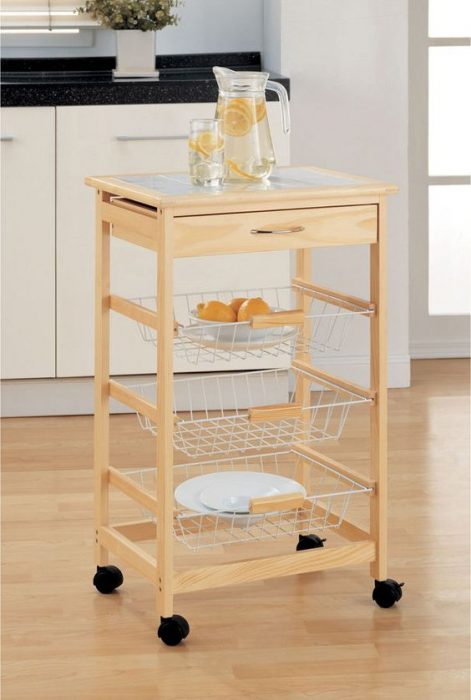 Basket is perhaps better for storing kitchen objects than flat rack. Basket keeps the stored utensils dry and the meshes grab those utensils more securely. If you have to choose between a kitchen cart with baskets and a kitchen cart with racks, you may want to choose the former due to the benefits that it offers.

7. Consider Using a Butcher Block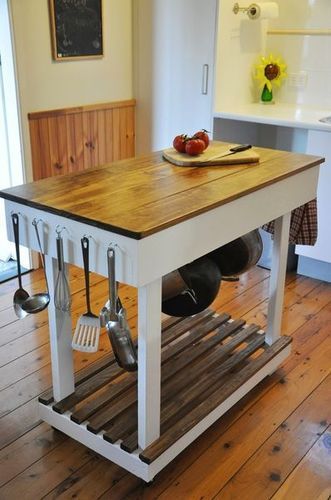 One of the most versatile portable kitchen islands is called butcher block. This kitchen cart is designed specifically to accommodate all kinds of butcher's work.
The wood countertop is hard and reliable for cutting meat, its rack is great for storing large pots and pans, and its side hooks offer versatile solution for storing knives and other utensils.
8. Use an Industrial Kitchen Cart with Wheels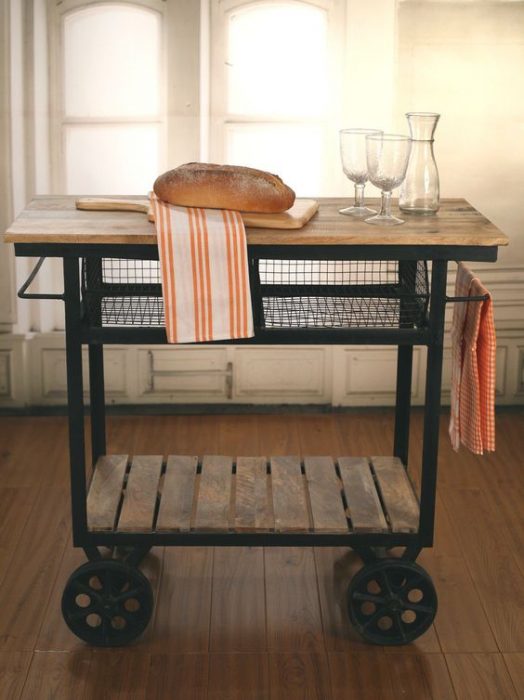 In a kitchen that heavily uses rustic elements, an industrial kitchen cart with a mesh basket, a rack and oversized wheels is obviously a perfect addition. It is functional and it enhances the rustic atmosphere of the kitchen.
9. Do it yourself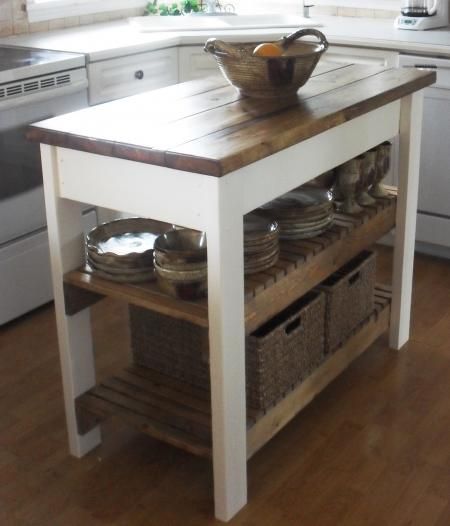 One of the greatest features of a kitchen cart is that it is easy and cheap to build. Therefore, instead of buying any kinds of kitchen cart, why don't you build it yourself?
Building a versatile kitchen cart doesn't actually require too much skill. All parts of the cart are angular, making its construction easy to accomplish with only nails and hammer.

10. Use Kitchen Cart to Store your Microwave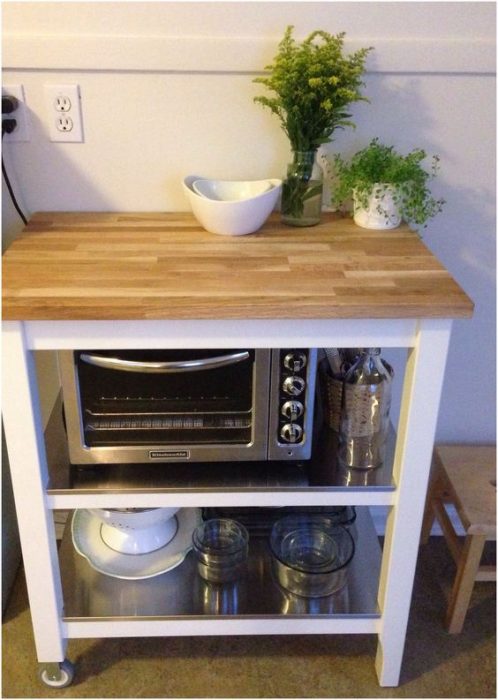 One cool thing about having a kitchen rack with spacious rack is that you can put larger kitchen components, such as a microwave on it. You can thus save the precious space of your countertop by putting your microwave there.

11. Use a desk-like Kitchen Cart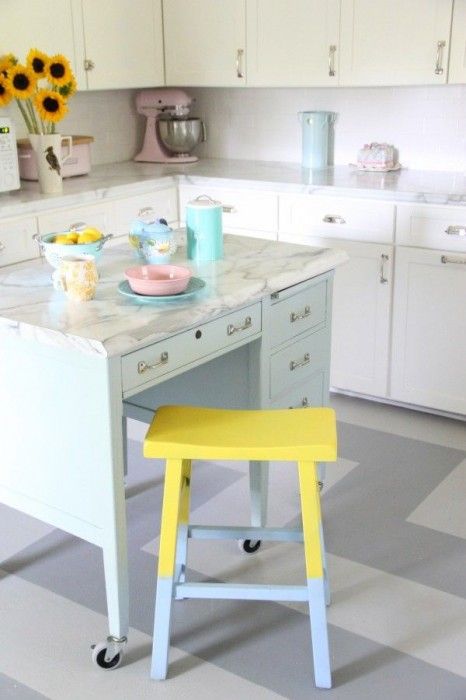 A kitchen cart that looks like an office desk can find its place in your kitchen. The kitchen cart has a hard and strong countertop that is perfect for hardcore kitchen jobs and its storage area consists of a set of drawers on one side and a hollow space for storing kitchen bench on the other.
12. Behold Another Desk for Your Kitchen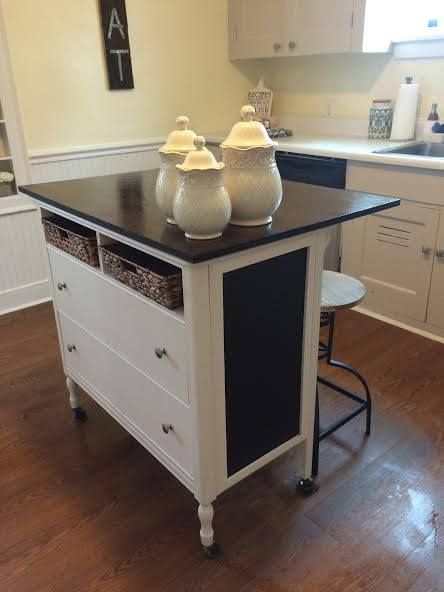 There are actually many ways to convert a vintage desk into a kitchen cart. This one you see in the picture is another great idea that you can use. The drawers are now located on the opposite end of the side where you put the chair.

13. Rustic Farmhouse-style Kitchen Cart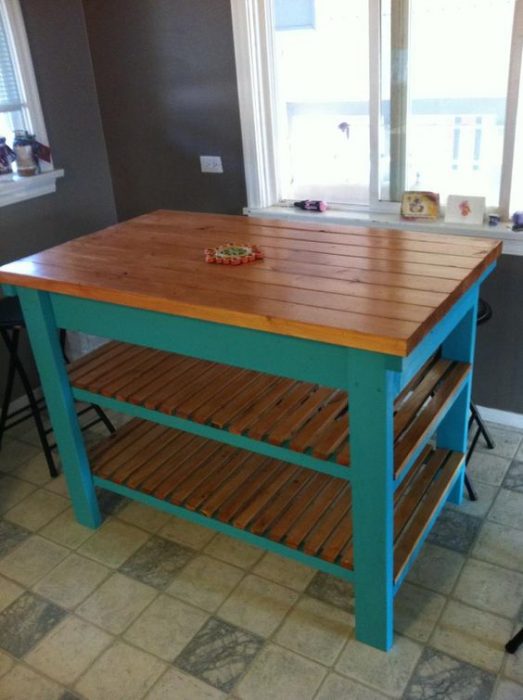 This farmhouse-style kitchen cart is great not only because it has a pair of racks with sturdy design, but also because it sports muted blue and wood colors that still looks vibrant and attractive.
14. Neutral-colored Kitchen Cart
One element to take into consideration when choosing a kitchen cart is its color. This white and wood kitchen cart will look stylish in your modern kitchen. Its colors blend well with the overall look of your kitchen and its sleek design makes it a perfect choice for a modern kitchen.

15. Use Just the Right Number of Caster Wheels
To improve the portability of a kitchen cart, it often uses caster wheels on its legs. Using a kitchen cart that has caster wheels on all of its legs might not be the right decision because it will be hard to keep the kitchen cart stationary. Instead, you can use a kitchen cart that has caster wheels on only two of its four legs so that it is easier for you to keep the balance between the cart's movable and stationary characteristics.