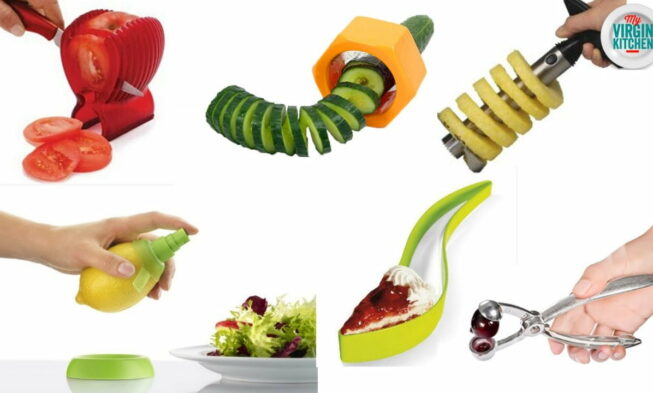 25+ Cool Kitchen Gadgets Must Have | Under $50
Kitchen Gadgets – Cooking lovers need to prepare various kitchen appliances so they can cook delicious foods. More than that, with various kitchen appliances available in your kitchen, you also can cook much easier without having too much hassle.
You also can save more time for preparing ingredient, cooking process and plating it, so it is ready to serve. Story short, having complete kitchen appliance in your kitchen will give you the best cooking experience at your own kitchen.
This is what all cooking lovers seek, right? Now, to help you to get and find the right cooking appliance, we have what you need here. The list of kitchen gadgets below is a good reference to complete your kitchen appliances at home.

1. Brieftons Spiral Slicer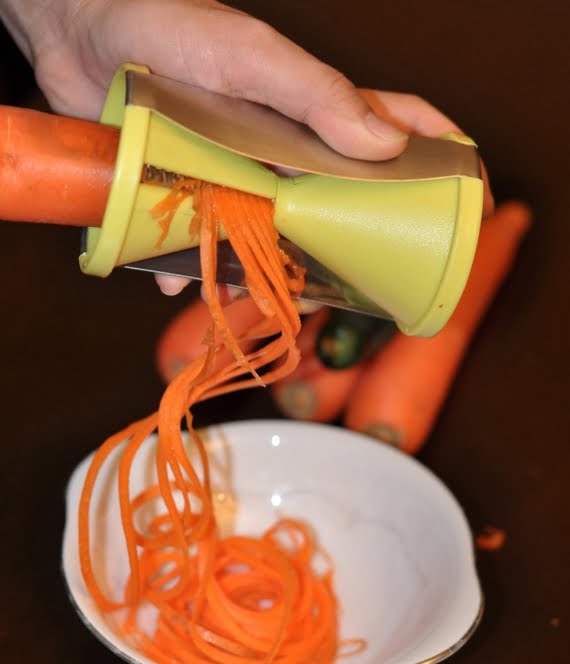 Do you want to cut vegetables just like pasta? You can do it faster by using spiral slicer. This kitchen utensil is suitable to turn vegetables such as carrots, potatoes, and cucumbers into long and slender. You just need to clamp the vegetable into the crank.
Then, rotate the vegetable so the blade cut it into spiral. You may choose a manual spiral slicer for more flexible usage and storage.    
2. Cake Batter Dispenser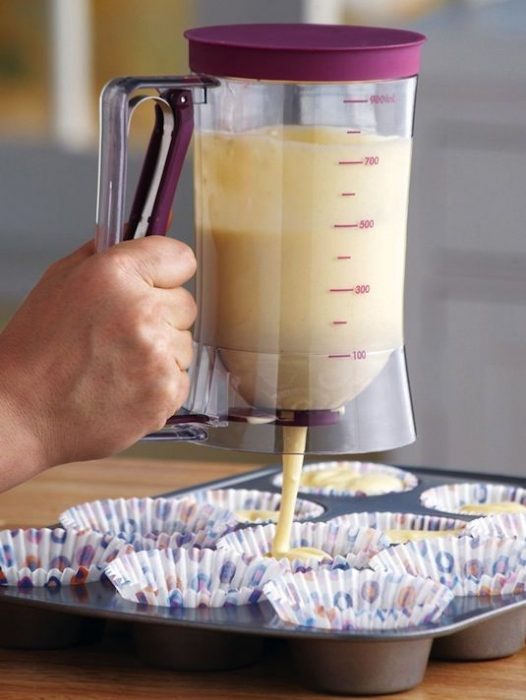 Cake batter dispenser is a perfect kitchen utensil for those who love to make delicious cakes at home. Just pour the batter into the container of the dispenser. Then, prepare some cups and place the dispenser above the cup.
Press the handle of the dispenser and the batter will go down smoothly to the cake cup. This kitchen gadget helps to move the batter to the cup easier, faster, and tidier.
3. Chef'n Bananza Banana Slicer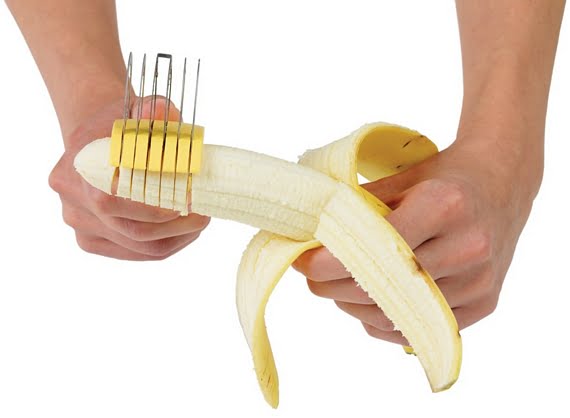 Slicing banana will be easier and nice with this banana slicer. It works by placing the banana into the slicer. Then, press the handle to move the blades to cut the banana. In a few seconds, you will have some round bananas and you can use them for garnish or any kind of foods you want to cook.
The most important, you are about to have the same size and shape bananas when you cut it with a slicer.
4. Dice and Slice Chopper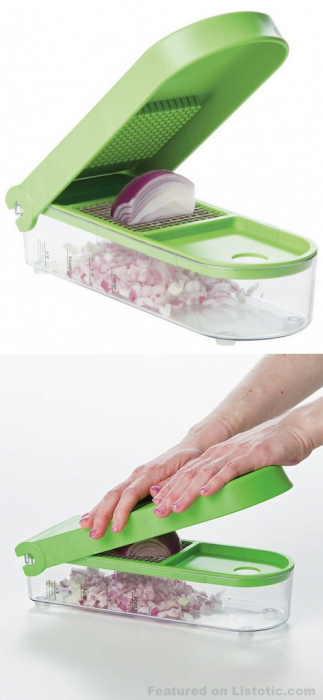 Dice and slice chopper is one of a must have kitchen gadgets. This gadget is perfectly working to slice specific ingredients you don't want to touch. Just imagine how hard to slice onions and the side effect you get during the process.
Take the dice and slice chopper and put the onion on the blade and press the cover. The blades on the cover will cut the onion perfectly! You just need to smile and put the result on the transparent container.
5. Easy Tool Pineapple Corer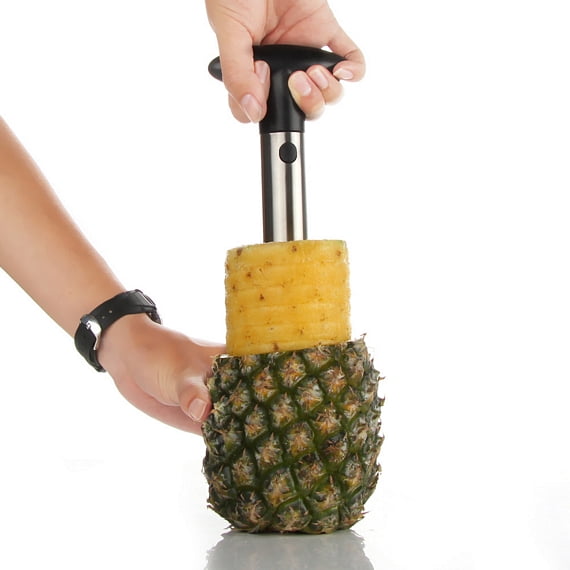 How long and how hard for you to peel a pineapple? If you love pineapple and want to peel it by yourself, try to prepare easy tool pineapple corer. It is a fantastic kitchen gadget which can turn out the pineapple flesh without cutting the rind.
The corer is also a designed simply and flexible to use. Just cut the top of the pineapple and then use the corer to move the flesh out from the rind. You will have fresh pineapple in a few seconds only!
6. Fred Manatea Silicone Tea Infuser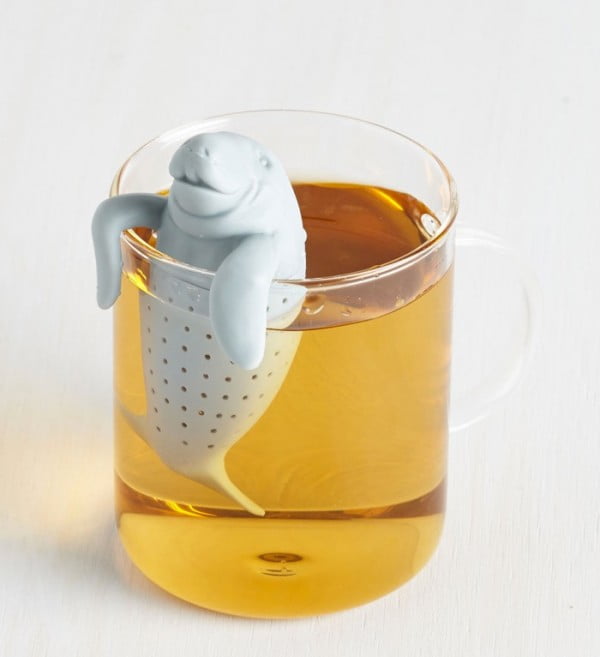 Tea lovers will be happy with this tea infuser. It is not only useful to keep the tea clean and enjoyable to drink but it also has a cute design. Just put the bag of the tea on the stomach of the cute grey walrus.
The fun part is hanging the walrus tea infuser on the side of your favorite glass. Wait for the water turn into red and you are ready to drink a clean and fresh tea!   
7. Herb Mill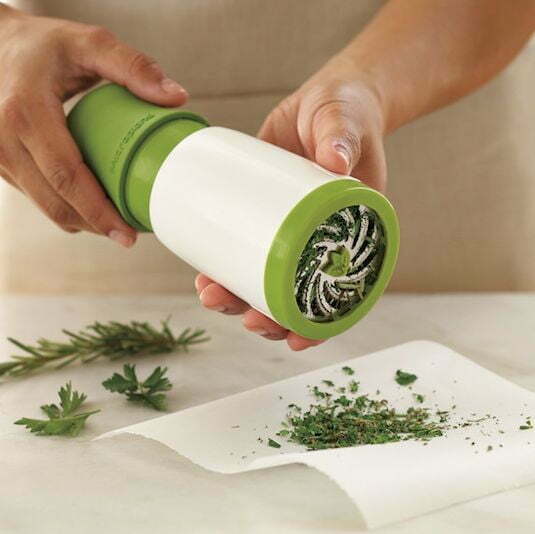 Don't take too long only to crush herbs. Herb mill is a great solution for those who want to mix mild herb to your favorite foods. Just put the herb inside the mill and rotate it to get crush herb. It's that simple! You don't need to make your hand dirty and smelly because of the herb. You will have the result more that you are expected.
8. Herb Scissors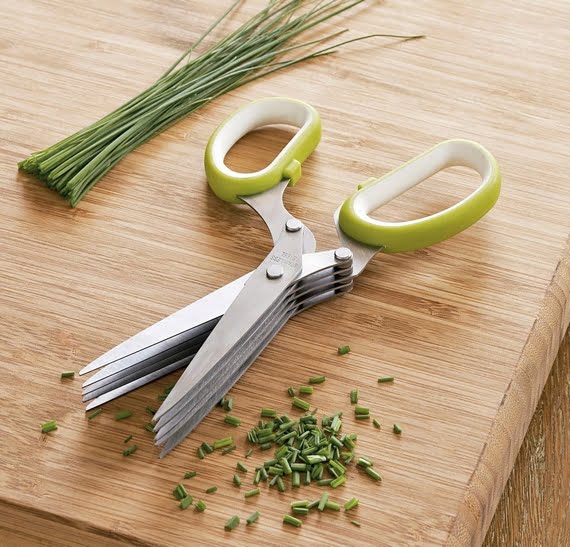 There is a case that you want just prepare roughly chopped herb. For faster result take herb scissor and start to cut herb just like when you cut a paper. The best part of this kitchen gadget is on the multiple blades used.
It is effectively cutting the herbs perfectly. Herb scissor is also offered in modern style and it makes the utensil cool for any type of kitchen themes.
9. Jaws Knife Sharpener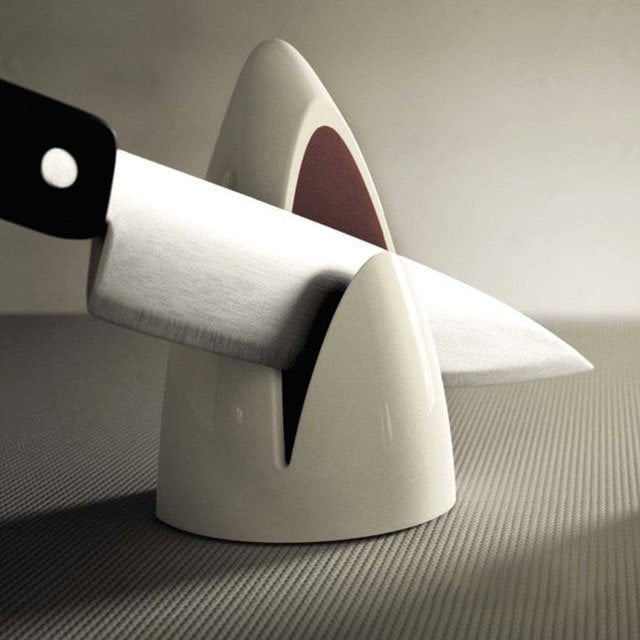 You also need to keep a knife sharpener in the kitchen. Just choose a unique one such as jaws knife sharpener. It seems that you are sharpening your knife on the teeth of the jaws. Indeed, jaws knife sharpener looks eye catching than the ordinary sharpener.
The model is also suitable for any kind of kitchen. This sharpener can also be a functionalized kitchen accessory.
10. Nessie Ladle Turquoise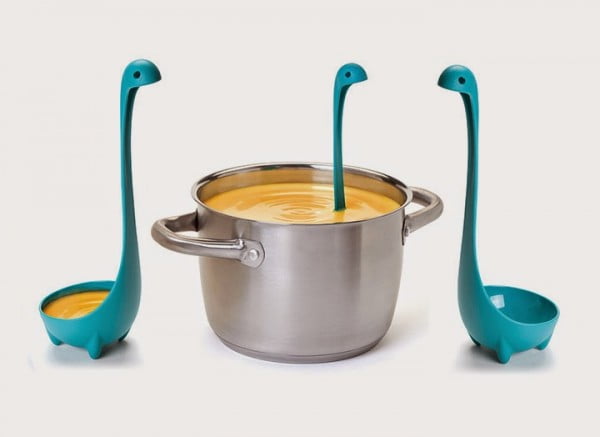 Putting unique kitchen appliances are great. Just add your collection by putting Nessie ladle turquoise. The dinosaur design looks cute and surely your children will love to play with it.
This ladle is also a multifunction kitchen utensil because you can use it as an accessory and an item to take some foods. Nessie Ladle Turquoise is offered in blue and it is great for modern kitchen design.   
11. Ocharzy Silicone Fried Egg Mold Cooking Tool
Preparing an interesting lunch is a trick to make your children eat. To make them eat egg, try to fry the egg by using fried egg molds. There are several funny egg molds you can use such as skull, owl, or sun and sky. The design will attract your children to see the food on the plate and finish it all especially the egg. You will also have a cute kitchen gadget at home.   
12. Professional Multi Chopper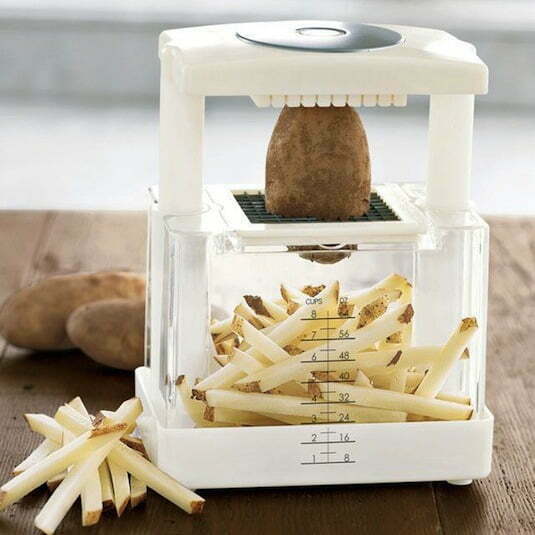 This chopper is a good kitchen gadget for those who want to cut solid vegetables into Julienne cutting style automatically. The best part is that you will have Julienne vegetable in the similar size and shape in very short time. Professional multi chopper is a smart solution for those who want to serve homemade fried French or vegetable salad.
13. Tabletop Oil Mister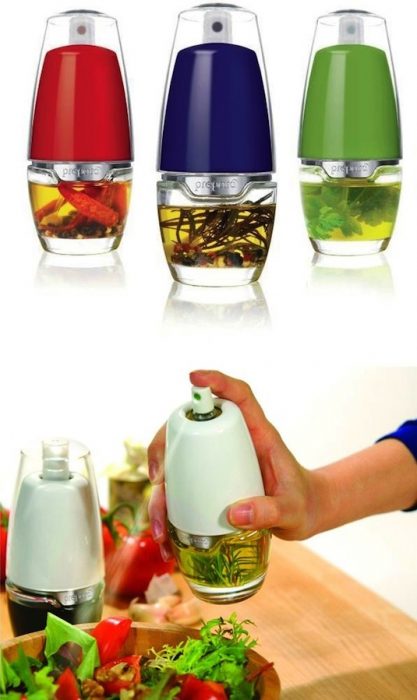 Vegetable oil is a healthy cooking option. Instead of buying the oil, you may make it by yourself at home. Just make the process easier by using tabletop oil mister. The design looks like a perfume bottle and it is stylish enough for your modern kitchen.
Mix the oil and the vegetable and pour it on the glass container and wait for a few days. By the time the vegetable oil is ready to use, just push the sprayer. That's it! You can use the oil mister for creating fresh salad or any kind of foods with vegetable oil.    
14. Valek Rolling Pin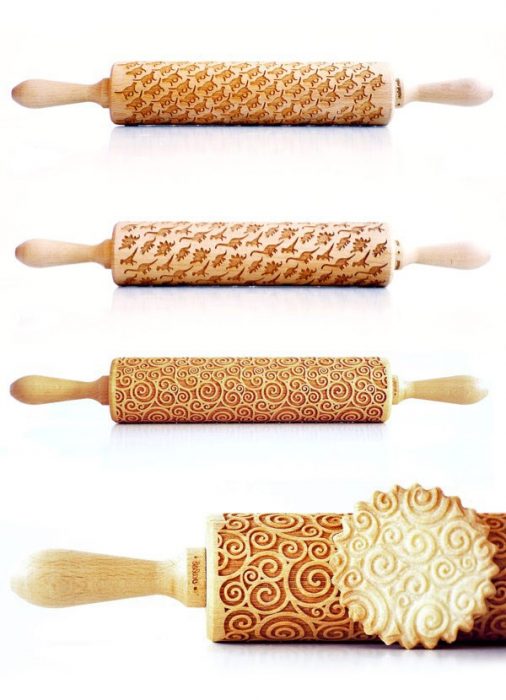 This is a unique rolling pin because you see pattern on it. The pattern is not only an accessory but it has a function. Just put dough on a table and then roll it by using this rolling pin. Voila! You are ready to bake the biscuit and you have shaping it while using the rolling pin. What a great kitchen gadget, isn't it?  
15. Waffle Griddle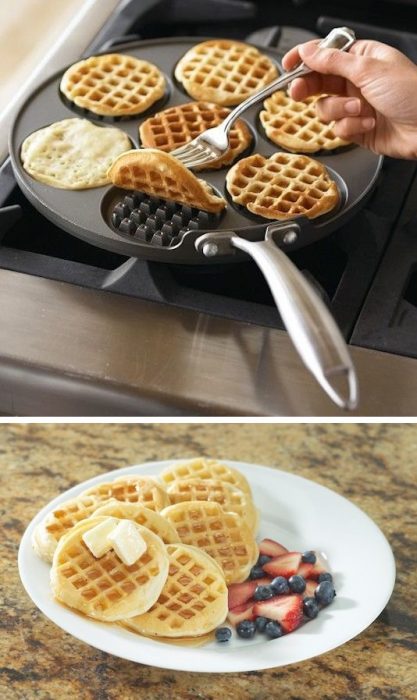 Waffle is always delicious and easy to prepare breakfast food. Just make your waffle more interesting to see by cooking it with waffle griddle. By the time you pour the batter, the griddle shapes it during the cooking process. Just move the waffle out from the griddle after a few minutes. Indeed, waffle griddle is one of valuable kitchen gadgets to prepare interesting to see foods for the entire family. 16- 25 ON PRCS