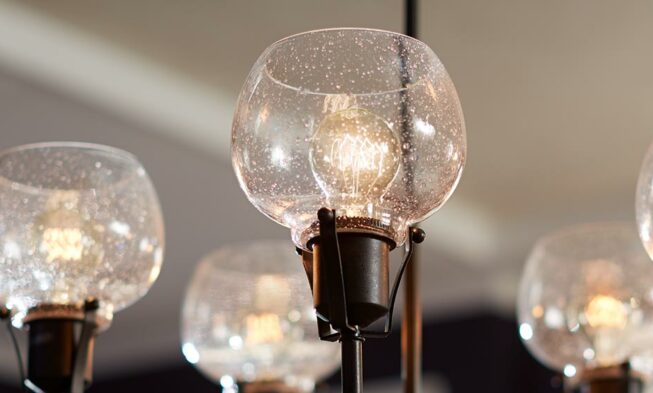 25+ Best Kitchen Lighting Ideas Fixtures & Over Island
Kitchen Lighting Ideas – Do you think that your kitchen is uncomfortable enough? Or, your kitchen feels more like graveyard than a place to prepare and cook delicious meal, because it looks gloomy? Probably, it is because you don't give it enough light. In interior design, lighting system isn't only equipment to illuminate the room where it was installed.
Lighting also can create specific nuance in that room. For example, you can install yellow with shade lighting in your living room to create warm and relax nuance. Therefore, you also can apply the same on your kitchen.
It won't only brighten it up, but also make your kitchen appearance become much better. Here, we have some of ideas for your kitchen lighting system.Kitchen lighting ideas here is not adding more light to the kitchen but also helping you to get more stylish kitchen.
1. Industrial Lighting Idea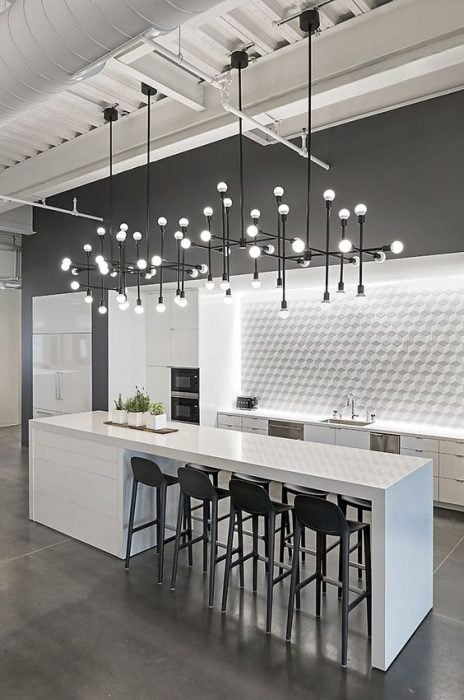 For those who love industrial home design, you may apply this lighting idea. The chandelier looks unique and it makes the kitchen stylish. Just use white small bulbs and black pipes to connect all of the bulbs. This lighting is perfect if you also want to create modern black and white kitchen design.
The unique chandelier will be an attention anytime people go to the kitchen. You may put it at the top of kitchen bar table and by the time you turn it on, you feel the warmness.
2. Close to Nature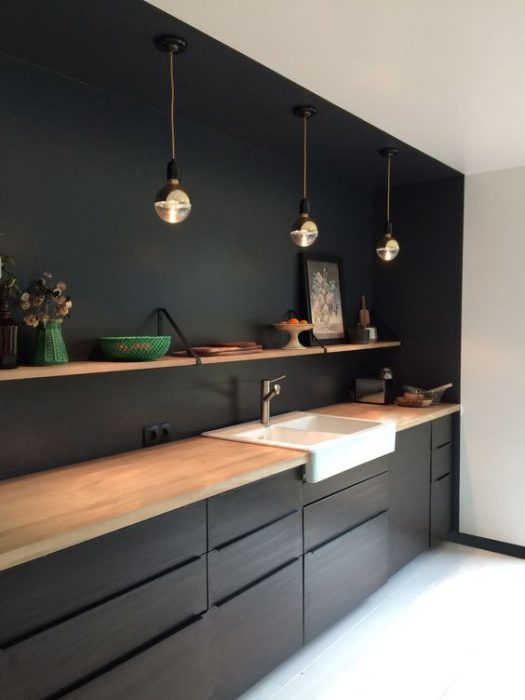 This kitchen lighting idea is a good option for you who want to create close to nature kitchen. The combination between wooden kitchen cabinets, porcelain faucet, and bamboo accessories and the bulbs inside the glass bottle is perfect.
The bulb cover is not only covering the bulb to give enough light but also stylish and eye catching to support the theme of the kitchen. It looks cozy and comfortable, isn't it?
3. Industrial Clamp Spotlight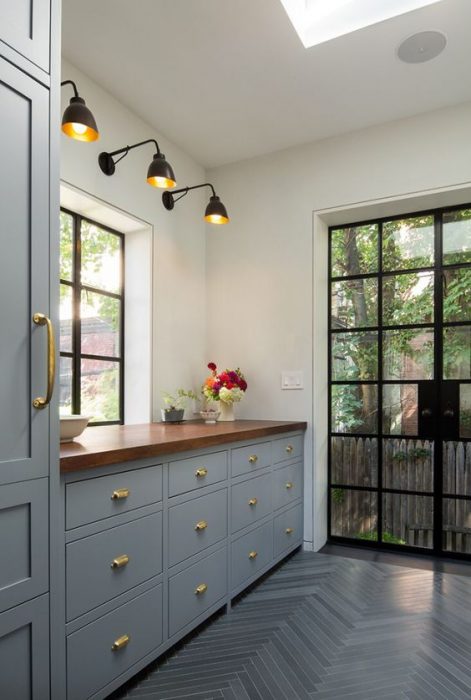 Besides hanging a chandelier, you can also decide to hang a lamp on the kitchen wall. It looks simpler without loosing the function of the lamp. Hanging lamps are also perfect to create warmness ambient in an industrial kitchen design.
You just need to install 2 up to 3 lamps if the kitchen has large windows. Use the yellow light bulb along with black clamp spotlight hanger design to strength the sense of industrial theme. 
4. Drum Lighting Idea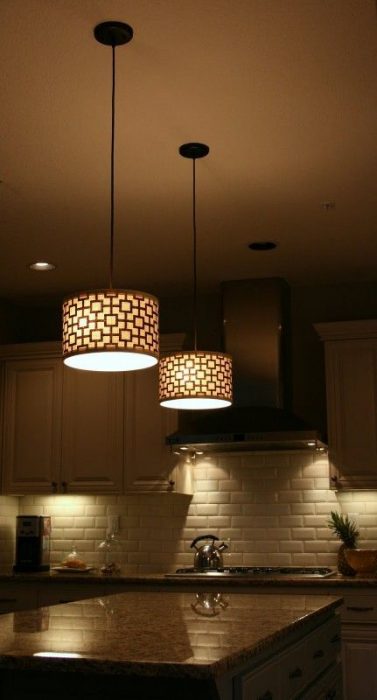 Do you love to play with texture and pattern while designing your kitchen? Try to apply drum pendant lamp with square pattern on the cover. The light will strengthen the pattern as well as to create warm ambient. Yellow light bulb is a good option to give soft color to the pattern. This is one of cool kitchen lighting ideas for creating contemporary kitchen design at home.
5. Spotlight Lighting Idea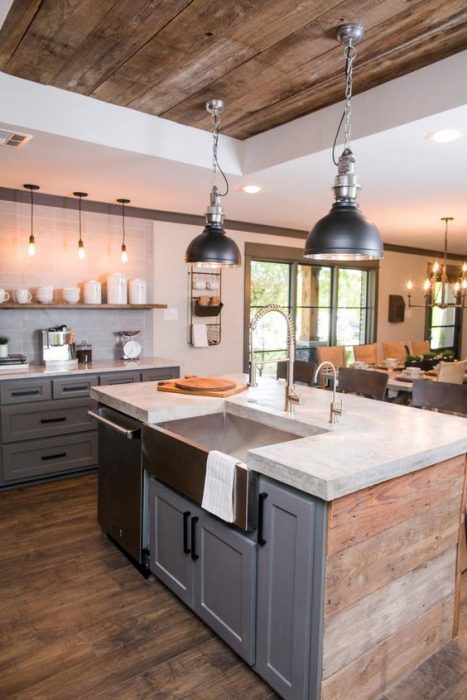 Industrial design becomes more popular lately because it gives you unlimited creativity and style. For kitchen lighting, try to apply medium size spotlight lamps and put it under the faucet.
At the same time, you can also install small bulb with yellow light at the top of kitchen cabinet. The yellow light which reflects under the faucet and cabinet creates warm atmosphere while cooking.   
6. Floral Lighting Idea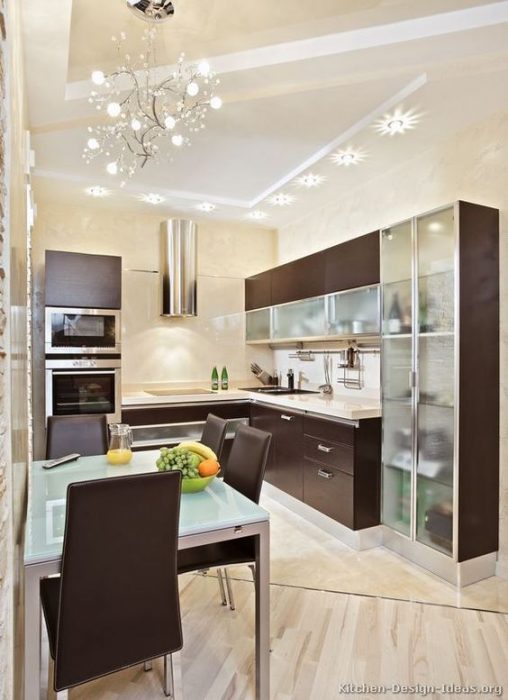 Modern kitchen is commonly using stainless steel, glass, wood, and ceramic. To make it perfect, you also need to install a floral chandelier. Just apply floral chandelier made of glass or crystal. Hang the chandelier at the top of dining room.
You may also install MR style lampshade around the kitchen. Floral kitchen lighting idea is a good idea for high ceiling kitchen.
7. Bell Oval Spotlight Lampshade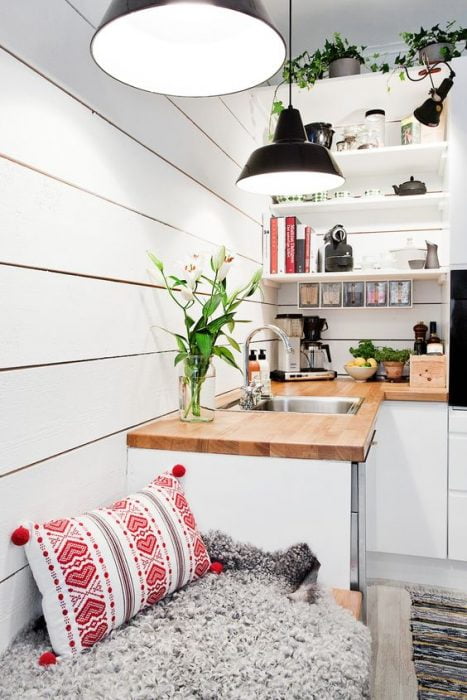 Wooden kitchen design is commonly chosen because of it cozy atmosphere. For those who love natural style, you may apply neutral colors including white, black, and brown. For example, you can hang white light bulbs along with black bell oval spotlight lampshade.
The spotlight lampshade is perfect to limit the light only to the area you want to point. Just hang the lamp at the top of faucet and on the cabinet. The soft color really helps your cooking mood.
8. Opal Lighting Idea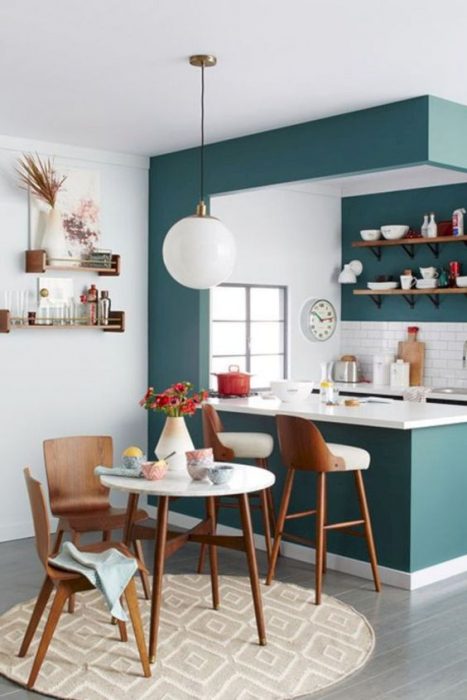 Some people love to balance colors to create pleasant condition including for their kitchen. One of the best examples is applying white color along with green, stone backsplash, and porcelain and glass items. Wooden chairs are also good. Don't forget to install opal lamp at the top of the dining room. The opal lamp helps to balance the kitchen and it looks cute for the kitchen.
9. Opal Lighting Idea for BNW Kitchen Design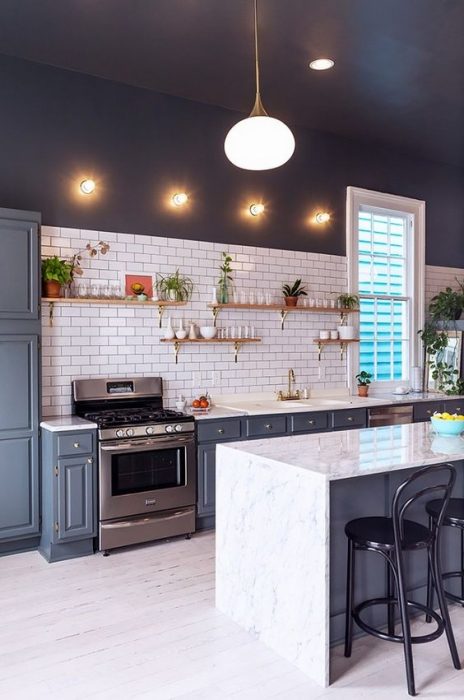 Opal kitchen lighting is also perfect to support black and white kitchen design. The lighting strengths the texture and color on the area. Mix it with white stone backsplash, black porcelain faucet, ceramic dining table, and stainless chairs.
It is also great along with hanging kitchen shelves. The lamp looks simple but it gives significant impact to the area. Just add some yellow bulb lamps on the wall to get color variation.
10. G Series Bulb Lighting Idea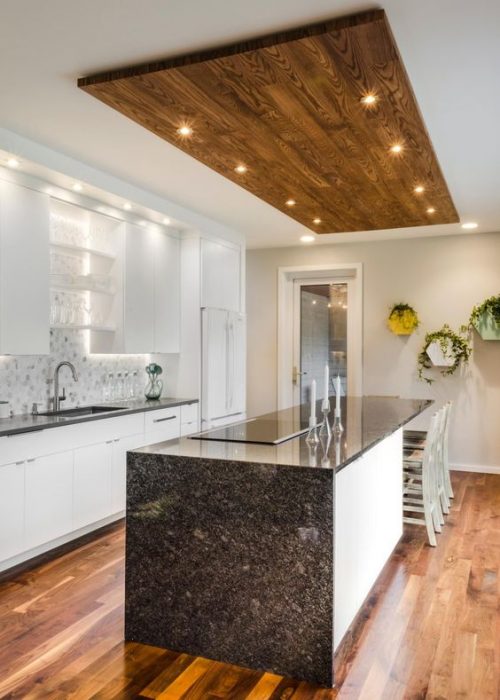 There is a case that you don't want to use any complicate things on the kitchen. Instead of using chandelier, installing G series bulbs will be perfect. Choose the smallest one and install it in the same distance. To make it more attracting, you can add wooden board on the ceiling. It is great along with ceramic dining table, wooden flooring, and white kitchen cabinet. It looks neat!.
11. Hologram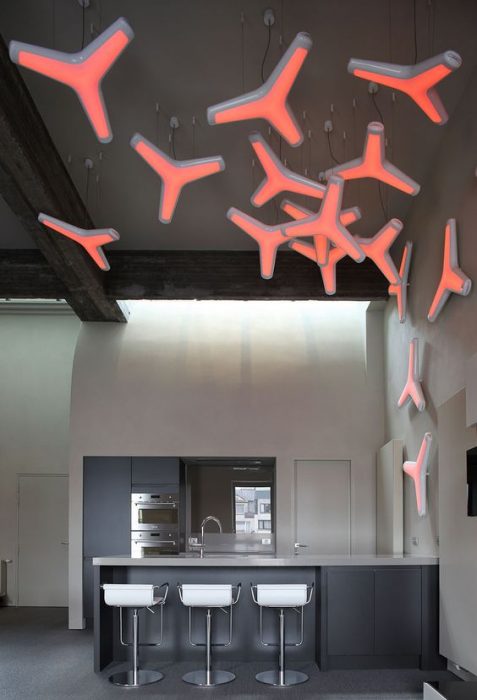 For people love to apply something extraordinary and hardcore, you may go with hologram lighting. Red Y hologram lighting on the kitchen will be perfect. You may use the light to balance the color especially if you only use two or three colors in the kitchen.
Install some hologram lighting randomly around the ceiling even on the wall. The kitchen will be more attracting and might be the center of attention.
12. Futuristic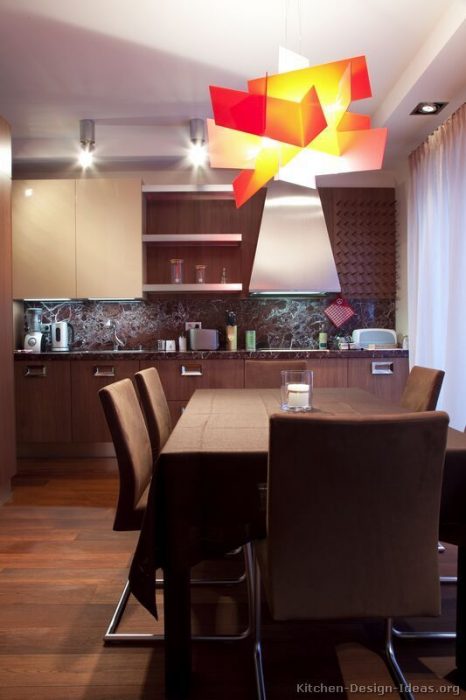 It is also possible to apply futuristic kitchen lighting. The strength of futuristic design is the free style which breaks the rule of the ordinary style. The colorful rectangle lamp is a great option because it produces brighter light and balance the color on the room.  
You may also install Par Series lamps at the top of kitchen cabinet. It works well to separate between kitchen and dining room without any separator.  
13. PS and G Series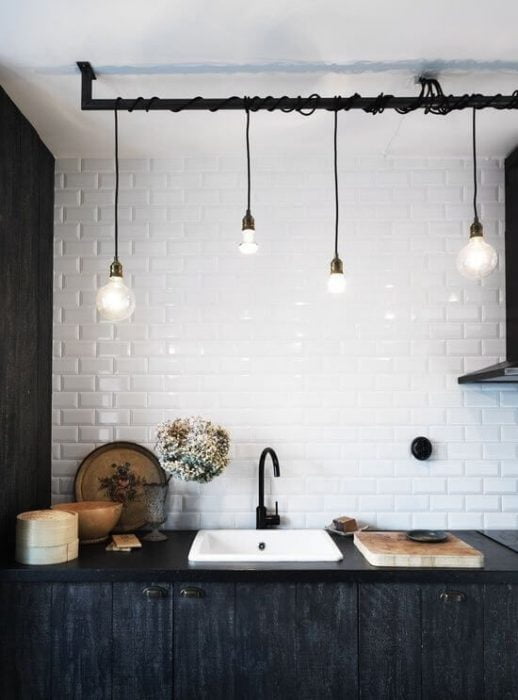 Traditional kitchen design is applied because of its simplicity including the lighting. PS series or G series lamps are perfect to support the traditional kitchen. You may apply it to make your black and white traditional kitchen come true.
Just hang the lamp wire on a long stick and you can also feel that you have an industrial style kitchen. White stone backsplash reflects the light from the lamp to create warm ambient.
14. Linear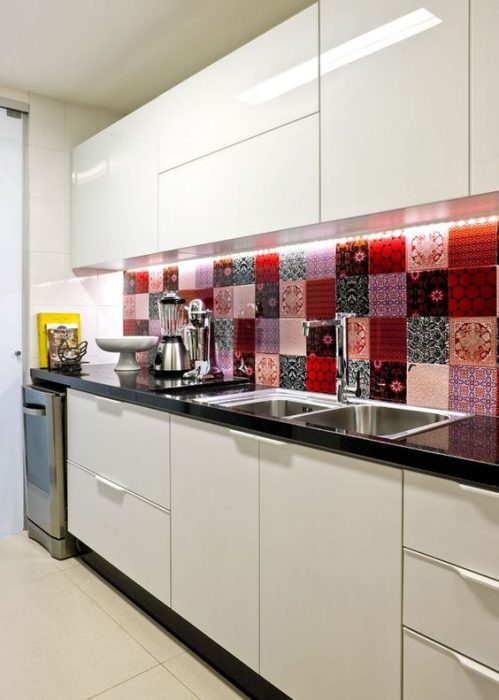 If you have small kitchen area, you may apply linear kitchen lighting. The linear style helps to make the kitchen size looks larger than the actual size. The lamp is also simple because it can be installed close to the ceiling. You can also install flip flop lamps on the backsplash to strengthen the colors on it.
15. Industrial Lighting Idea for Open Space Kitchen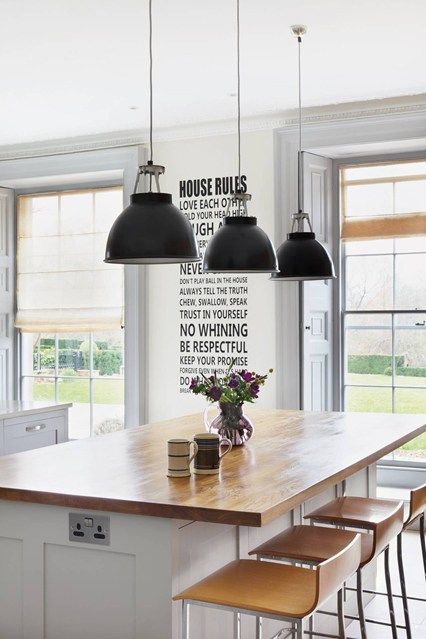 Industrial Kitchen Lighting is a great option for open space kitchen and dining room. You don't have need to install too bright light on it. You just need to install spotlight lampshades on the targeted area and it's enough.
The additional light can be taken from the sunlight by opening the big size windows. It looks simple and neat as well as romantic at night. Indeed, it is one of brilliant kitchen lighting ideas for creating cozy kitchen and dining room.  16-25 ON PRCS