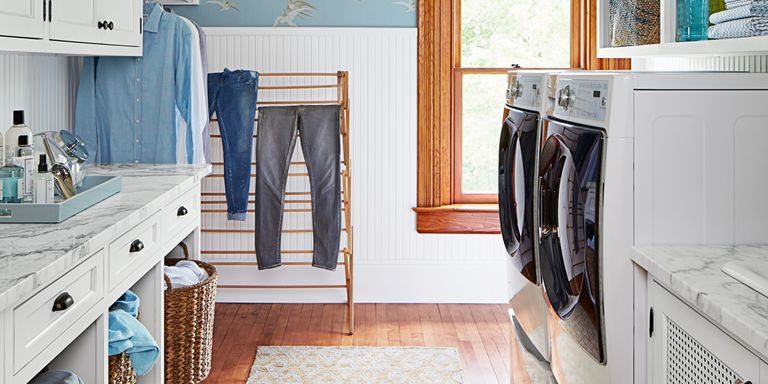 6 Smart Ideas for a Laundry Room at Home
Laundry Room Ideas – Laundry room is often considered as not too important for many people. Many of them indeed prefer washing their clothes in the laundry services rather than preparing it in their own house. Yes, it's more practical and cheaper thing to do. You just need to go to the laundry service and you can do anything that you need at there.
Of course, if you are the rests who have a personal room for laundry, it is so good, no matter how small the area it is. And, you must know that there are many benefits you can get from having your own laundry room in your house. The best of all is you can save your time and money.
You don't need to leave your house and spend more time drive around with your laundry just to wash it. You just need to go to your own laundry room and do it there. It's faster, cheaper and easier. Interestingly, there are some smart ideas to make this laundry area look neater and more comfortable. Check them out.
An Area near Bathroom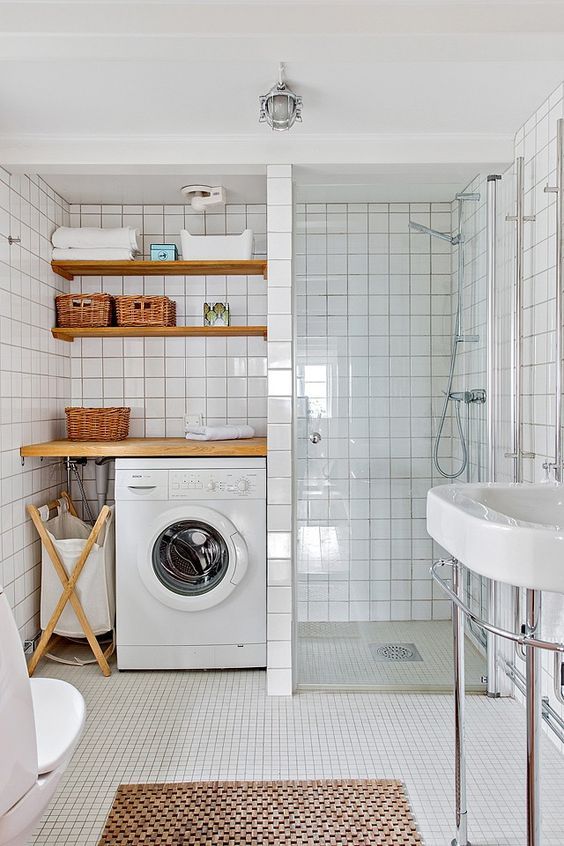 Particularly when the laundry room itself is still only in your imagination, the first thing to do is preparing the spot at first. Even if there are some remaining spaces in your house, the one near the bathroom is the best one.
The most common time to throw the dirty clothes to the basket are before bathing. To ease this habit, surely, it is much better to make both locations near to each others. there should not be a special room with four walls for this. Just spare an area and place the washing machine and other things needed there.



Prepare the Machine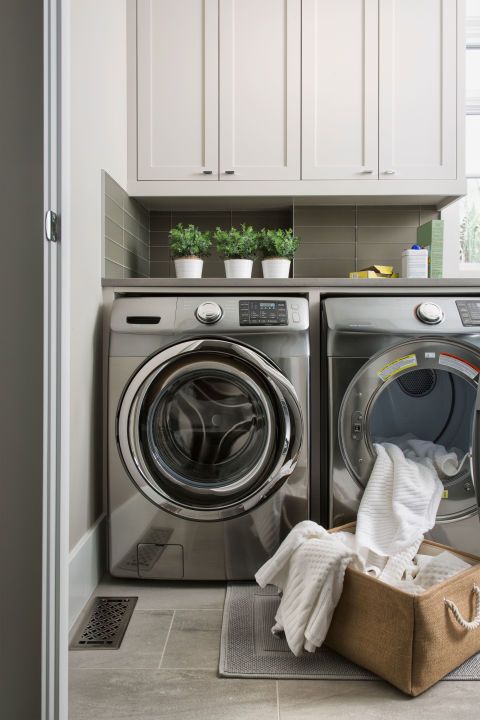 For a household with few family members, it seems that a unit of washing machine is enough. Of course, it is with an exception that you don't intend to open a laundry business after this. Choose a kind of machine that is quite easy to use.
Therefore, you don't find any problem while using it. it is also not bad to buy a unit that is expensive as long as you see that the product is indeed qualified and durable. In other words, just use your money wisely when buying something.



Other Items Needed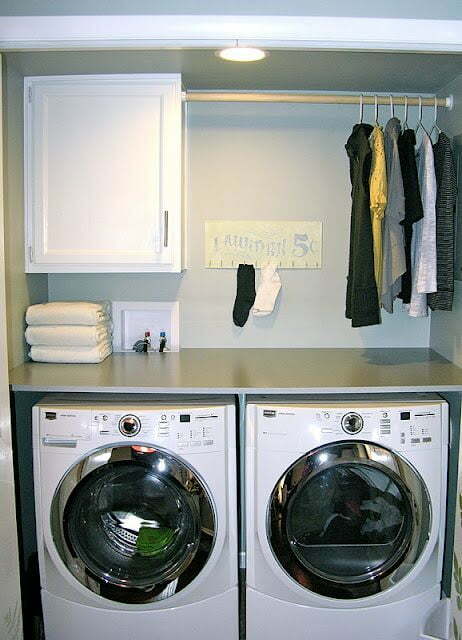 Aside from the washing machine itself, there are some other items important to be prepared. They are including the basket, table, and racks. The sizes and number of those items must be adapted with the conditions of the room itself.
If the laundry room you have not too big, those items should not be too big for sure. Consider also the number of family members as well as all of your habits. Is there only a person that commonly washes the clothes of all the members? Or maybe, does each family member do his or her own laundry?
For the first habit, it seems you can just put a big basket to put all the dirty clothes. Meanwhile, for the second one, some small baskets must be prepared and each of them is owned by each member. Well, you can discuss it with your family regarding this point.
There must also be places for the clean clothes. They can be shelves or other baskets with different colors and maybe shapes. The difference is to ease you in distinguishing which one the baskets for the dirty clothes and the clean ones.
If it is impossible, the table for ironing should also be placed there too. After they have been ironed, the clothes can just be placed on the wardrobe probably placed in the bedroom.



Solutions for Small Laundry Rooms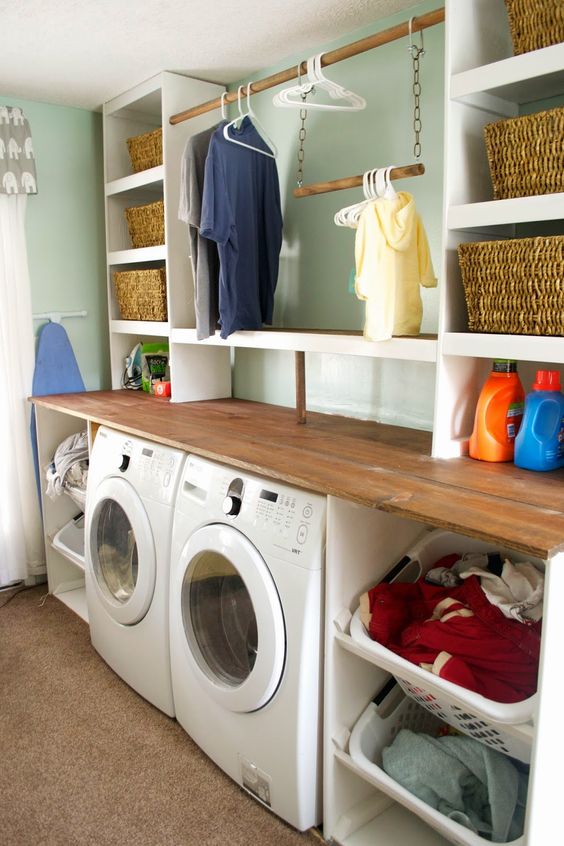 You may be a little bit surprised after knowing that the items important in a laundry room can be so many. Well, it is not a big deal if the area is big enough. Unfortunately, maybe you are not that lucky with such a big area. You should not worry since there are actually some solutions for this.
First, you can prepare a rack or shelf. The rack or shelf is functioned to place the baskets whether they are for the dirty or the clean clothes. Two different kinds of baskets must be placed on different areas to make sure that you don't take the wrong one.
It is so good if you can customize the shelf. There are some services out there in which you can order furniture based on your needs and wants. Make sure that the designs and replacement if the rack is not too difficult to be reached. More than that, it is also if you want to train your kids to laundry their clothes by themselves.
Second, it is not bad to separate the area for laundry and for ironing. Indeed, both should not be too far to ease you in doing all the activities. The most important things, the related items like the shelves and baskets should be around.
Third, you may also take advantage of the drawer. Drawer is another good idea particularly if you really don't have enough space for shelf or rack. Drawer tends to be simpler and more practical and even you can just store it when it is not needed.
A Spot with Sunshine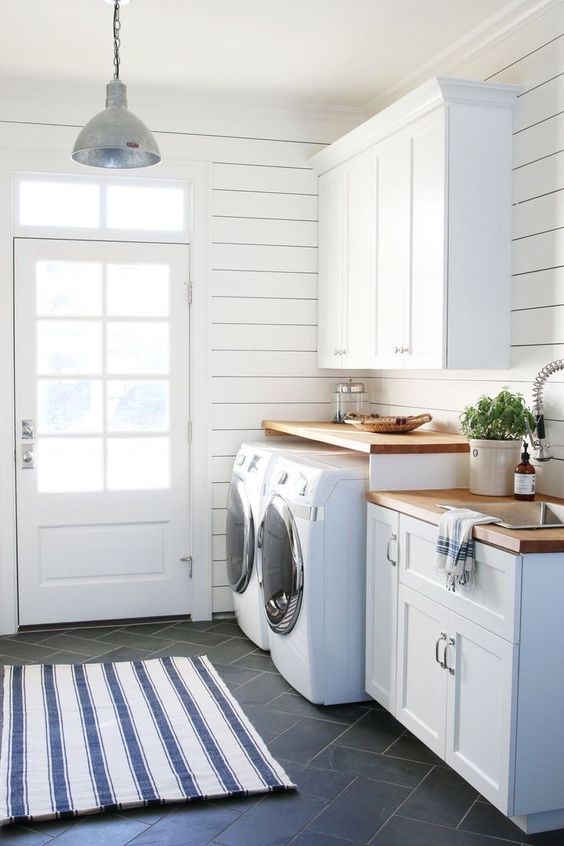 After washing your clothes, there is one more activity commonly done; it is drying them. Indeed, dry the clothes can just be done inside the room as long as the machine guarantees them to be really dry. However, not all washing machines have its capability.
As a result, you don't have choice except drying them outside. Another idea of laundry room replacement aside being near the bathroom is near a spot with sunshine.
For the sake of your health, clothes that are still wet should be placed outside. Therefore, your house in general keeps dry and not moist.
The Designs for Laundry Room
Since this area is not considered as the primary rooms in a house, the designs are not really important for many people. Indeed, you may not need to put accessories or decorations to beautify this room. However, it doesn't mean you can just let it messy.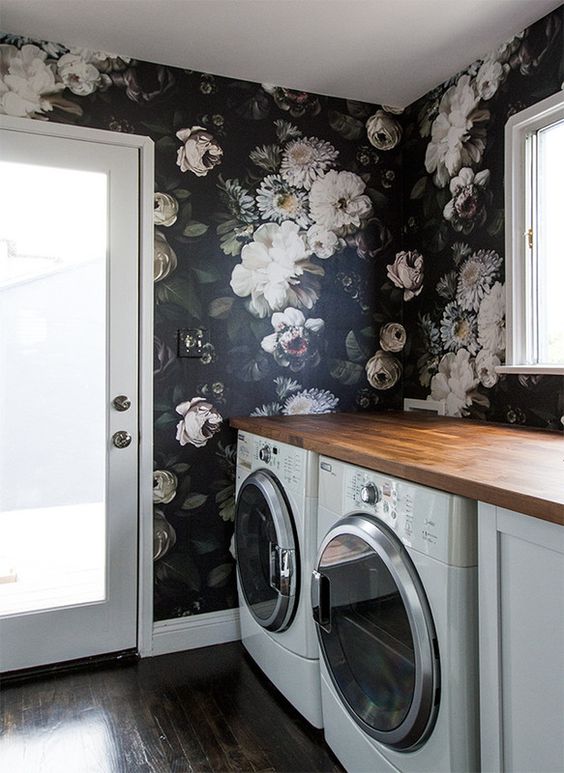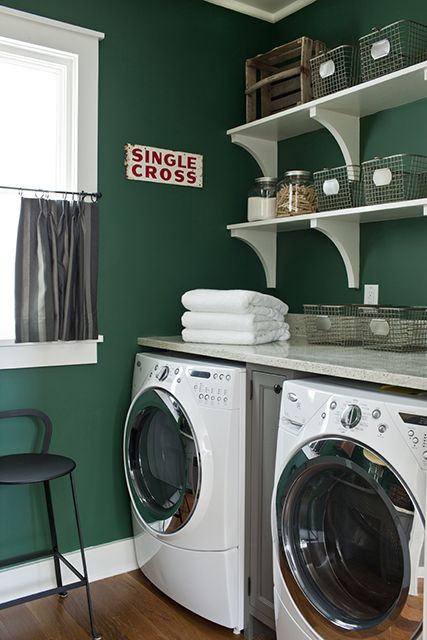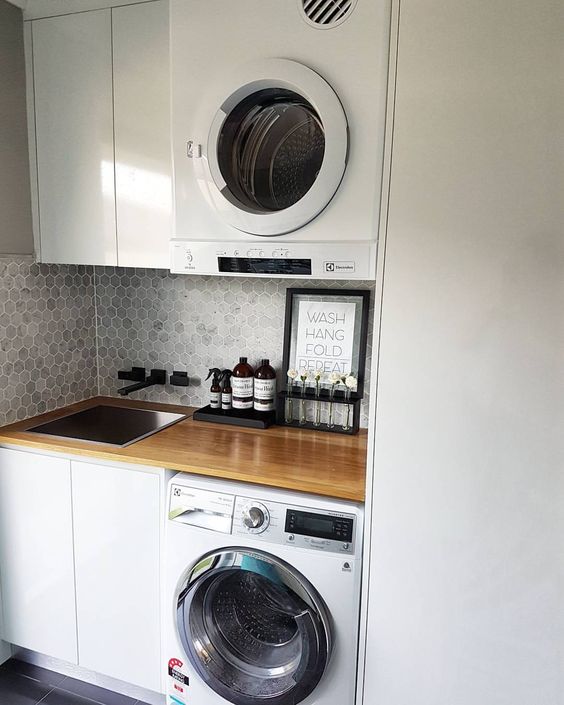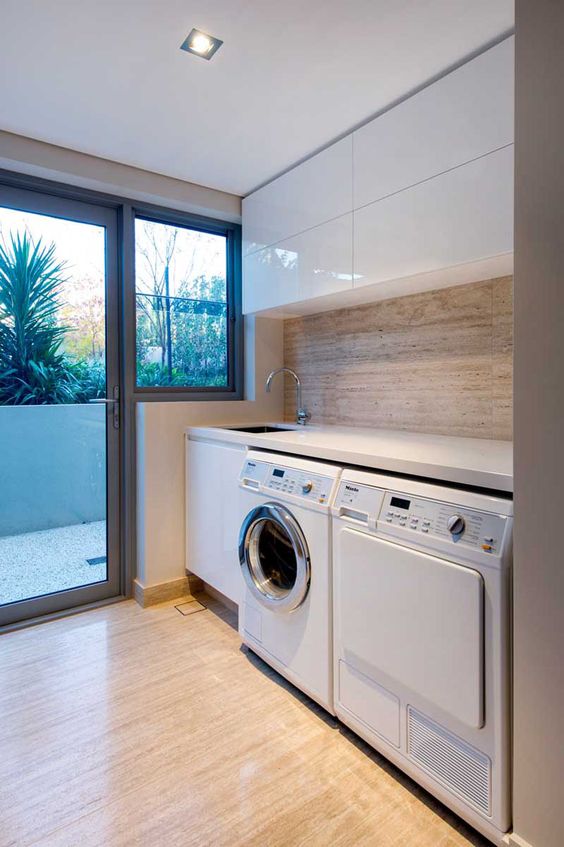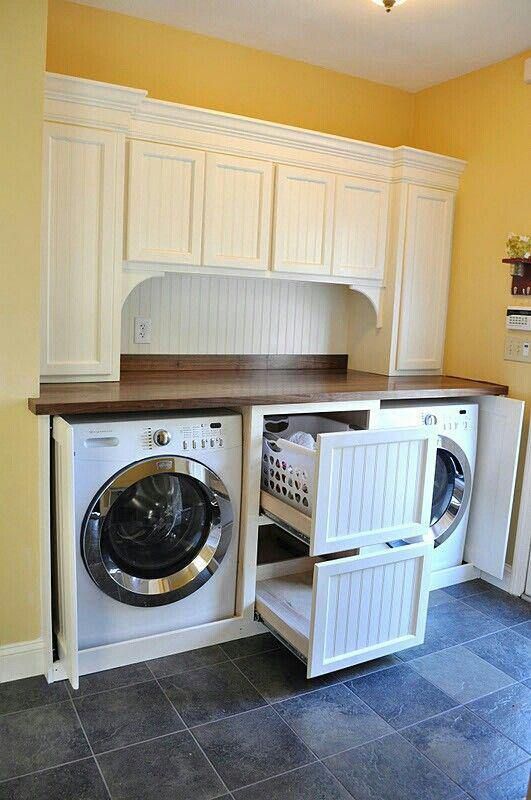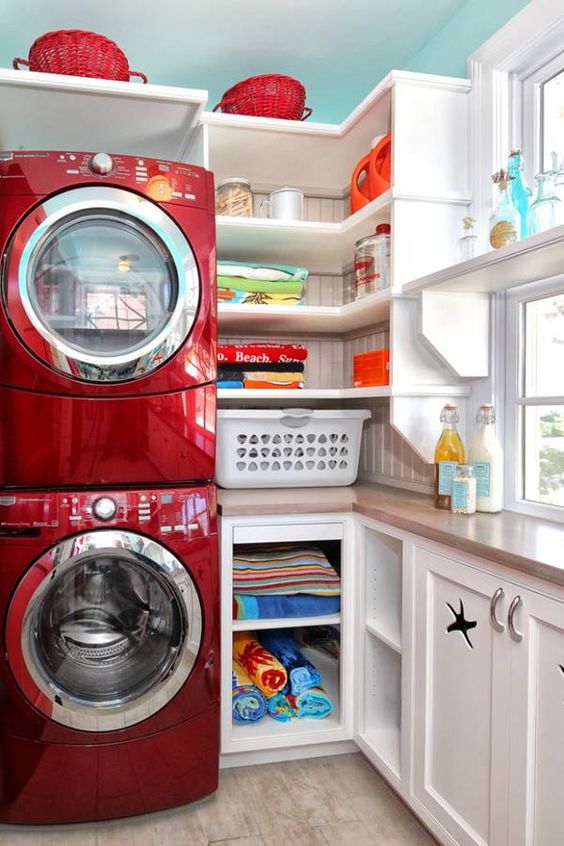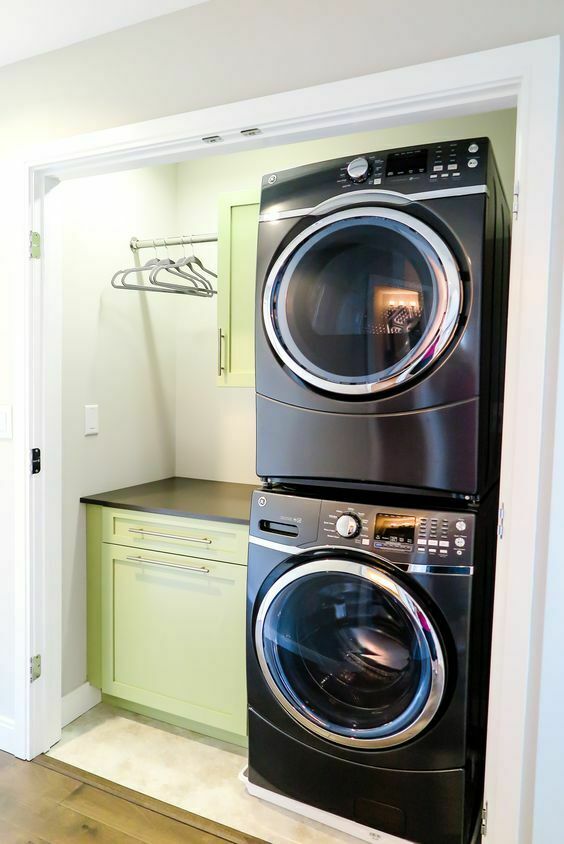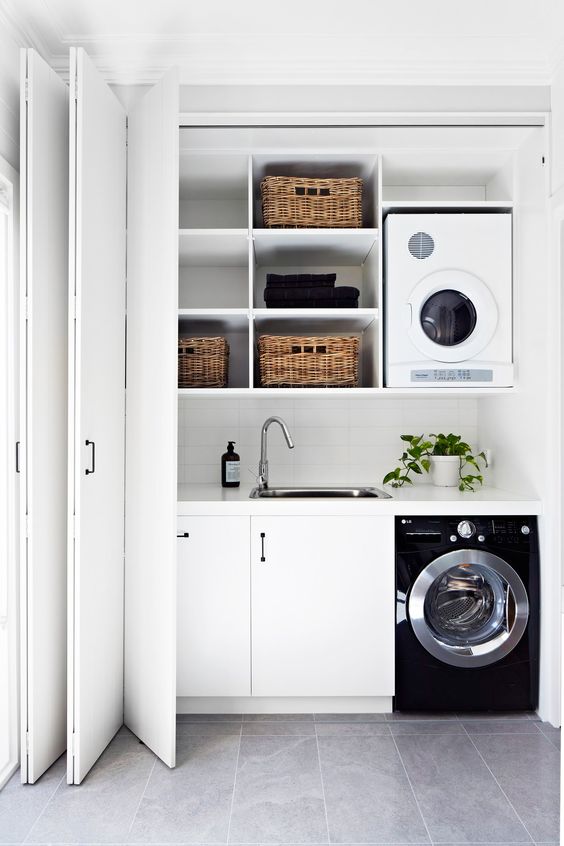 Be sure that the whole design is comfortable for you to do all the activities inside. Counters are necessary to be applied on the shelves for the same reasons also. One more important thing, this room is basically not a warehouse so that you should not keep unnecessary things there. Those things that should be placed in the warehouse can just make this room dirty.
In fact, laundry room must be clean and hygienic since there are the clean clothes also. The main function of laundry is to make them clean, isn't it? (source: pinterest.com)