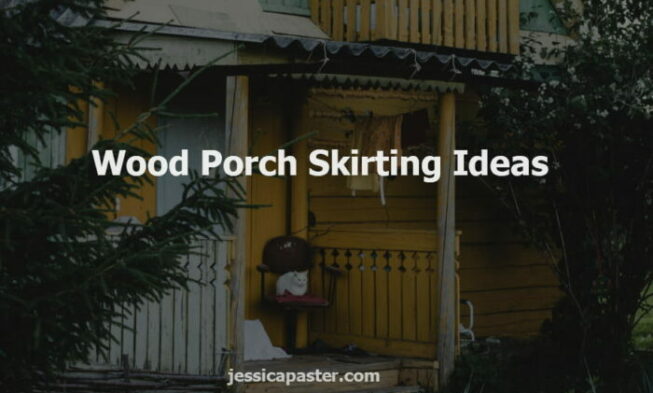 7 Best Materials for Wood Porch Skirting Ideas
A raised deck isn't complete without deck skirting, which covers the unsightly empty space between the trim and the ground.
There are many creative ways to wrap your deck, from wood paneling to faux stone. In this article you will get some ideas about skirting decks, including wood porch skirting ideas.
Wood Grating
Wooden grating is probably the first thing that comes to your mind. The timeless criss-cross pattern is the most popular choice for a wooden deck, but you can still make your wooden deck look unique by playing with different patterns, colors, and textures.
Composite
If you're looking for a more durable wood alternative, you can use composite or vinyl plank for your wood porch skirting ideas.
Solid wood
Solid wood planks are a popular deck skirting option that are also easy to customize. If you have a short deck, you can make it appear taller by mounting the planks vertically. You can mount the planks horizontally to give the deck a rustic feel, or combine a grid between the boards for a more classic look.
Faux stone
This is a versatile material that is available in a variety of colors. Faux stone is cheaper and easier to install than brick. To give your deck a more natural and understated look, incorporate real stone into the landscape around the deck skirt.
Bushes and Plants
A simple and effective way to cover empty space on your deck is to plant shrubs, flowers, and other plants around the deck
Brick
A brick deck skirt of the same color and texture will create a seamless look for your deck skirt wall. Bricks also go well with greenery.
For a more refined (and less expensive) look, you can combine brick elements with a wooden grid. This style is an alternative idea for wood porch skirting ideas.
Metal
Metal is a practical material that can be used to create a very cool aesthetic look, even though metal is a rarely used coating material.
The metal mesh offers a more traditional look, with a diamond pattern that resembles a grid, and provides better airflow.
Before you decide on a deck skirting style, you should decide on its purpose. Is it just used to cover free space, or do you want to keep things under your deck?
Keep in mind that the edges of the wooden gratings are brittle and difficult to repair. Materials such as brick, metal and artificial stone are easier to maintain, you only need warm soapy water and a little elbow grease to keep it looking good. That's all about deck skirting ideas. Hopefully it is useful for you.