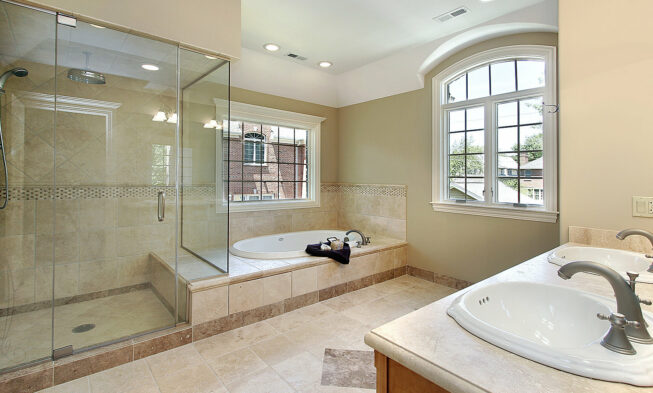 Top 15+ Amazing Bathroom Glass Door Ideas
Bathroom Glass Door Ideas are essential parts for the bathroom interior designs in general. The door is not only functioned as the way to enter and exit. When the design and idea applied is stunning, it can just improve the appearance of your bathroom.
Of course, there are so many ideas related to the bathroom door starting from the modern to the classic ones. Meanwhile, this world is also reach of the cultures as the inspiration for bathroom interior designs along with the door.
Followings are some examples of bathroom door ideas using glass as the main materials particularly if you are interested in the modern and contemporary styles. Don't forget to share them also to inspire more people.



1. Bathroom Glass Door with Wooden Trellis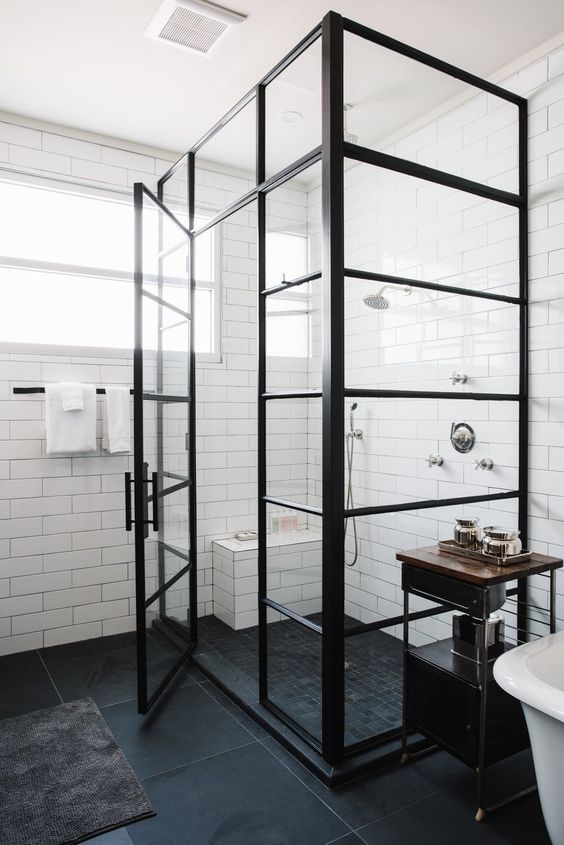 Only using glass on the entire door may be quite boring. Well, if you want to combine it with any other ideas, this one is worth to try. How is about adding some other materials on the glass itself? It can be wooden but you can also use the metal ones like stainless steel.
Particularly for shower stall, the trellis should also be placed around the glass for making it more beautiful.
2. Simple and Modern Square Glass Door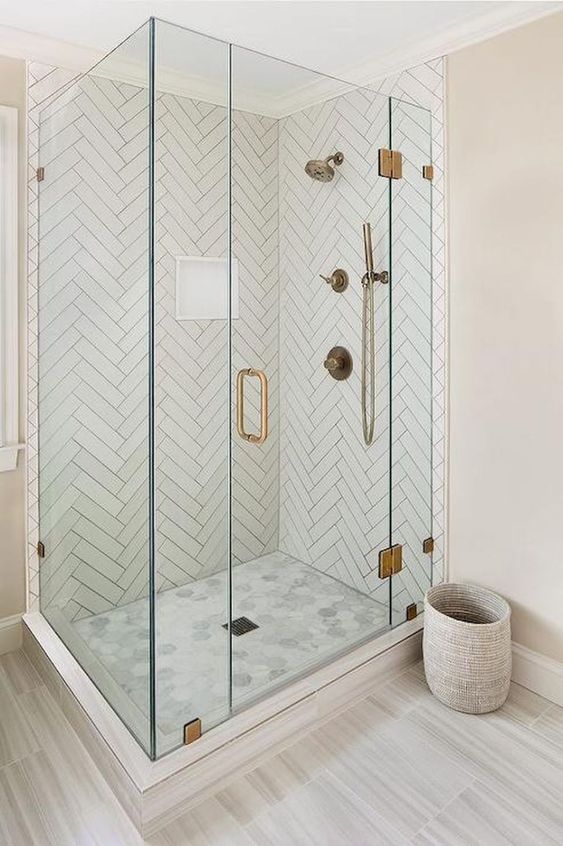 Maybe, you are a kind of person who loves simplicity so much and you expect it to be applied well in your house including the bathroom. For this, simple and modern square glass door is just appropriate.
Although the glass door here almost doesn't have anything else, it doesn't mean that the door cannot be beautiful. Make sure that the bathroom design in general is also clean and free from details. The sense of modern and minimalist can just be felt more here.

3. Square Glass Door for Natural-Designed Bathroom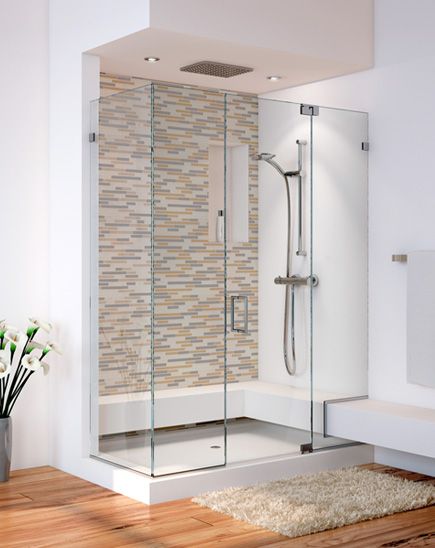 The term of back to nature is really popular recently. Even in the home interior, it is widely applied by people. Of course, if your bathroom applies this idea as well, it is just good. Wooden tiles and the application of houseplants are indeed relaxing and refreshing.
For this idea, you actually don't need a kind of glass door which is too complicated. a modern square glass door is enough for the shower stall.
4. Modern Round Glass Door Idea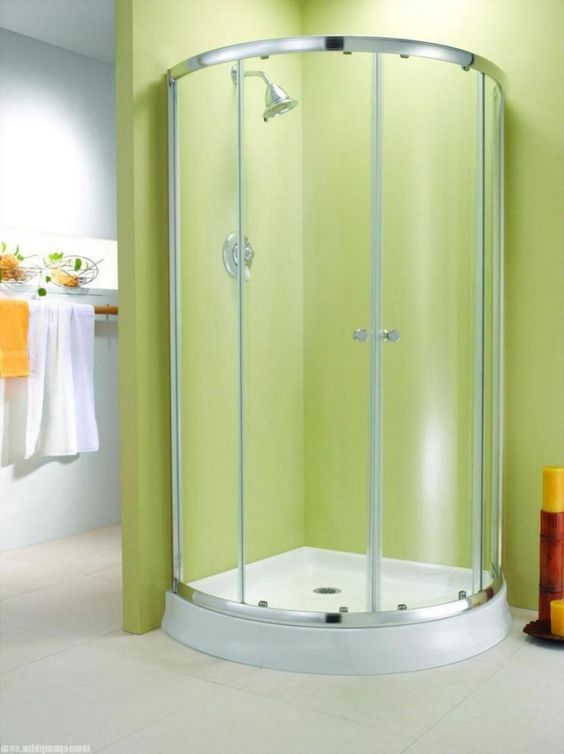 Do you find the square glass door is too common? Just try the others. In fact, there are some other shapes including the round ones. For small bathroom, the half-round is better to be applied in which the door is attached on the wall. It is unique and of course saving more space.
5. Bathroom Glass Door for White Interior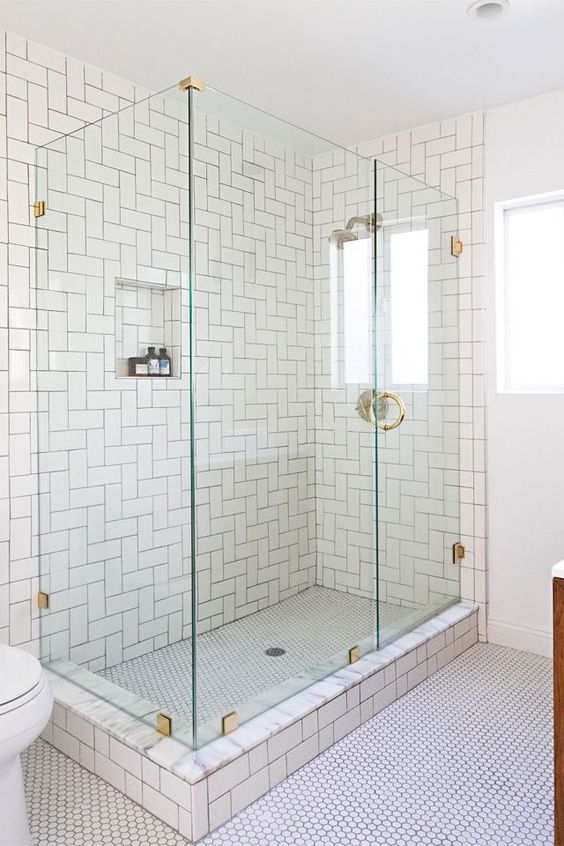 Applying only one particular color is something common to be done. It is mainly if you don't want the bathroom look to look too rousing. To make the bathroom look clean, white idea is just very good.
Then, you should not use any colored glass door for this. The transparent glass door is just necessary and it just makes the bathroom in general look more minimalist.



6. Glass Door Idea for Modern Male Bathroom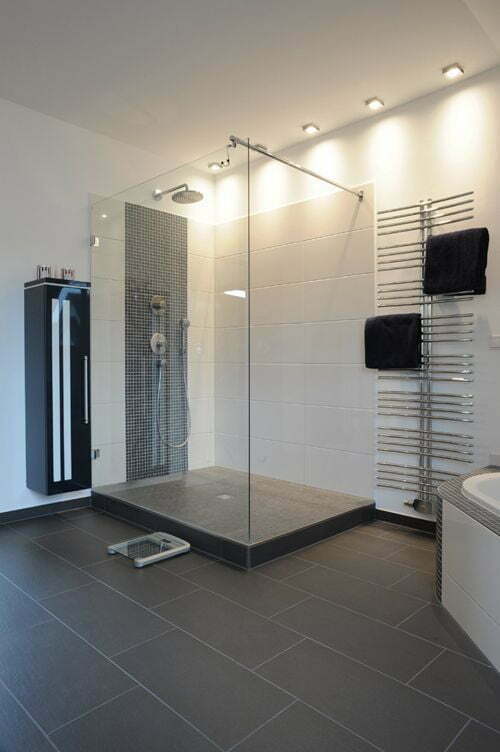 Are you a single man in your own house or apartment? The idea of bathroom with neutral colors like white, grey, or black is just good on you. When it is supported by the modern and minimalist idea, the bathroom may just look more masculine in simple way.
Related Post : Bathroom Flooring Ideas
Next, how is about the glass door? Well, the simple square one without color seems very appropriate.
7. Glass Door Idea for Modern-Vintage Bathroom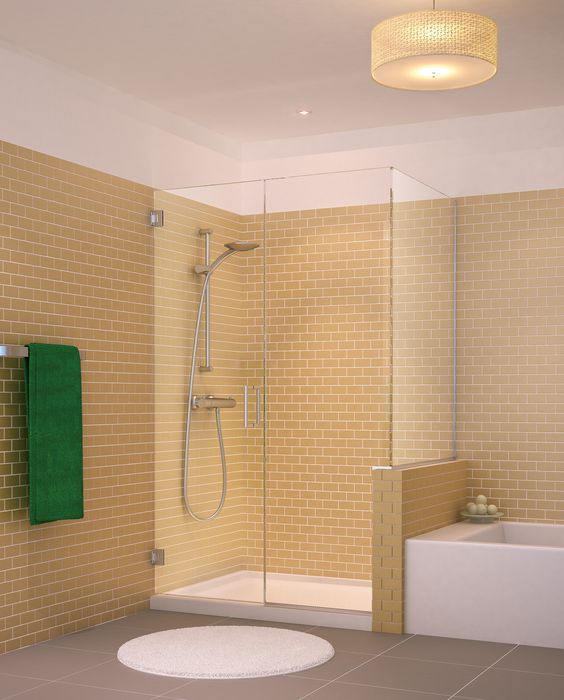 Modern vintage home interior now attracts many people who want to have nostalgia with older eras like 60's, 70's, or 80's but they don't want to lose the modern touch also. It is signed by the application minimalist details but along with pastel and creamy colors with accents like bricks are also often applied here.
For this idea, it actually doesn't matter what is the idea of glass door to use. Even if it is only simple transparent door with no color, it will not reduce the vibe of modern-vintage idea here.
8. Glass Door Idea for Modern-Classic Bathroom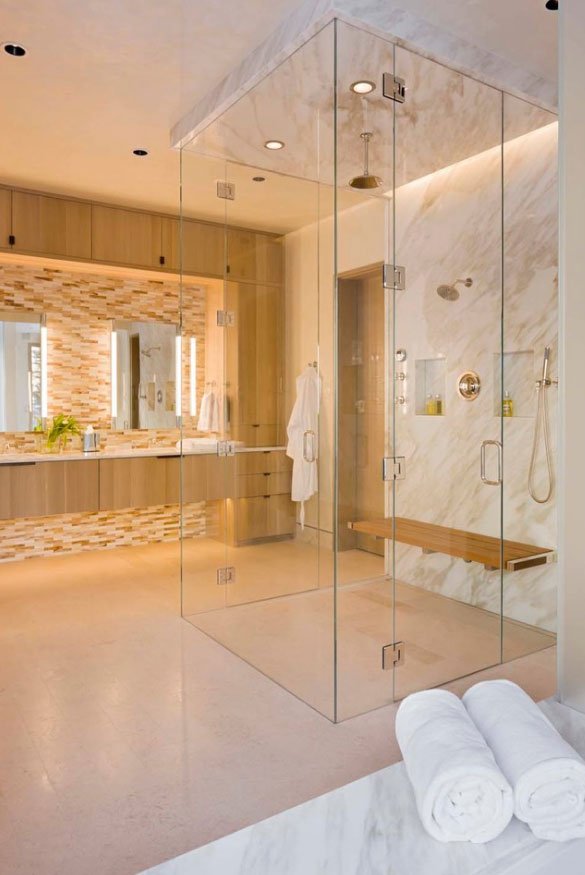 Quite similar to the previous idea, it is about the combination of two primary styles at once. Here, the modern idea is combined with the classic one. If vintage represents the style which is not too old, classic interior looks older with touches or royal looks.
Modern-classic bathroom is about the minimalist idea but it is along with the application of details like patterned tiles, engraving, and the likes. But in term of glass door, it is no matter whatever to apply. Even if you choose the simple one, the sense of classiness is still there.
9. Glass Door Idea for Attic Bathroom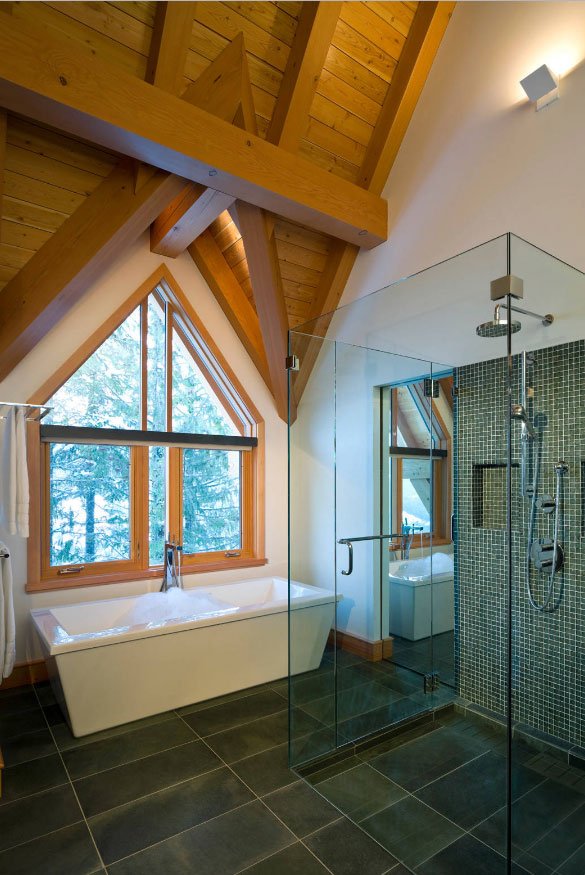 For some reasons, the bathroom has to be placed in the attic area. That's okay since the bathroom can just still look magnificent. Vintage or country design is some of the best ideas for this condition. Meanwhile, the glass door itself should follow this idea like by using a simple square glass door with no color.
10. GDI for Bathroom with Wooden Shower Stall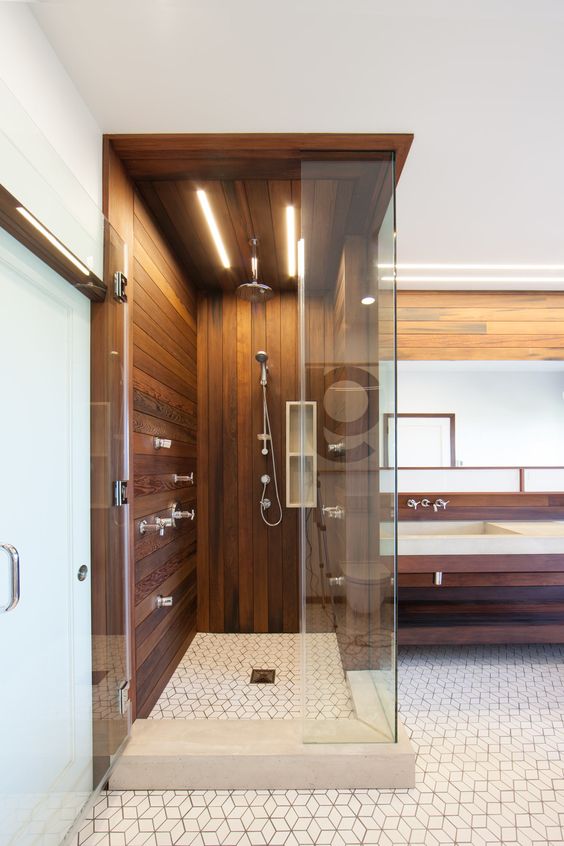 For the natural look, the wooden accent can just be applied anywhere including in the shower stall. Of course, you don't want this idea to be missed out as the wooden accent is covered by the door. In other words, choose a kind of bathroom glass door ideas that is clear and transparent.
You are not allowed to apply the colored one for sure since it may damage the wooden design. simple glass door with no color is the best one anyway.
11. The Best Glass Door for Vintage Bathroom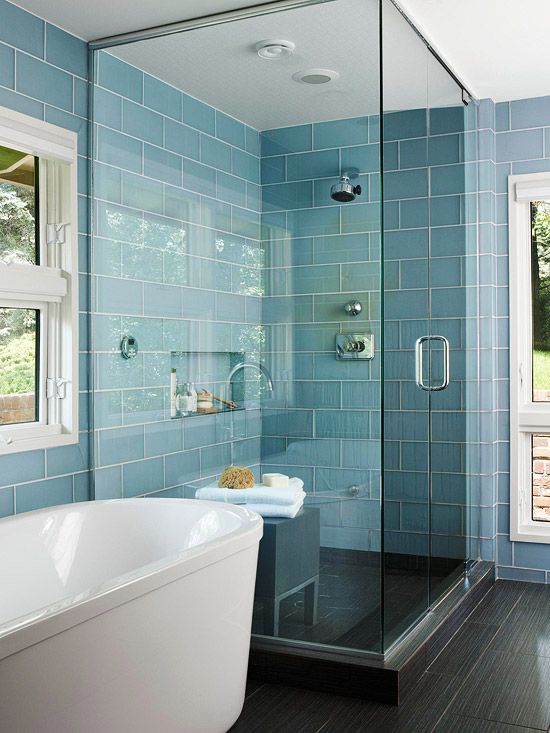 It is mentioned before that creamy and pastel colors are good mates for the vintage bathroom. For the vintage look as a whole, the furniture must be in line with it including the classic bathtub. For the door of shower stall, it is more flexible actually whether it is a colored glass door or the no-color one.
12. Glass Door Idea for Colorful Bathroom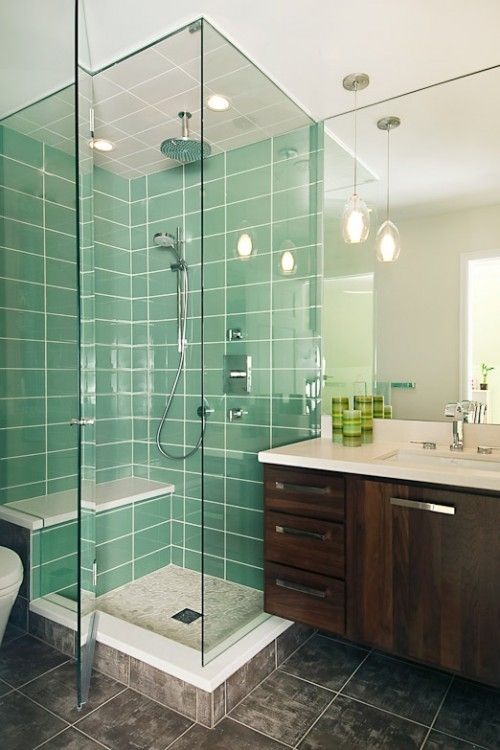 If there is a bathroom with clean and minimalist color idea like white, there are some others with some color applications. For this idea, the glass door used can be one of them with a related color. But it is not bad if the no-color one is used. It will not change the general idea of the bathroom anyway.
13. Bathroom Glass Door for Modern Industrial Interior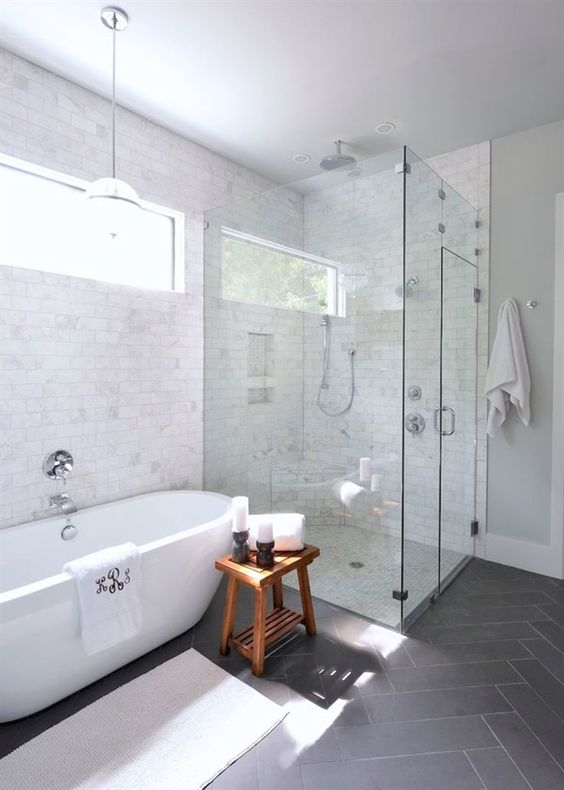 Ideas like coarse bricks, unfinished concrete, pipes, and the likes represent the industrial interior so much. it s so good if you are interested in it to be in your bathroom. So, how is about the glass door? Similar to the previous ideas, the simple square door is necessary particularly if you also want to bring out the minimalism there.
14. Unique Glass Door for Unique Bathroom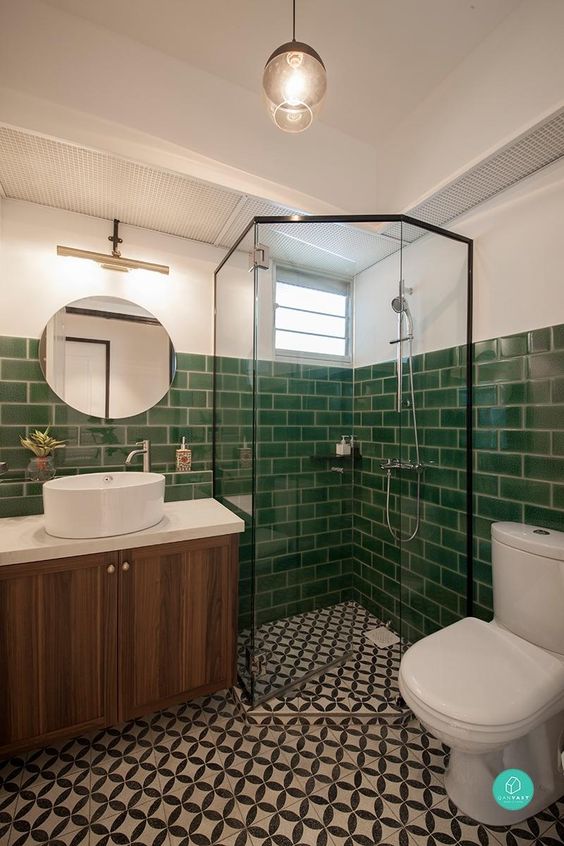 Glass door for bathroom is not always in square or in round. If you want to make the bathroom look more unique, choose one with unique shape like the pentagon. Add more accents like patterned tiles, round mirror, and weird-look chandelier.
15. Glass Door Idea for Classic Bathroom Design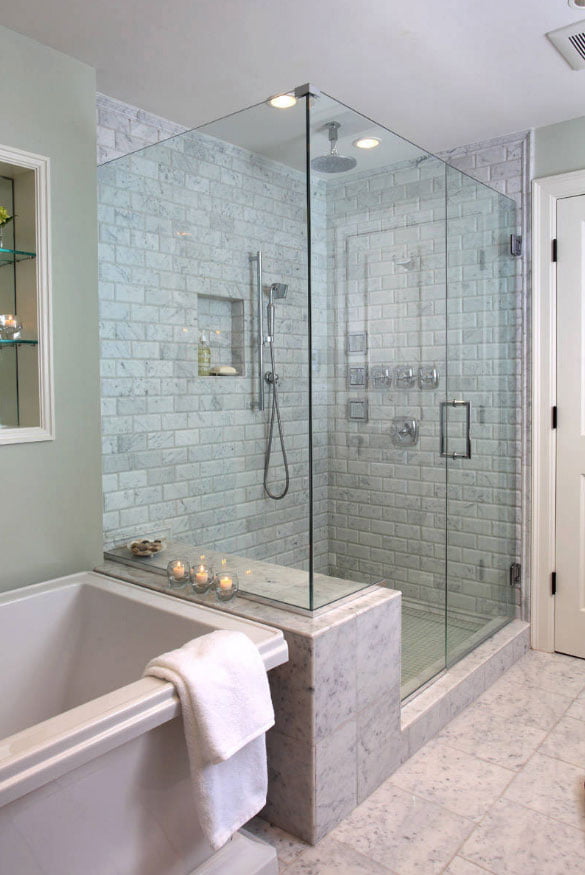 Classic bathroom doesn't always mean that the glass door for shower stall must be in classic idea as well. Particularly if you want to make it balance by not adding more accents, the simple one is still stunning. This kind of bathroom glass door ideas works well when the inner part of stall has adorable accents like bricks or other patterns.