4 Ways to Light the Exterior of Your Home
When it comes to your house, the first impression is everything. The way people see it from the street is how they will think about you.
Therefore, if the exterior of your family nest is the darkest place on the block, your humble abode probably won't be a frontrunner for the title of the most hospitable property in the neighbourhood. You may also be more susceptible to home invasions and break-ins, especially if you live in an area where such crimes are not uncommon.
However, there's a way to get your house out of the darkness! The proper exterior lighting will affect how attractive and welcoming your house looks. Additionally, it can help scare off people with ill intentions and make you feel much safer inside your own home.
Options such as path lights, porch lanterns, or spotlights not only look great but also add value to the property and provide extra security. Here's more information about the most popular ways to illuminate the exterior of your home.
Porch Lanterns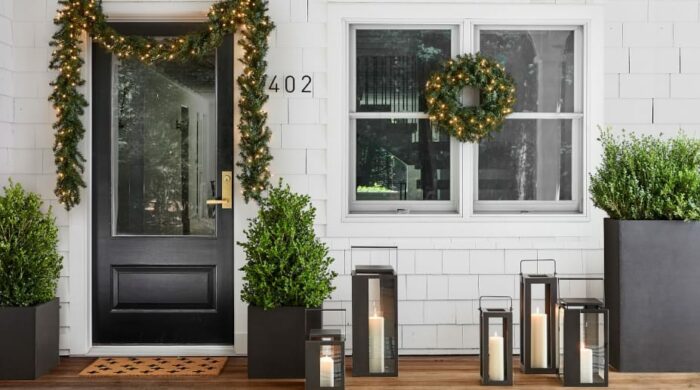 If you want to add more appeal to your front porch, consider installing porch lanterns. These are decorative lanterns that come in various designs and styles.
They can be either mounted on the wall or hung from the ceiling, depending on how your porch is built as well as your individual preferences.
Just like roof windows, such as those you can find on OptiLight windows, are the perfect way to illuminate the rooms in your home, porch lanterns are one of the best ways to keep the exterior looking bright and inviting.
On top of that, these lamps come in a variety of different sizes and shapes. Some have graceful arms that extend upward, while others have a pedestal base.
So, you should have no problem finding a model that suits the rest of your home design — whether you have porch windows with 55cm blinds or a rustic door.
If you're interested in installing porch lanterns on your property, be sure to call a qualified electrician. Unless you're a jack of all trades, you'll be better off leaving such work to professionals.
Path Lights
Path lights are exactly what they sound like — lighting for a pathway or walkway. They can help prevent you from tripping in the dark on the way to your front doors and avoid encounters with potentially dangerous wildlife, such as raccoons or coyotes.
They add a lot of extra visibility on the ground level, which equals less danger for both you and the plants in front of your house.
Path lights come in countless styles. So, the only thing limiting you is your imagination.
You can set them up along the border of your property to make your home more visible from the street. Many people also use path lighting to illuminate large areas such as driveways, gardens, or sidewalks.
Path lighting is most effective when combined with motion sensors and timers that will turn it on automatically at night and off during the day.
Spotlights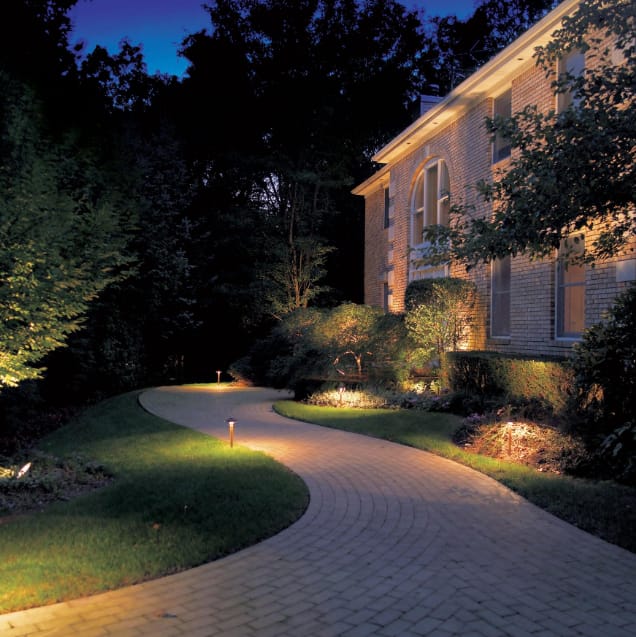 While path lights are great for illuminating walkways and driveways, sometimes you need something more ambient to ensure that excessive light won't bother your neighbours yet still make your house stand out.
Spotlights are perfect for this job because they provide subtle beams of light that illuminate particular areas in an instant. Many homeowners also use them inside their homes, particularly in areas that need special lighting for safety reasons, such as stairways or hallways.
Remember that while spotlights are great for illuminating large areas, they don't do a great job of providing security.
Still, you can secure your home and give burglars something to think about if you combine spotlights with a motion sensor. This way, the sensor will trigger the light when anyone walks by, including unwanted intruders.
Step Lights
Step lights are another way to brighten up the exterior of your home. They're installed on or near steps that lead up to your house. Even though they're not as common as path lights, they can be just as effective.
Step lights can help you avoid falls and make it easier to see where you're going in the dark. They are modern, with slim, sleek designs, making them nearly invisible unless they're on.
Step lights can look incredibly effective, regardless of the style of your home. It means that whether you live in an old Victorian house or a contemporary cube-shaped home, this kind of lighting will only make it look better than it already does.
In Conclusion
As you can see, there are many benefits to installing exterior lights. Besides improving your home's safety and boosting its value, they can also enhance the visibility outside, benefiting anyone from kids playing in the yard until late hours to seniors walking down the driveway.
Today, you can choose from a wide range of exterior lights. Porch lanterns will work great if you enjoy sitting on your porch and want to make it feel cosier. On the other hand, spotlights are perfect for adding more ambience and improving the look of your house.
Path lights provide extra security and make walking outside in the dark easier. Yet, step lights are ideal for preventing falls and adding an inviting glow to your property.
In the end, the choice is up to you!